Day after Navjot Kaur's outburst, govt bends
Amritsar, August 20
A day after Chief Parliamentary Secretary Dr Navjot Kaur Sidhu's outburst over diversion of funds, the state government and the Amritsar Improvement Trust today took a U-turn and expedited proceedings for executing pending works in her constituency.
State has failed to check illegal mining: Panel
Chandigarh, August 20
A three-member central team sent to Punjab to assess the extent of illegal mining in the state has reportedly submitted its report to the Ministry of Environment and Forests. It has reportedly said the state government had failed to check illegal mining.
Land okayed for 300-bed PGI centre in Sangrur
Chandigarh, August 20
The PGIMER has got approval for 25 acres of land for setting up its 300-bed satellite centre in Sangrur. The hospital would bring respite to thousands of cancer patients, particularly of the Malwa region, and help reduce the patient load on PGI, Chandigarh.
Bibi's son-in-law chosen ZP chief
Kapurthala, August 20
Ever since former SAD minister Bibi Jagir Kaur has been out on bail, she has maintained a low profile. Now she has started promoting her son-in-law Bhupinder Singh in politics. Bhupinder Singh, who won the zila parishad poll from the Nangal Lubana zone of Bibi's Bholath constituency, was today unanimously declared chairman of the Kapurthala Zila Parishad. His elevation was attended by 13 ZP members, former minister Upinderjit Kaur, Markfed chief Jarnail Singh Wahid and SGPC members Paramjit Singh Raipur, Jarnail Singh Dogranwala and Gurpreet Kaur
BJP chief Rajnath vows alternative growth model
Longowal (Sangrur), August 20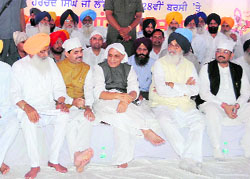 Paying tributes to Sant Harchand Singh Longowal, national BJP president Rajnath Singh today promised that if the NDA was voted to power, it would provide an alternative economic model for the country. He said the economic model of the Manmohan Singh-led UPA Government had failed to deliver.




BJP president Rajnath Singh (second from left) with Chief Minister Parkash Singh Badal at a function in memory of Sant Harchand Singh Longowal at Sangrur's Longowal village on Tuesday. A Tribune photo

Convicted SAD leader heads dist planning board
Bathinda, August 20
While Akali MLA from Moga Joginder Pal Jain had to give up his post as Punjab State Warehouse Corporation chairman after his conviction in a forgery case, another Akali leader and former legislator Mangat Rai Bansal continues to head the Mansa District Planning Board despite his conviction in a Rs 1.8 crore paddy embezzlement case.
Kin block road as inmates 'ill-treated' at rehab centre
Hoshiarpur, August 20
The family members and relatives of the inmates of a de-addiction centre located in Nasrala village near here blocked the Hoshiarpur-Jalandhar road for over an hour today. They were protesting alleged attrocities on the inmates by the authorities of the counselling and rehabilitation centre, Disha Foundation.
Farmers having land across border fence demand relief
Chandigarh, August 20
Hundreds of farmers belonging to 212 villages near the India-Pakistan border fencing have urged the state and the Central governments to "restore their rights to do farming, their only source of livelihood, across the fence in a proper manner". In a representation submitted to the state government, the farmers have highlighted problems being faced by them.
Punjab Govt to table prevention of damage to property Bill in assembly
Chandigarh, August 20
The Punjab Government is all set to table before the assembly The Punjab (Prevention of Damage to Public and Private Property) Bill, 2010 by the winter session.
4,300 teachers without
Ludhiana, August 20
The state government may be distributing grants worth crores of rupees for development works, but about 4,300 teachers and staff of aided schools have not received their salaries for the past five months.
Two killed as train hits tractor-trailer
Sangrur, August 20
Two persons were killed this morning when the tractor-trailer they were traveling in was hit by a train at an unmanned level crossing at Rajo Majra village, near Dhuri. The train was going to Delhi from Bathinda.
Rs 2.21 cr loans given to dairy farmers
Bassi Pathana, August 20
Subsidised loans worth Rs 2.21 crore have been given to promote dairy farming and allied sectors during the four months of the current fiscal. Sukhdev Singh Mahal, SDM, said this after inaugurating a dairy production awareness camp at Damheri village of Bassi Pathana block. He said the camps were being organised to create awareness among dairy farmers to increase milk production by adopting scientific means.
Minorities in Gujarat victimised, Sikh farmers tell SC
Chandigarh, August 20
Accusing Chief Minister Narendra Modi of "terrorising, browbeating, intimidating and victimising the minorities in Gujarat," Punjabi farmers settled in the state have claimed before the Supreme Court that the prevailing law only prohibits non-agriculturists from buying land in Gujarat.



Three of dreaded gang held after encounter near Banur
Patiala, August 20
Three members of a dreaded gang were arrested by the Patiala police following an encounter near Banur late last evening. Preliminary investigations suggest that the kingpin, Harpreet Singh alias Tusa, had been enjoying political patronage. A number of cases pertaining to kidnappings, robberies and snatchings have been registered against Harpreet Singh. The gang had been active in Ludhiana and its surrounding areas for many years.
Woman held with 20 kg poppy husk
Fatehgarh Sahib, August 20
The Government Railway Police today arrested a woman for allegedly possessing 20 kg of poppy husk. SHO Inderjeet Singh and CIA staff Rajpura in-charge Balwinder Singh said said the woman had been identified as Jogindro of Talwandi village in Ludhiana. A case under the NDPS Act had been registered.