Leaders remember Rajiv Gandhi
Tribune Reporters
Shimla, August 20
Chief Minister Virbhadra Singh, along with other senior leaders, today paid tributes to former Prime Minister Rajiv Gandhi on the occasion of his 69th birth anniversary. Virbhadra, his Cabinet colleagues, Himachal Pradesh Congress Committee President, Sukhwinder Singh Sukhu and senior party functionaries paid floral tributes to the former Prime Minister at the Sadbhawna Chowk, Chhota Shimla, to mark the occasion. Devotional and patriotic songs were sung by artistes of the Information and Public Relations Department on the occasion.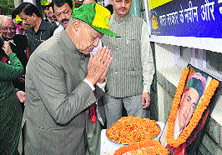 Chief Minister Virbhadra Singh pays floral tributes to late Rajiv Gandhi's statue at the Sadbhawna Chowk in Chhota Shimla on Tuesday. A Tribune photograph

The Chief Minister also flagged off a rally of schoolchildren from his official residence Oakover organised to celebrate Rajiv Gandhi Akshay Urja Divas. The Chief Minister said HIMURJA, with the support of the Union Ministry of New and Renewable Energy, organises functions to create awareness about use of eco-friendly renewal energy which had no recurring fuel cost. He said the development and more use of renewal energy sources could lead to sustainable and environment-friendly energy security in the state.
The Chief Minister said the state government was endeavouring to preserve the depleting conventional resources to meet the increasing demand of power. He added that the government would soon come out with a new power policy with a view to harness solar energy.
The Chief Minister congratulated the National Students Union of India (NSUI) for winning maximum seats in the recent Student Central Association (SCA) elections in the state.
Record 915 units blood collected
Congress workers created a history of sorts by ensuring donation of a record 915 units blood on a single day as a tribute to Rajiv Gandhi here today.
A statewide blood donation campaign was organised under the aegis of the District and Block Congress Committees. A maximum of 150 units of blood was contributed by Kangra district, followed by Sirmour (148 units) and Shimla (137 units).
A blood donation camp was inaugurated by the Chief Minister at Rajiv Bhawan in Shimla. Addressing party workers on the occasion, Virbhadra said Rajiv Gandhi had given a new direction to this country by lowering the voter age to 18 years, thus, making youth a part of the electoral process.
Sukhwinder also donated blood on the occasion.
Several women participants, including former Mayor Madhu Sood and Youth Congress president Monika Bharti, also donated blood. A majority of the donors were from the Youth Congress and the NSUI.
Minister for Housing and Urban Development Sudhir Sharma, vice-presidents, HPCC, Harsh Mahajan and Gangu Ram Musafir, general secretary Nikhi Rajour, MLA Anirudh Singh, vice-chariman, HPFC, Kewal Singh Pathania and several others were present on the occasion.
Need for mass movement
Hamirpur: Chief Parliamentary Secretary (CPS) ID Lakhanpal said, "We should not restrict blood donation to blood donation camps, but turn it into a mass movement in villages to motivate youth for coming forward in donating blood."
Addressing a gathering at a camp organised by the DCC here today, the CPS said encouraging blood donation was very important as it could save human lives.
Congress state general secretary Sunil Sharma, DCC president Naresh Thakur and party spokesman Deepak Sharma also addressed the gathering.
Employees take oath
The birth anniversary of Rajiv Gandhi was observed as Sadbhawna Divas at the Deputy Commissioner office here today where employees were administered an oath by SDM Satish Sharma.
Through this oath the employees resolved to maintain unity and integrity of the country by shunning all divisive slogans based on caste, creed and religion and resolve all their problems through proviso enshrined in the constitution of India.
Sadbhawna Divas organised
Kangra: The Kangra District Congress Committee (DCC) today fondly remembered Rajiv Gandhi. Sixtynine persons donated blood at the local Civil Hospital during a camp organised by the DCC on the occasion.
The camp was inaugurated by Kangra DCC chief Suman Verma. She said Rajiv Gandhi had heralded the information and communication technology revolution in the country.
Ajay Verma, HP Congress Committee secretary, BD Choudary, member, HPCC, Sanjeev Gupta, City Congress chief, Nanneet Sharma and Ajit Mahjan, Congress leaders, were among the leaders who paid tributes to the departed leader.
Members of the NSUI, Sewa Dal, Indian National Youth Congress and Indian National Trade Union Congress (INTUC) were also present.
'He gave a new direction'
Bilaspur: Late Rajiv Gandhi gave a new direction to India on issues which have led the country on the path of progress very fast. This was stated by Himachal Excise and Taxation Minster Prakash Chaudhary at a function organised here by the DCC on his birth anniversary here today.
Ram Lal Thakur, Planning Development and 20-Point Implementation Committee Chairman, MLA Bambar Thakur, former MLAs Dr Babu Ram Gauttam, Dr Biru Ram Kishore and Tilak Raj, DCC president Santosh Dhiman, District Mahila Congress president Anjana Dhiman, DCC senior general secretary Gopal Sharma and District Mandi Committee Chairman Vivek Kumar were among the Congressmen who paid floral tributes to Rajiv Gandhi at the Indira Bhawan here.
The DCC also organised a blood donation camp on the occasion in which 30 persons donated blood, including prominent Congress leaders Tejaswi Sharma, Narvir Thakur and Madhu Chandel.