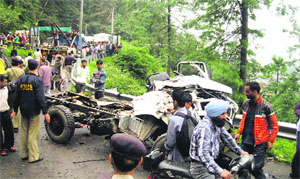 4 killed, 34 hurt as truck falls into gorge
Una, August 16
Four pilgrims from Taran Taran in Punjab were killed and 34 injured as the truck in which they were travelling fell into a 30-feet deep gorge on the Amb-Nehrian road today.


The mangled remains of the truck on Amb-Nehrian road in Una on Friday. A Tribune photograph

Rs 1,483 cr will be spent on water schemes: Stokes
Shimla, August 16
The government will spend over Rs 1,483 crore to implement new schemes and augment and maintain the old drinking water and irrigation schemes during the current financial year.
CM honours 29 young achievers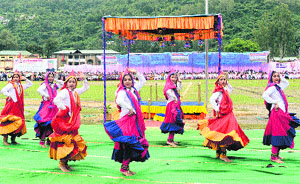 Mandi, August 16
Chief Minister Virbhadra Singh honoured 29 persons, including young adventurers who conquered Mount Everest, a special child medallist and others, who have brought laurels to the state in the fields of development, social work and sports on Independence Day here.

Dancers perform in the state-level Independence Day programme in Mandi on Thursday. Photo: Jai Kumar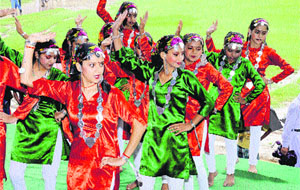 Medal winners felicitated at Bilaspur
Bilaspur, August 16
At the district-level function on Independence Day, Vidhan Sabha Speaker Brij Bihari Lal Butail distributed cash prizes among students from the district who excelled in various sports and brought laurels to the state.

Artistes perfrom during a cultural programme on Independence Day in Kangra. Photo: Ashok Raina

10,000 homeless families to get houses: Minister
Solan, August 16
District-level Independence Day was celebrated at Thodo Ground in Solan with great enthusiasm and fervour. Dr Dhani Ram Shandi, Minister of Social Justice and Empowerment, unfurled the Tricolour and took salute. An impressive march past was presented by the contingents of police, home guard, NCC, NSS and school children.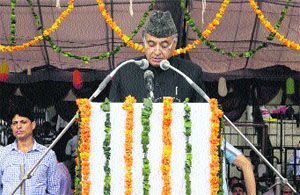 Hamirpur to get a modern bus stand: Bali
Hamirpur, August 16
A modern bus stand will be built here, Transport, Food Civil Supplies and Technical Education Minister, GS Bali, announced this while addressing a gathering after unfurling the national flag at a district-level Independence Day function here yesterday.

Transport Minister GS Bali addresses public during a function on Independence Day at Hamirpur. A Tribune photograph

ESIC yet to seek MCI approval for medical college
Mandi, August 16
Chief Minister Virbhadra Singh's announcement that efforts are on to start the Employee Service Insurance Corporation (ESIC) Medical College at Ner Chowk from the 2014 academic session has woken up the lethargic ESIC, as it has yet to move an application to the Medical Council of India (MCI) even as the last date for the same is August 31.
Food security programme to miss Aug 20 deadline
Dharamsala, August 16
The implementation of the Food Security Bill in the state may be delayed. The minister for Food and Civil Supplies, Technical Education and Transport, gave this information while talking to mediapersons here today.
Probe builders-HPCA nexus, says CPM
Shimla, August 16
Accusing the Himachal Pradesh Cricket Association (HPCA) of including a majority of non-Hiamchalis as its life members, the CPM today alleged that there was a close nexus between the sports body and the real estate builders, which must be probed.
172 houses damaged in floods
Nurpur, August 16
Floods in the Beas river and heavy rain over the past few days has left 172 houses in Indora-Mand area of the sub division damaged. Release of water from the Pong Dam reservoir into the Beas by the BBMB has flooded the entire Mand area comprising seven gram panchayats. Standing crops and houses have been submerged in the flood water. A large number of link roads in the rural areas of Nurpur and Jawali sub-divisions have been blocked due to landslides. The road connectivity to these villages has also been lost. The drinking water supply schemes in the urban and rural areas have been badly hit due to heavy rain and landslides. Heavy rain has disrupted normal life in the lower Kangra areas.
Cong rubbishes BJP's charge of vendetta politics
Shimla, August 16
Terming the charge of political vendetta a part of the BJP's diversionary tactics, the Congress has alleged that its leaders were trying to create pressure on the investigating agencies by making baseless insinuations.
BJP flays move to remove Bhakra Dam oustees
Bilaspur, August 16
The state BJP unit has strongly opposed and condemned the orders of the Chief Minister to the district administration to immediately remove all Bhakra Dam oustees, who had encroached upon the government land, here in the town. BJP MLA and state general secretary Randhir Sharma while talking to mediapersons at the Circuit House here today, in the presence of several other leaders, said: "This is very much against tall claims of the Congress party that it has always provided benefits to oustees, who have given their all for building of the Bhakra Dam, thereby contributing to national development. Such oustees, who were uprooted 50-year ago, are still facing hosts of difficulties due to government lapses."
Protest against doctor's transfer
Solan, August 16
A large number of people today protested against the absence of a gynaecologist at the First Referral Unit (FRU), Nalagarh, from where as many as nine pregnant women had to be referred to other hospitals.