Chamba-Shimla highway blocked
Chamba, August 6
The Chamba-Shimla highway via Sihunta was blocked by landslides near Lahru in Bhattiyat subdivision of the district due to heavy rain last night, according to a report today. The transportation services had been hit in far-flung areas of the subdivision.
CPI protests against anti-people policies of Central Govt
Bilaspur, August 6
The Communist Party of India (CPI) has protested against anti-people and pro-capitalist policies of the Central Government and presented a detailed memorandum to Prime Minister Manmohan Singh through the Deputy Commissioner here today.
Ensure implementation of steps against ragging: DC
Chamba, August 6
Chamba Deputy Commissioner (DC) Kadam Sandeep Vasant has impressed upon the heads of institutions of higher studies to ensure the implementation of various measures against ragging and maintain records of private paying guest houses and rented accommodations where students are living.
Students to be given iron pills in Hamirpur
Hamirpur, August 6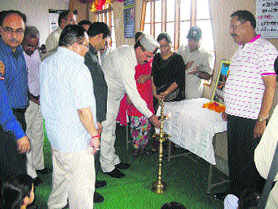 ID Lakhanpal, Chief Parliamentary Secretary (CPS), today launched an iron and folic acid supplements scheme for school students of Hamirpur district here today. Launching the scheme at Government Senior Secondary School for Boys, Lakhanpal said this scheme had been launched by the state government to save schoolchildren from anaemia and improve their overall health.
Chief Parliamentary Secretary ID Lakhanpal on the launch of iron supplement scheme for schoolchildren in Hamirpur on Tuesday.

Fungal diseases worry apple growers
Shimla, August 6
The sporadic outbreak of twin fungal diseases of scab and marsonina in parts of Kullu, Shimla and Mandi districts is giving sleepless nights to apple growers who fear that the fungi may spread due to conducive weather conditions.
Local surety not justified for bail: HC
Shimla, August 6
In a landmark judgment, the Himachal Pradesh High Court has held that the requirement of local surety is not justified and cannot be insisted upon while granting bail to accused.
'Motivate students for NSS participation'
Hamirpur, August 6
Dr Dinkar Budathoki, Director, Secondary School Education, has asked National Service Scheme (NSS) programme officers and school principals to play the role of motivators for students for participation in NSS activities in the state.
BJP to protest outside Assembly on Aug 23
Shimla, August 6
Accusing the ruling Congress of indulging in politics of vendetta, the BJP will hold a massive demonstration outside the state Assembly on August 23 and hold protests at all district headquarters.
Killing of soldiers on LoC
UPA's foreign policy a failure: Dhumal
Shimla, August 6
Accusing the Congress-led UPA regime of failing to take steps against the repeated provocation by Pakistan, former Chief Minister and Leader of the Opposition PK Dhumal today demanded that there should be a review of India's foreign policy towards Pakistan.
Czech national found dead
Manali, August 6
Peter Slanina, a Czech Republic national, travelling on passport No. 41399090, was found dead while he was on a trekking trip with three other friends on the Chalal-Rasol-Malana trek in the Parbati valley, an infamous haven for hashish. Peter's body was found in the forest of Chalal village.
Highlight policies of govt, PR officials told
Shimla, August 6
Industries and Information and Public Relations Minister Mukesh Agnihotri today exhorted officers to highlight the policies and programmes of the state government so that the public could benefit from it.
Jailed for rash driving
Bilaspur, August 6
Chief Judicial Magistrate Aman Sood here has sentenced Sanjay Kumar of Mandi Manman village, near here, to undergo rigorous imprisonment (RI) for six months and additional fine of Rs 1,000 under Section 279, IPC, and also simple imprisonment for six months and an additional fine of Rs 500 under Section 337, IPC.
CM cancels medical specialist's transfer
Bilaspur, August 6
Chief Minister Virbhadra Singh has cancelled medical specialist Deepak Thakur's transfer from the Regional Hospital here to Nurpur after a short stay of 15 months. This was stated by local MLA Bambar Thakur while talking to mediapersons here on Saturday evening.
1.25 kg naag chhattri seized, four arrested
Chamba, August 6
Naag chhattri, a forest produce, weighing 1.25 kg was seized from the possession of four persons in two separate incidents in the district during this week, a report said here yesterday. The report said Hem Singh and Karam Singh carrying 74 kg naag chhattri in two bags were arrested by the police party at Banjli village in Churah sub-division of the district. In another incident, Mohammad Khan and Deen Mohammad were intercepted by the police when they were transporting 51 kg naag chhattri in a Maruti car at Lehsuin zero point in the district. The accused had been arrested and naag chhattri recovered, the report said, adding that cases had been registered by the police under relevant sections of the Indian Forest Act and the Indian Penal Code. — OC
Uttarakhand admn seeks help to identify child
Bilaspur, August 6
The Uttarakhand administration has launched a nationwide search for parents, relatives or acquaintances of a small girl child who has survived the Kedar Nath Dham deluge and is under treatment at Doon Hospital, Dehradun. District Revenue Officer Shashi Pal Sharma said here yesterday that the Bilaspur district administration had received a communication from the Uttarakhand government seeking help in locating anyone connected with her to ensure her identity. Her photo could be seen or got on e-mail, he added. He said anyone who knew the child could contact him here or the district administration at Dehradun on phones 0135-2726066, 2226064, 2626065, 2626066 and toll-free number 1077 or e-mail dm-deh-4a@nic.in — OC
Rain damages offices in school
Nurpur, August 6
Rain damaged offices of the principal and the superintendent of Government Senior Secondary School (Boys) here today. The school is situated on the premises of the old Nurpur Fort, a protected monument of the Archaeology Survey of India (ASI). The 40-member staff and 600 students have been living under constant threat, thanks to the dilapidated condition of the school building. Six rooms of the building have been without roofs for the past many years. The Education Department was helpless as no repair had been undertaken for the past 15 years due to ASI's restrictions. — OC
One held with stolen khair wood logs
Nurpur, August 6
A team of the Forest Department, led by Deputy Ranger Suman Lata, confiscated 17 logs of stolen khair wood being transported in a pick-up van at Dehri, near here, on Saturday. Divisional Forest Officer Nurpur Sanjay Sen said the field staff of the department had set up a naka at Dehri and caught a pick-up van (HP 46-0302) loaded with 17 khair wood logs meant for extracting katha. He said the vehicle had been impounded and logs seized by the department. Meanwhile, van driver Sanjay Singh of Makrolli has been handed over to Rehan police chowki and a case registered against him. — OC
Rs 18 lakh earned during Minjar fair
Chamba, August 6
A turnover of around Rs 18 lakh has been earned during the past one week by artisans who had installed stalls at the SARAS Exhibition-2013, officials said here yesterday. The officials said stall owners were also getting advance orders from buyers of neighbouring states for their unique rural products. As many as 73 self-help groups hailing from15 states participated in the fair. — OC