CM urged to fill TGT posts
Kangra, August 18
Principals of Government Senior Secondary Schools yesterday urged Chief Minister Virbhadra Singh to fill all posts of trained graduate teacher (TGT) for science, arts and craft and vernacular (C&V) categories, which are mostly lying vacant in several senior secondary schools.
Illegal mining in Una
Criminal cases to be filed for misuse of M-form
Una, August 18
The district administration of Una has initiated a campaign to crack down on illegal mining. Deputy Commissioner, Una, Abhishek Jain, after chairing a meeting of district mining officials, passed orders that an FIR should be registered against those violating M-form.
Pea crop rots in Lahaul-Spiti villages
Keylong, August 18
The pea crop is rotting in Miyar and Naingar valleys in Udaipur sub-division and the Pin valley in Spiti sub-division, as the Public Works Department (PWD) has yet to lay ropeways to facilitate the transportation of crop and the movement of people in the cold desert valleys.
Alert sounded as rivulet waters rise in Dharamsala
Dharamsala, August 18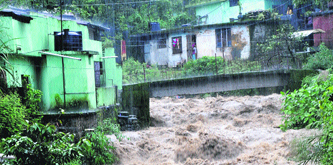 The water level in the Charan khad and the Bhagsu waterfall area rose suddenly this afternoon, raising the fear of a cloudburst in upper areas of the Dhauladhar hills. As the water level started rising, the district administration announced a warning on loud speakers to keep away from the banks of the Charan khad.
A rise in the water level in the Charan khad in Dharamsala on Sunday. Photo: Kamaljeet

Cong elated at good show by NSUI

Shimla, August 18
Although the outcome of the student bodies poll do not have a bearing on the Assembly or parliamentary polls, the ruling Congress has reasons to be elated for the good show of the NSUI in the Himachal Pradesh University (HPU) elections. For a party which is facing rough weather at the Centre and across the country, winning any poll is significant, even if it pertains to its student wing.
NSUI state president Yadupati addresses mediapersons in Shimla on Sunday. A Tribune photograph
Digging makes Kangra-Ranital road a nightmare
Dharamsala, August 18
The under-construction stretch of the Kangra-Ranital national highway has become a nightmare for commuters during monsoon. The road has been dug up at many places to construct small culverts for rain water. These places have now become death traps for commuters, especially at night. The PWD authorities have not put up any diversion signs at the places where the road is being dug. Due to heavy rain this season, the areas where the road had been dug up to 10-15 feet for the construction of culverts, has created deep pits.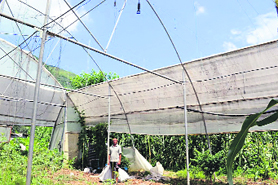 Farmers seek loan waiver on polyhouses
Bilaspur, August 18
The overlapping of two schemes to set up polyhouses (green houses for vegetables) by giving subsidy to farmers in the state have put hundreds of beneficiaries of an earlier scheme at a disadvantage. They are now demanding waiving loans taken for polyhouses.
Vegetables grown in a polyhouse in Bilaspur district. A Tribune photograph

Horticulture to generate foreign exchange: VC
Solan, August 18
Horticulture is the best way to generate foreign exchange and this requires work on scientific lines. This was stated by Vijay Singh Thakur, Vice-Chancellor, Dr YS Parmar University of Horticulture and Forestry, Nauni, while convening a state-level joint meeting of the ICAR Regional Committee here recently.
Private varsity gets notice for violating admission norms
Solan, August 18
Despite the Himachal Pradesh Private Educational Institutions Regulatory Commission having notified August 15 as the last date of admission for various technical and professional courses in the various private institutions, the cases of violations are coming to the fore.
IIAS to get human development centre
Shimla, August 18
Ashok Thakur, Secretary, Union Ministry of Human Resource Development, Higher Education, will inaugurate the International Centre for Human Development (IC4HD) at the Indian Institute of Advanced Study (IIAS) tomorrow.
Damage to tower costs Larji project dear
Larji (Mandi), August 18
The state-run 126-MW Larji power project has been suffering a loss of 10 lakh units of electricity every day since August 6 as the transmission tower of the Larji-Kangu substation line near here was damaged after its bed caved in due to the landslide. The project has already lost 120 lakh units of electricity worth about Rs 2.24 crore in 12 days, said experts.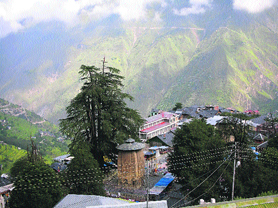 Manimahesh pilgrimage: Ban on animal sacrifice sought
Bharmour, August 18
The Himachal Pradesh Sri Sanatan Dharma Math Mandir Suraksha Samitti has sought a ban on the slaughter of animals in Chamba Chowgan, particularly en route Manimahesh. In a statement here today, samiti president Mahant Swami Virendrananda Giri stated, "Lord Shiva is always merciful to all the beings of the universe and never seeks sacrifices of living beings."
Ancient temples at Bharmour.
Postal Dept starts drive to open saving accounts
Chamba, August 18
In its drive to connect people with post offices, the Department of Posts (DoP) is making all-out efforts to reach all villages in the length and breadth of Chamba district and motivate each and every family to open at least one saving account in a post office.
Vanmahotsav celebrated
Palampur, August 18 Vanmahotsav was celebrated at Chaudhry Sarvan Kumar (CSK) Himachal Pradesh Agriculture University here today. Kewal Singh Pathania, Vice-Chairman, HP State Forest Development Corporation, planted an amla sapling in the university campus.
Oustees urge CM to reconsider orders
Bilaspur, August 18
The All-Party Bhakra Oustees Rights Protection Committee, an organisation fighting for the cause of oustees for the last 50 years, has expressed surprise over an alleged order of the Chief Minister to the district administration to remove all encroachments of oustees in Bilaspur town.
Dharampur to have trauma centre soon
Solan, August 18 Santosh Chawdhary, Union Minister for State for Health and Family Welfare, said today that a trauma centre would soon be set up at Dharampur to provide immediate medical care to accident victims.
Minister inaugurates sub tehsil at Ispur
Una, August 18
Mukesh Agnihotri, Minister for Industry and Public Relations, inaugurated a sub tehsil in the Ispur area of his Haroli Assembly constituency in Una district today. The tehsil will have eight permanent employees and provide relief to people of the area so that they will not have to go to Una for regular administrative and revenue chores.
Banking facilities in six rural areas
Shimla, August 18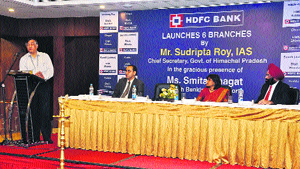 HDFC Bank Ltd has announced the opening of its six branches in the state. Stating this at a press conference here recently, HDFC branch head Smita Bhagat said, "The bank is keen to reach out to maximum number of people. The growth of our network will enable us to offer full range of banking services to a significantly large number of families and businesses across Himachal."
Chief Secretary Sudripta Roy addresses a gathering at the launch of six rural HDFC branches in Shimla on Wednesday.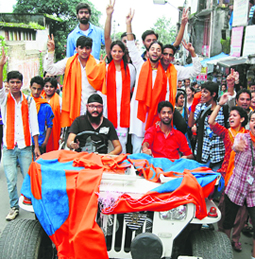 ABVP, NSUI activists clash
Dharamsala, August 18
ABVP and NSUI activists clashed early this morning in which three ABVP activists were injured and hospitalised. Sources here said the ABVP activists were celebrating their victory in the Dharamsala Government College student body elections at their office yesterday. Around 2 am, a few NSUI activists arrived there and challenged the ABVP activists. A clash took place between the activists. Thereafter, the ABVP activists followed the NSUI activists to the college hostel and the two groups again clashed.
ABVP activists take out a rally after their victory in the student elections at Dharamsala on Sunday. Photo: Kamaljeet

Polybags scar Minjar fair venue
Chamba, August 18
After the conclusion of the International Minjar Fair recently, polythene bags can be seen strewn all over in the town. This polythene is choking drains of the millennium town and will finally end up in the Ravi. It shows the failure of the Consumer Forum and violation of the Non-biodegradable Waste Act and other environment protection laws.
Buttico opens 32nd outlet in town
Nurpur, August 18
Buttico, a renowned and oldest co-operative society of the state, has opened its 32nd outlet on National Highway No. 154 at Bodh, near here. The outlet was inaugurated by former MLA Ranjit Bakshi in the presence of Buttico vice-chairman Rohit Thakur.
Sangeet samaroh held in Sundernagar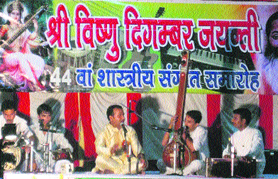 Sundernagar, August 18
The Shaila Sangeet Kala Kendra, Sundernagar, celebrated the 44th Vishnu Digamber Jayanti by organising a shastriya sangeeet samaroh at the Community Hall here yesterday. Chief Parliamentary Secretary and Sundernagar MLA Sohan Lal Thakur was the chief guest.
Artistes of the Shaila Sangeet Kala Kendra present a classical musical programme during a shastriya sangeeet samaroh in Sundernagar on Saturday. Photo: Mahesh Chander Sharma

Dharamsala lawyer to be forum chief
Shimla, August 18
Rajan Dewan, a senior lawyer from Dharamsala has been appointed president of the District Consumer Forum, Chandigarh. It is for the first time that a practising lawyer has been selected for the post. Normally Session Judges are appointed to the post. Dewan was a member of the District Consumer Forum, Kangra, in 1996 and thereafter he was made Additional Advocate General in the State Administrative Tribunal in 1997. He remained Additional Advocate General in the state High Court from 2004 to 2008. He started his legal career from Dharamsala as a lawyer in 1982. — TNS
Man dies in road mishap
Palampur, August 18
One person was killed and another injured when a tempo carrying newspapers fell into a gorge near Sungal,10 km from here, on the Pathankot-Mandi national highway today. The police said the tempo was on its way from Nagrota Bagwan to Manali. When it reached near Sungal village, the driver failed to negotiate a sharp curve and rolled into the gorge killing the driver on the spot. The conductor with serious injuries was shifted to the local Civil Hospital. The deceased has been identified as Avneet Kumar of Mathrehar village of Dharamsala sub-division. — OC