Bucketful of woes for residents
Mohali, August 26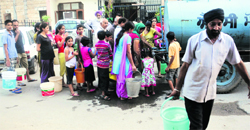 Parts of the town have been facing a serious water crisis over the past five days, making life miserable for residents in the sultry weather.



Residents fetch water from a tanker at Phase IX in Mohali on Monday. Tribune photo: Vicky Gharu
Brace for tough days ahead
Chandigarh, August 26
Residents of eight sectors and three villages will be the worst affected as the evening water supply to these areas will remain completely shut for five days (August 27 to August 31).
138 head of cattle impounded
Chandigarh, August 26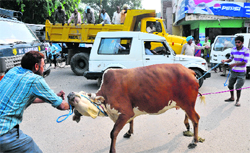 Continuing with its drive against stray cattle, the municipal corporation today impounded 138 head of cattle. It has decided to lodge police complaints against owners who let their cattle roam on city roads.




MC staff impound a cattle at the Industrial Area, Phase II, Chandigarh, on Monday. Tribune Photo: S Chandan
Few takers for MC cattle
Chandigarh, August 26
While the Chandigarh Municipal Corporation is trying its best to shift the impounded stray cattle out of the city, the MC is facing a tough competition from MCs in Punjab.
Villagers gherao Mayor's office
Chandigarh, August 26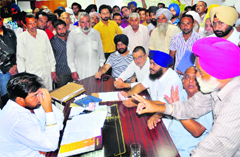 High drama was witnessed in the municipal corporation office today when villagers, whose cattle were impounded by the civic body during the ongoing drive, gheraoed the Mayor's office and even entered his room and raised slogans against him.


Villagers argue with Mayor Subhash Chawla over the impounding of cattle at his office in Chandigarh on Monday. Tribune photo: S Chandan




Deleted stuff on Jyoti's phone recovered
Panchkula, August 26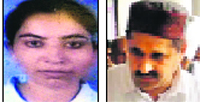 Doon MLA Ram Kumar Chaudhary has courted another big trouble as the police today readied the report of deleted photographs and "love" messages recovered by the Central Forensic Science Laboratory (CFSL), Chandigarh, from Jyoti's mobile phone.
Jyoti and Ram Kumar
Accept closure report, CBI urges court
Chandigarh, August 26
Replying to a protest petition filed by a relative in the four-year-old sensational case of Sham Fashion Mall owner Amarjit Singh Khurana's murder, the CBI has urged the court to dismiss the application of the petitioner and accept the closure report as there was no clue in the case despite its best efforts.
DNA test to nail stepfather
Panchkula, August 26
In what could nail the stepfather, who raped and murdered his three-year-old daughter, the police would get his DNA test conducted. This decision has been taken to present sufficient evidence before the court.
UT staff salaries to be linked to Aadhaar soon
Chandigarh, August 26
Soon the employees of the UT Administration will receive their salaries in their bank accounts on the basis of the Aadhaar letter through the direct benefit transfer scheme. An official communication has been sent to all the departments to ask their employees to submit their Aadhaar letters in their department or give its details to their banks.
RLA official chargesheeted
Chandigarh, August 26
The Chandigarh Administration has chargesheeted Deepak Kanith, a Superintendent in the Deputy Commissioner's office, for alleged anomalies in handing over the official record of the Registration and Licensing Authority (RLA) office.
Strike hits working of tehsil offices
Chandigarh, August 26
The tehsil offices in Mohali, Kharar and Dera Bassi are having a tough time as the work here has virtually come to a standstill, following a strike by the Revenue Patwar Union, Mohali, today.
Rs 6 crore released for 18,948 beneficiaries
Chandigarh, August 26
Around Rs 6 crore has been released under the Direct Cash Transfer (DCT) to 18,948 beneficiaries under various central and UT schemes, including pension and scholarship.


Roads of apathy



Roads in the Industrial Area, Sector 33 and Sector 31 in bad shape. Following the monsoon onslaught, the roads are in great need of repair. Tribune photos: Manoj Mahajan
Pu polls
Student leaders make the most of WiFi
Chandigarh, August 26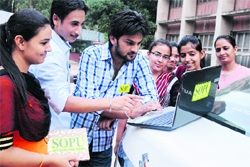 Panjab University's recently introduced centralised WiFi system is proving to be fortune cookie for student unions in run-up to the student council elections.






SOPU workers watch videos of their party on YouTube at Panjab University on Monday. Tribune Photo: Pradeep Tewari
PUSU protests against delay in results
Chandigarh, August 26
Representatives of the Panjab University Student Union (PUSU) today staged a protest in front of the Vice-Chancellor's office over delay in the results of various courses. They said there had been an inconsistent delay in the declaration of results of MA Punjabi and Psychology. The students even gheraoed the VC's car.
PU's Ankur School gets CBSE affiliation
Chandigarh, August 26
Panjab University's Ankur School has got the affiliation from the Central Board of Secondary Education (CBSE).
NSUI leaders accuse college authorities of misbehaviour
Chandigarh, August 26
Representatives of the National Student Union of India (NSUI) at GGDSD College, Sector 32, alleged that the authorities misbehaved with them while the former were demonstrating against inflated fee.
Despite ban, ABVP holds car rally
Chandigarh, August 26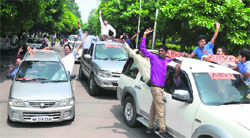 Even as rallies have been strictly banned during the student council elections, representatives of the Akhil Bhartiya Vidyarthi Parishad (ABVP) at Panjab University took out a promotional rally inside the campus today. As many as 20 swanky cars could be seen zooming inside the campus during the rally with huge party stickers pasted on them.
ABVP activists campaign on the PU campus on Monday. Tribune photo
A bagful of poll promises
Chandigarh, August 26
The Indian National Students' Organisation (INSO) released its manifesto ahead of elections for the Panjab University Campus Students' Council (PUCSC).
Kitchens inaugurated in 6 schools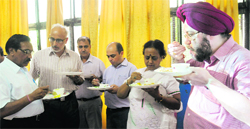 Chandigarh, August 26
Education Department today formally started mid-day meal kitchens in six government schools, which were running on trial basis for the last one-month.

DPI (S) Upkar Singh (right) and other officials taste the mid-day meal at the inauguration of a kitchen at the GMSSS, Sector 15, Chandigarh, on Monday. Tribune Photo: Pradeep Tewari
Mid-day meals inspected at 3 schools
Chandigarh, August 26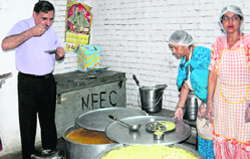 Bihar mid-day meal tragedy seems to have left a scar on the mid-day meal consumption in city government schools. Only 300 students were found taking the mid-day meal in the government Model High School, Mani Majra, during an inspection conducted by UT's senior official Mahavir Kaushik.


Senior UT official Mahavir Kaushik inspects the mid-day meal at Government Model School, Mani Majra. A Tribune Photograph
Parents raise issue of delay in admission process
Chandigarh, August 26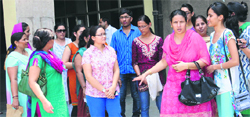 Several parents met Dr Atul Sachdeva, head of the Government Medical College and Hospital (GMCH), Sector 32, and Adviser to the Administrator KK Sharma and raised the issue of delay in admission process for enhanced 50 MBBS seats.
Students and parents outside the GMCH-32 in Chandigarh on Monday. Tribune Photo: Manoj Mahajan