Mohali's PUDA Bhavan mortgaged for Rs 500 cr
Chandigarh, August 24
The cash-strapped Punjab Government has been sanctioned a loan of Rs 500 crore by the Canara Bank after it mortgaged the PUDA (Punjab Urban Development Authority) Bhavan in Phase VIII, Mohali, as a collateral security.
CM seeks Planning Commission's help for assessing flood losses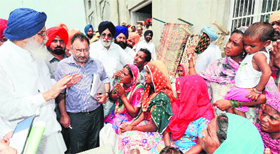 Midda (Muktsar), August 24
Chief Minister Parkash Singh Badal today asked the Planning Commission to send a team for assessing the loss caused in the state due to the floods, besides suggesting measures to avert such natural calamities in future.

Chief Minister Parkash Singh Badal meets the flood-affected people at Bamm village in Muktsar district on Saturday. A Tribune photograph

Eye on Lok Sabha poll, SAD-BJP govt set to dole out sops
Chandigarh, August 24
With an eye on the Lok Sabha elections due early next year, the Punjab Government has decided to go into the "sop mode" once again. On offer is the atta-dal scheme in a new avatar, scholarships for meritorious students, bicycles for girl students and health cards for BPL families.


Centre draws flak for denying job on compassionate ground
Chandigarh, August 24
The Centre has received a slap on its wrist for acting discriminately to deny a widow her legitimate claim. Mincing no words, the Punjab and Haryana High Court has also admonished the authorities concerned for adopting a pick and choose policy.
412 farm suicides in Muktsar in 23 years
Muktsar, August 24
As many as 412 farmers and farm labourers, including women, have committed suicide due to financial crisis in 90 villages of the district after 1990, a survey conducted by the Punjab Khet Mazdoor Union and Bharti Kisan Union (BKU) (Ekta Ugrahan) has found.
Amloh youth killed in US cremated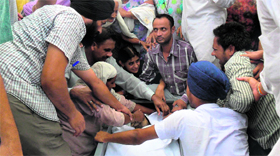 Amloh, August 24
The body of a youth named Manpreet, who was murdered in US, was brought and cremated at his native village, Majri Kishnewali, today. Manpreet was shot dead at a petrol pump in South Lake Tahoe city. He worked as a clerk at the pump.

Grief-stricken relatives of Manpreet at his cremation at Majri Kishnewali village in Amloh on Saturday. A Tribune photo

Navjot apprises Rajnath of 'ills' afflicting state BJP
Amritsar, August 24
Miffed with the state BJP leadership over its alleged failure to assert itself in the ruling alliance, Chief Parliamentary Secretary Dr Navjot Kaur Sidhu today held a meeting with BJP president Rajnath Singh in New Delhi and took up the issues being faced by the party unit in Punjab.
State police, BSF rights violators, alleges panel
Moga, August 24
After thwarting Deputy Chief Minister Sukhbir Singh Badal's proposed visit to Canada, rights group Sikhs for Justice (SFJ) would now seek action against police officers for their alleged role in extra-judicial killings and torture of Canadian citizens in Punjab.
Akali groups clash in Badal's presence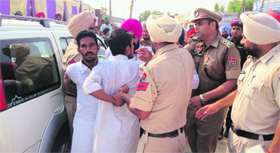 Chibbaranwali (Muktsar), August 24
Chief Minister Parkash Singh Badal had to face an embarrassing situation at Chibbaranwali village today when two factions of the ruling Shiromani Akali Dal came to blows in his presence.


Policemen try to control the situation as rival Akali Dal factions clash at a Muktsar village on Saturday. A Tribune photograph

Capt opens front against Bajwa
Chandigarh, August 24
Former Chief Minister and a permanent invitee to the Congress Working Committee, Capt Amarinder Singh, has questioned the authority of the Punjab Pradesh Congress Committee (PPCC) president Partap Singh Bajwa in announcing candidates for various parliamentary and assembly constituencies.
Diarrhoea outbreak in Phagwara village
Phagwara, August 24
Panic gripped Powadhra village near Bilga after a large number of people complained of diarrhoea and gastroenteritis owing to unhygienic conditions prevailing in the village.
Factory blast kills woman
Batala, August 24
A woman was killed while her son was seriously injured when a blast occurred in a cracker-manufacturing factory near the railway crossing on the Batala-Gurdaspur national highway here today.
Drain breach wreaks havoc
Abohar, August 24
Several villages in Abohar sub-division got inundated today due to a breach in the Abulkhurana drain. The water from the flooded villages of Lambi segment was diverted through Aspal drain and other water bodies to Abulkhurana drain.
2 students suspended under anti-ragging rule
Amritsar, August 24
Two students of the local Government Medical College were suspended after they violated the law by staying in the hostel during anti-ragging holidays.


Man booked for raping student
Tarn Taran, August 24
Sonu, a resident of Lehian village, 30 km from here, has been booked under section 363, 376 of the IPC for allegedly abducting and raping a 22-year-old girl of the same village.