Pakistan hawks prevail over its doves
The dialogue with Pakistan will remain one-sided, with the country expecting concessions from India but not feeling obliged to make any itself.
Kanwal Sibal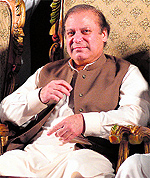 Uneasy head:

Pak PM Nawaz Sharif

India-Pakistan relations are exceedingly difficult to manage because the two countries look at each other very differently. Both affirm the need to live in peace, resolve outstanding differences, give up past attitudes, strengthen expanding peace constituencies amidst them and attach priority to the task of eradicating the shared problem of poverty. But when it comes to concrete steps in this direction by decision makers, a huge gap between what each side expects of the other emerges.
Pakistan still believes that it is a victim of India's hegemonist and hostile policies. It hold India responsible for stalling progress towards normalisation, not reciprocating Pakistan's conciliatory gestures, and defeating the efforts of the peace lobbies in Pakistan by not responding even minimally. It puts the burden of trust building on India's shoulders.
The Pakistanis want us to move beyond the Mumbai episode and be less fixated on Hafiz Saeed. They deny that Pakistan, being a greater victim of terrorism than India, has any interest in supporting 'jihadi' activity. The steadily declining infiltration figures prove, they argue, that Pakistan's military has clamped down on anti-India activity, and if incidents such as the recent killing of five Indian soldiers on the LoC occur, the responsibility lies on Indian policies in J&K.
The dialogue with Pakistan will thus remain one-sided, with Pakistan expecting concessions from us but not feeling obliged to make any itself. Prime Minister Nawaz Sharif has repeatedly announced his intention to focus on Kashmir. In his address to the nation this week he has referred to Kashmir as the "jugular vein" of Pakistan, implying that India's throttling grip over Pakistan has to be unloosened. If he needs such rhetoric to cover his flanks, the implication is that powerful forces in Pakistan need to be appeased, even if the armed forces are now supposedly on board to improve relations with India.
For trust building, Pakistan expects concrete Indian steps to satisfy Pakistan on outstanding issues, whether Sir Creek, Siachen, water-related issues or our policies in J&K, especially on human rights and treatment of the separatists. Under these conditions we cannot ever earn Pakistan's trust.
If trust building means that Pakistan should do what any normal country should do, namely, give up the use of terrorism against us, dismantle the infrastructure of terrorism that still exists on its territory, curb the 'jihadi' groups operating against India and expel or extradite Indian terrorists given shelter by it, then the principal onus for removing distrust lies on Pakistani shoulders instead.
Yet, despite the UN Security Council declaring Jamaat-ud-Dawa a terrorist organisation and putting its leader Hafiz Saeed on its list of terrorists, Nawaz Sharif's brother, the Chief Minister of Punjab, gives the organisation almost 60 million rupees from government funds for charitable work, besides allowing Hafiz Saeed to lead the Id prayers in Lahore's Gaddafi Stadium a few days ago. For us, trust building would also include tangible progress on the trial of those accused of the Mumbai terror attacks.
If Sir Creek and Siachen are doable according to the Pakistanis and Indian peaceniks, why is curbing Hafiz Saeed, making some progress in bringing to justice those responsible for Mumbai, or not permitting the so-called non-state actors from crossing the LoC, not doable? Nawaz Sharif's government has now announced that granting MFN treatment to India is not presently under consideration. For a leader supposedly committed to strengthening trade ties with India, even this "doable" step has been shelved.
Pakistan uses the dialogue platform to press India for concessions, whereas, by delinking dialogue from terrorism, we have lifted pressure on Pakistan to make the vital concession we want. Having a dialogue also attenuates international pressure on Pakistan on terrorism, besides allowing it to claim its readiness to negotiate positively only if India would be less rigid.
The government is keeping the doors open for a meeting between the two Prime Ministers in New York next month. If that happens, Nawaz Sharif will press for a joint statement which will, of necessity, incorporate all that Pakistan wants, including the resumption of the composite dialogue, with India including some ritual references to creating congenial conditions for such a dialogue by controlling terrorism, etc. In other words, we will revert to our failed policies based on the discredited premise that we have no option but to have a dialogue with Pakistan.
Naturally, the politically inane who believe that our dialogue with Pakistan should be "uninterrupted and uniterruptible" and some foreign policy illiterate former media advisers who, for perverse ideological reasons, want India to be punished for Pakistan's misdeeds, would be delighted to see another India-Pakistan embrace at New York. It is a peculiar syndrome that makes these deluded Indian doves coo even as Pakistani hawks deplume their Indian prey.
— The writer is a former Foreign Secretary.