Post-2015 agenda for those and by those living in poverty
In India, a Ground-Level Panel (GLP) consisting of 14 members from diverse background and living in poverty was brought together for five days to deliberate on the recommendations to the UN High-Level Panel (HLP) report on the post-2015 development framework. They are not members of any government, NGOs or associated with any political party or trade union. They draw on their own experiences of marginalisation for a reality check to the HLP.
The recommendations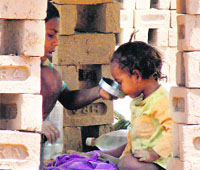 Establish a corruption free society.


Promote equity; a level-playing field must for everyone to realise their dreams.


Set up robust accountability mechanisms; there should be transparency in the way the state works. There should be better grievance redress mechanisms.


Provide identities, not doles; groups that are marginalised should be recognised as equal citizens.


Create institutional spaces to promote people's participation in local governance and policy-making processes.


End stigma based on identities such as caste, disability, gender, religion and region.


Abolish practices that sustain discrimination such as dowry system, foeticide and 'purdah' system.


Restrict sale of alcoholic and addictive substances; sever profit motive of the state in the sale of alcohol.


Facilitate awareness, sensitisation and collectivisation of citizens.


Promote secure home environment.


Promote interests of farm labourers, tribals and slum dwellers; and their rights.


Protect environment by creating systems which deter companies from polluting it.


Prevent tax evasion by corporates. The tax should be used for the development of the poor.


Protect workers' rights, including minimum wages and social security.


Promote gender equality and safety in public spaces.
Ground-Level Panel members from India
Amrita Naik: A 17-year-old tribal girl from Odisha, Amrita's project on future solution of soil conservation was selected for the National Science Congress. She envisions a world free from foeticide, corruption and illiteracy.
Joshna Pradan: This 22-year-old fought for her family's right over their land in their village in Odisha. She had summoned the panchayat and fought for their land. They have got back a small portion of the land.
Mayavati: From Rai Bareily in UP, Mayavati, 29, combated poverty to educate her children. She believes cash transfers will not help alleviate poverty. Collectivisation is the solution. She wants all children to get an education.
Mohammad Akbar: Mohammad, 40, lives in Baramula district of Kashmir and has helped his village get benefits since he became the president of the village development committee six years ago. He wants to see significant changes in the village.
Mohammad Ismail: Ismail, aged 29, was a member of a rescue team during the 2004 tsunami. He lives in Chennai and has 70 per cent disability. He wants jobs for everyone, clean habitats, a common school system and an effective police.
Mohammad Samsul Haque: Haque, 45, is a migrant labourer from Guwahati. He works at a garage and spends his nights as a shop caretaker. He goes home during the harvest season. There has been a change in the agricultural scenario after an NGO renovated canals in the area. He wants all citizens to enjoy all rights.
Nandlal: From Devaria district of UP, Nandlal, 42, overcame discrimination to work for the rights of the disabled. He lost his legs at the age of 18. He has worked with several NGOs in Delhi. He wants the physically challenged to be treated as equals.
Pinki: A 17-year-old from Bulandshahar, UP, she is among the few girls in her village who have gone to school. The problems in her village are lack of health facilities, unavailability of electricity and absence of employment. She wants to be a computer engineer and envisions a world free of discrimination.
Raghunath Sada: Raghunath, 65, led a land rights movement in his village in Darbhanga district of Bihar. Thanks to his fight, Musahars acquired 62 acres. Declared as 'Mahadalits', they live in extreme poverty. He wants children to go to school. He believes housing and land redistribution can help them.
Ravikant Kedkar: Ravikant, 32, has cerebral palsy and lives in a slum in Mumbai. The biggest day of his life was when his telephone booth was inaugurated in his mother's presence. He works with an NGO for the rights of the disabled.
Sunita Devi: Sunita, 28, moved to Samastipur, Bihar, after marriage. She lives with her four daughters and husband. She stitches clothes and wants to help people live a better life.
Ushaben Vasava: Ushaben, 33, is from a village in Narmada district, Gujarat, and leads a team managing an agricultural tool library. Through her initiatives, the village has road, water supply and biogas plants. She wants women to be economically empowered.
Uzma: A 16-year-old from Delhi, Uzma takes care of her mentally ill mother and three siblings. She used to beg, but is now staying in a shelter home and learning computer. She does not want any child to live on streets.
Vineetha: A 35-year-old transgender, Vineetha works for the welfare for her community members in Chennai. She advises them to shun alcohol and tobacco and wants the government to focus on their education and employment.
— Excerpted from "Voice for Change: A Post-2015 Development Agenda by People Living in Poverty", a report based on deliberations organised by the Praxis Institute for Participatory Practices.