Punjab must study climate change effect
The changes in climate are perceptible in Punjab, as is their effect on agriculture. The only way around it is to spread awareness among farmers about adaptive strategies and develop resilient technologies to overcome the challenges
SS Kukal and Prabhjyot Kaur
Warm days have become warmer and cold days colder. The average temperature of earth has risen by 0.5°C over the past century. The rains have also become erratic. The seasons have started overlapping, warm weather during winter and cold conditions during spring or summer. The seasonal climatic variations have been converted into daily variations. These weather conditions strongly affect the health of plants and animals. The changing climatic conditions have baffled meteorologists as well, for whom it has become really difficult to predict the seasonal or daily weather conditions.
Punjab, agriculturally the most important state of the country, has also witnessed climatic changes like in other parts of the country. Considering the importance of agriculture in Punjab in national food security and livelihood security of about 16 million people dependent on agriculture and its vulnerability to climate change, it is important that efforts be made to carry out extensive research on developing adoption technologies in relation to climate change.
The agro-meteorologists at Punjab Agricultural University (PAU) have reported that during the last four decades, there has been an increase in the minimum temperature by about 1°C at most l°cations in Punjab; increase in relative humidity; decrease in evaporation rates and the number of rainy days; apart from a perceptible increase in extreme weather events such as erratic rainfall, heat wave, cold wave, etc.
How it happened
Scientists argue that these climatic changes are the outcome of the increasing levels of greenhouse gases (GHGs) in the atmosphere due to anthropogenic activities. According to the Intergovernmental Panel on Climate Change (IPCC), there has been an increase in the concentration of the GHGs in the atmosphere. Carbon dioxide has increased by 29 per cent, methane by 150 per cent and nitrogen oxide by 15 per cent during the last 100 years at the global level.
This has resulted in increase of the mean surface temperature by 0.4-0.8°C during this period. The global increase in carbon dioxide concentrations are primarily due to the use of fossil fuel coupled with land-use change, while those of methane and nitrous oxide are primarily due to intensive agriculture.
According to the Indian Network for Climate Change Assessment (INCCA) report, the agriculture sector emitted 17.6 per cent of carbon dioxide in 2007. These emissions from the agriculture sector arise from enteric fermentation in livestock (63.4 per cent), rice paddy cultivation (20.9 per cent), manure management (0.7 per cent), agricultural soils (13.0 per cent), and on-field burning of crop residue (2 per cent). At present, the total rice straw utilisation in Punjab for different purposes constitutes less than 2 per cent of the 22 million tonnes produced annually, whereas 72 per cent is burnt in the fields itself, leading to the production of enormous amounts of carbon dioxide, apart from suspended carbon particles, into the atmosphere.
In the 2010 report of the IPCC, it is predicted that the atmospheric carbon dioxide concentration will reach approximately 605-755 parts per million (PPM) by 2070. It is estimated that agricultural productivity will have to double to be able to feed the world population by 2050. The industrial and agricultural activities are primarily responsible for the rise in the concentration of the GHGs in the atmosphere. The increasing levels of carbon dioxide are mostly because of the combustion of fossil fuel.
Consequences of change
Carbon dioxide is referred to as "polluting gas" which is true only if it is present in higher quantity in the atmosphere. In reality, it is also a life saviour. Nature has provided us with a miraculously balanced energy cycle in which the gas plays an important role by acting as a sink for trapping the energy from the sun, and ultimately to be trapped in the form of plant biomass. But when present in higher quantities, it can lead to increase in air temperature due to its green house effect, commonly referred to as global warming.
A World Bank estimate indicates that warming of about 1.25°C is expected to occur in India over the next three decades, which can reduce average land productivity across districts by 17 per cent. The resultant increase in temperature can reduce crop duration, increase crop respiration rates, affect the survival and distribution of pest populations, and may hasten nutrient mineralisation in soils, decrease fertiliser use efficiency and increase evapo-transpiration.
This could be a shock to the agricultural sector accounting for around 70 per cent of rural employment. Extreme weather events like droughts, floods, tropical cyclones, heavy rainfall, heat and cold waves are known to negatively impact agricultural production. Further, the changes will affect crops, soils, livestock and biotic stresses.
The studies at the PAU have shown that a significant decrease in sunshine hours — both during kharif and rabi seasons — could lead to decreased agricultural production. Since, the crops require an optimum amount of sunshine for growth it is a serious reason of concern for the future.
Mitigating the effects
The climate change situation in the state points towards immediate climate resilient strategies to overcome the challenges that have surfaced. These strategies need to be framed on a three-tier system, involving industrialists, agriculturists, policy makers and the common man. Many resource conservation technologies are being developed by the scientists of the PAU. These technologies are based on the principle of lesser use of resources for similar production level and the recycling of crop and other biomass as per the principles of nature.
These include conservation irrigation (laser land levelling, drip, sprinkler and furrow irrigation which consume lower amounts of water); conservation tillage to conserve the soil organic carbon in the aggregates for a longer time period; harvesting rain-runoff water, especially in hilly regions, to take care of water problems; site-specific application of fertiliser nutrients to improve nutrient use efficiency; integrated nutrient and pest management to reduce the use of toxic poisons to kill agricultural pests; and crop diversification.
All the stakeholders have to come together to work towards mitigating the impacts of climate change to some extent and devise strategies for easy adaptation to the changing conditions. Not only do we have to produce at the existing level, but also roughly double the agricultural productivity level to feed the billions in future. This will not be an easy task.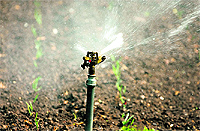 Conservation irrigation like drip and sprinkler consume lower amounts of water

Indications in the state
Snowfall in Pathankot on January 6, 2011.
400 mm rainfall in 24 hours in Ludhiana on August 12, 2011.
Extreme low temperature of -0.4°C in Bathinda on February 9, 2012.
No rain in Ludhiana in June 2012.
Below normal minimum temperature in February as compared to January in 2012.
Prolonged winters in 2012.
Higher rainfall in Bathinda as compared to Ludhiana in June, July 2012.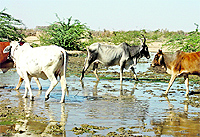 Enteric fermentation in livestock accounts for large carbon dioxide emissions

Adaptation strategies
Create awareness among farmers about climate change on agricultural production.
Weather-based agromet-advisory at district level.
Contingency plans for temperature, rainfall related risks.
Educate farmers about soil health cards for appropriate fertiliser management, crop weather insurance schemes, etc.
Implement ban on burning of straw and other organic wastes.
Check emission of polluted air, water from factories.
Produce clean energy like solar and wind to replace energy from coal-based thermal plants.
Take biodiversity conservation to a larger scale to take care of endangered flora and fauna.
Follow conservation irrigation like drip and sprinkler.
Future research needs
Assess crop productivity, water resources of Punjab.
Study incidence of extreme weather events and their impact on crop production.
Develop new cultivars of crops tolerant to abiotic stresses.
Assess emission of green house gases under different mitigation strategies involving resource conservation technologies.
Evaluate existing and future agricultural production technologies for field, vegetable and horticultural crops.
Study impact of elevated/low temperature and elevated carbon dioxide conditions on growth and yield of major crop germplasm under field and controlled conditions.
Evaluate socio-economic impact of alternative strategies to combat climate change impacts on agriculture and industry.
What an individual can do
Decrease dependence on energy, including electricity, domestic fuel, and petroleum products by simple practices.
Harvest roof-top rainwater to recharge ground water or use for non-domestic activities.
Curtail the use of polythene for better environmental health.
Reduce dependence on wood and wood products in order to save trees.
Grow trees on wastelands.
Recycle organic waste to prevent air and soil pollution.
Follow the 4Rs — rethink, reduce, reuse and recycle.
The writers are Director and agro-meteorologist in School of Climate Change and Agricultural Meteorology, PAU, Ludhiana.