Ambala MC pulls down illegal structure
Ambala, August 21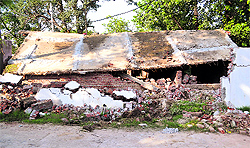 Two months after the matter pertaining to grabbing of the government land by a former Zila Parishad (ZP) chief came to light, the district administration and the local civic authorities today pulled down the illegal building.


The illegal building after its demolition at Palika Colony in Ambala on Wednesday. Photo: Dev Dutt Sharma

Woman's body found in school bus
Gurgaon, August 21
The decomposed body of a woman was found in the tool compartment of a school bus here today.
Women empowerment only in name
Gurgaon, August 21
Women professionals in the corporate world may be rubbing shoulders with their male counterparts here but those at the helm of affairs in local governance bodies are still kept confined within the four walls of their homes.
After Mann's death, many Cong men eye Kalayat seat
Chandigarh, August 21
The Kalayat Assembly segment seems to be emerging the new hotbed for Congress politics with contenders queuing up to stake their claim for this seat a month after Congress leader Tejinder Pal Mann's death.
Eviction of Sikh farmers
Tarlochan contests Chattha's claims
Karnal/Kurukshetra, August 21
Former Chairman of the National Commission for Minorities Tarlochan Singh, who addressed Sikhs deprived of their land in the Pehowa area on Sunday, has reacted sharply to the statement by Haryana Finance Minister Harmohinder Singh Chattha that he was misleading people of the state.
Karnal sarpanch's murder case
Panipat MLA Jain's bail plea dismissed
Panchkula, August 21
A CBI court today dismissed the bail plea of Panipat MLA and former Transport Minister O P Jain in the Karnal sarpanch's murder case.
New composition policy for builders defaulting on EWS allotments
Chandigarh, August 21
Close on the heels of a slew of incentives for the recession-hit realty sector, the Hooda Government has come out with a new composition policy aimed at benefiting those builders, who had defaulted on allotment of plots and flats to the economically weaker sections (EWS) of society.
Join duty or face action, docs told
Rohtak, August 21
With the strike by resident doctors of the PGIMS entered the fifth day today, the authorities of the Pt BD Sharma University of Health Sciences served an ultimatum on the agitating doctors to either return tomorrow or face strict action.
Six hockey players to get cash awards
Chandigarh, August 21
The Haryana Government has decided to honour six hockey players of Haryana who represented Team India, which won a bronze medal in the Junior Women Hockey World Cup Tournament held at Germany.
Sonepat RCF to roll out 1,000 coaches annually: Minister
Karnal, August 21
The Rs 2,200-crore rail coach factory (RCF) to be set up at Sonepat would start with 400 coaches annually and roll out 1,000 coaches when fully commissioned, Minister of state for Railways Adhir Ranjan Chowdhury said today.
Advocate-Gen's office to weed out old record
Chandigarh, August 21
The office of Advocate-General, Haryana, has decided to weed out old record of the decided cases pertaining to the period from January 1, 2009, to December 31, 2010, for civil matters and from January 1 to December 31, 2011, for criminal matters as well as cause lists of the high court.
Boy's body found with hands, leg chopped
Karnal, August 21
The body of a four-year-old boy was recovered from a drain near the National Highway No.1 in Sector 4 here today. The hands and a leg of the boy had been chopped off, city police station in charge Nayab Singh said.
Man gets 7-yr jail for assault
Kaithal, August 21
Additional Sessions Judge RS Chaudhary sentenced Sunil of Kalayat town to seven years' rigorous imprisonment, besides imposing a fine of Rs 25,000 on him, for culpable homicide not amounting to murder. In the case of the failure to pay the fine, he would have to undergo further imprisonment for one year.