Movies on tv
Saturday august 24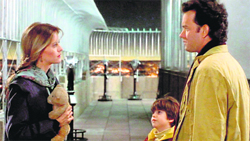 Sleepless in Seattle
ZEE STUDIO 6:05pM
Sleepless in Seattle is an American romantic comedy film directed and co-written by Nora Ephron. Based on a story by Jeff Arch, it stars Tom Hanks as Sam Baldwin and Meg Ryan as Annie Reed. The film was inspired by the 1957 film An Affair to Remember and used both its theme song and clips from the film in critical scenes. The climactic meeting at the top of the Empire State Building is a reference to a reunion between Cary Grant and Deborah Kerr in An Affair to Remember that fails to happen because the Kerr character is struck by a car while en route. At one point, some of the characters discuss Affair, with Sam commenting "that's a chick's movie".
ZEE CINEMA
8:20AM Desh Premee 11:19AM Vaishanavi 2:22PM Ram Teri Ganga Maili 5:54PM Sher- E- Hindustan : Warrior
INDIA TALKIES
6:00AM Ram Balram 9:30AM Housefull 1:00PM Money Hai to Honey Hai 4:30PM Pinjar 8:00PM Shriman Shrimati
ZEE CLASSIC
9:39AM Biwi-O-Biwi 12:49PM Sansar 3:52PM Khoon Paseena 7:00PM Karz 10:00PM Lalkar (The Challenge)
ZEE STUDIO
8:00AM Ladder 49 10:20AM D-Tox 1:00PM Back to the Future Part III 3:40PM The Distinguished Gentleman 6:05PM Sleepless in Seattle 8:10PM Dick Tracy 10:30PM 25th Hour
STAR MOVIES
8:00AM Mr. Popper's Penguins 10:00AM The Front Row with Anupama Chopra 10:30AM The Karate Kid 12:24PM X2: X-Men United 2:32PM Bad Teacher 4:36PM Johnny English 6:31PM Battleship 9:00PM The Package (2013)
MOVIES OK
8:40AM Fun2shh 11:45AM Dulhe Raja 3:00PM Arjun Pandit 6:15PM Partner 9:00PM Dabangg 11:45PM Return of Ghajini
STAR GOLD
9:35AM Nagina 12:20PM Golmaal 3 3:25PM Dhol 6:45PM Mr. & Mrs. Khiladi 9:00PM Singham
ZEE ACTION
7:00AM Roohani Taaqat 10:30AM Hum Paanch Ek Team 1:25PM Movie Fare 1:30PM Dildaar: The Arya 5:30PM Military Raaj 8:30PM Main Tera Dushman
Sunday august 25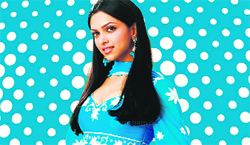 Om Shanti Om
MOVIES OK 12:00pM
Om Shanti Om is a romantic-reincarnation film directed and choreographed by Farah Khan. It stars Shah Rukh Khan and Deepika Padukone in the lead roles while Arjun Rampal, Shreyas Talpade, and Kirron Kher feature in supporting roles. More than forty-two well-known Bollywood stars appear in the course of the film, including thirty of them (not including the stars of the film) in one song alone.
ZEE CINEMA
1:45PM Mera Badla 4:48PM Hum Aapke Hain Kaun...!
INDIA TALKIES
6:00AM Pinjar 9:30AM Shriman Shrimati 1:00PM Aa Dekhen Zara 4:30PM Mela 8:00PM Veer
ZEE STUDIO
8:00AM Bringing Down the House 10:10AM Sleepless in Seattle 1:00PM Robin Hood 4:00PM Back to the Future Part III 6:35PM Mars Needs Moms 8:20PM Gladiator 10:30PM Ladder 49
STAR MOVIES
7:36AM The Odd Life of Timothy Green 9:49AM Ratatouille 12:04PM Bean 1:31PM The Darkest Hour 3:27PM Titanic 6:58PM Salt 9:00PM The Avengers (2012) 11:40PM Pirates of the Caribbean: The Curse of the Black Pearl
ZEE CLASSIC
7:02AM Deedar 9:34AM Maang Bharo Sajana 12:35PM Mother India 3:55PM Satyam Shivam Sundaram 7:00PM Naseeb Apna Apna 10:00PM Rocky
MOVIES OK
9:30AM Bhoot and Friends 12:00PM Om Shanti Om 3:40PM Deewana Mastana 6:05PM Angoor 9:00PM Mar Mitenge
STAR GOLD
6:00AM Qahar 9:30AM My Friend Ganesha 2 12:05PM Sivaji: The Boss 3:00PM Ghar Ho To Aisa 5:55PM Taqdeerwala 9:00PM Housefull 2
FILMY
9:00AM Hanuman 12:00PM Sandwich 3:00PM Himmatwala 6:00PM Jo Bole So Nihaal 9:00PM Awaargi
ZEE ACTION
7:00AM Mera Dharam 10:30AM Khatron Ke Khiladi 1:30PM Chandaal 5:30PM Ek Aur Zalim 8:30PM Yeh Hai Jalsa