Roerich trust to be global centre of art and culture
Shimla, August 23
The concept plan prepared by the International Centre of Roerichs (ICR), Moscow, for the development of the International Roerich Memorial Trust (IRMT) at Naggar in Kullu into a global centre of art and culture underlines the need to accord heritage status to the village.
Intl conference at St Bede's begins
Shimla, August 23
As many as 200 delegates from India and abroad are participating in the two-day international conference on women empowerment being organised at St Bede's College here.
Law to curb illegal mining on the cards
Shimla, August 23
Chief Minister Virbhadra Singh today asserted in the House that the government would curb mining by mafia, which enjoyed political patronage, and it would enact a law to provide stringent punishment to check illegal mining.
BJP: Will fight back vendetta politics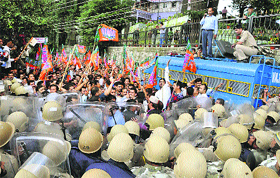 Shimla, August 23
Up in arms against the dictatorial attitude and political victimisation by the Virbhadra regime, the BJP today warned that it would fight back.





BJP workers clash with policemen during a protest near Vidhan Sabha in Shimla on Friday. Photo: Amit Kanwar

Illegal mining: 5 trucks, 3 JCB machines seized
Solan, August 23
Police impounded five trucks and three JCB machines involved in illegal mining in the Bhatiya area of Nalagarh sub-division today.
'Govt focused on creation of jobs'
Bilaspur, August 23
The emphasis of the state government is on imparting technical education to youth so that they can get proper avenues of employment.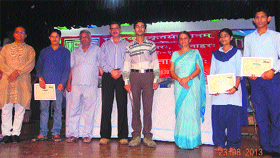 Sanskrit festival concludes
Kangra, August 23
The weeklong Sanskrit festival at Rashtriya Sanskrit Sansthan concluded here today.




Students receive prizes on the concluding day of the week-long Sanskrit festival at Pragpur on Friday. Photo: Ashok Raina

Mindhal temple priest booked
Chamba, August 23
A priest of the Mindhal Mata Mandir situated in the Pangi tribal valley of Chamba district has been booked by the police today as three gold articles of the temple and Rs 68,000 were found missing from the temple.
2 murder accused held
Solan, August 23
A team of the Maharashtra Police today arrested Baljeet Singh and Kamaldeep Singh, both residents of Rampur village in Nalagarh for their involvement in a murder case where the body of Sukhwinder Singh was found from a well in Maharashtra.
Sports meet begins
Kangra, August 23
Kewal Singh Pathania, Vice-Chairman HP Forest Corporation, inaugurated a three-day sports meet for under-14 students in the Govt. High School Ladhwara today.
Vigilance visits PWD office
Hamirpur, August 23
The Vigilance and Anti-Corruption Bureau team visited the office of Badsar PWD Executive Engineer in relation to tenders allotted to contractors by the sub-division office, Dhaneta.