What is CM there for if Centre has to do all, asks Capt
Chandigarh, August 23


Former Chief Minister and a permanent invitee to the Congress Working Committee, Capt Amarinder Singh, today lashed out at the state government over its alleged failure in providing relief to the flood-hit farmers in Punjab. Amarinder Singh, in a statement, slammed Chief Minister Parkash Singh Badal for shifting the blame on the Centre for his "failure" to provide relief to the affected people. The Centre had nothing to do with such issues and it was the state government that had to take the final call, he said.

Bajwa visits flood-hit areas in Tarn Taran
To seek fiscal emergency in state, Congress MPs plan to meet President, says Bajwa
Sangrur, August 23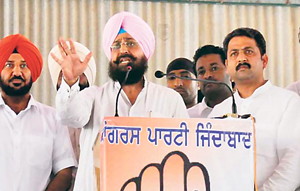 Congress Members of Parliament and Union Ministers from Punjab will meet President Pranab Mukherjee in a couple of weeks and seek his intervention for declaring a financial emergency in Punjab as the state's financial health was fast deteriorating.
Pradesh Congress Committee chief Partap Singh Bajwa addresses a rally in Sangrur on Friday. On his left is Sangrur MP Vijay Inder Singla and on the right former MLA Surinder Pal Singh Sibia. A Tribune photo

Sehajdhari case: Hearing now listed for October 4
Fate of SGPC House continues to hang in balance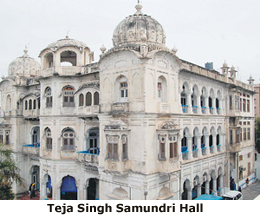 Amritsar, August 23
Even though it has been almost two years since the SGPC elections were held, the fate of the new SGPC House continues to hang in the balance. The matter is stuck in a legal tangle over the Sehajdhari row. The SGPC House has a tenure of five years. The hearing in the case pending before the Supreme Court was to take place today. It has been now listed for October 4. Avtar Singh Makkar, SGPC chief, said: "We hope that the Supreme Court will deliver its verdict early and that it will be in our favour as the Centre has come out in our support."
SAD-BJP govt readies road map for LS poll
Officials told to comply with deadline for highway projects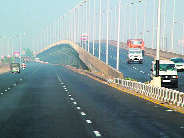 Chandigarh, August 23
With the next parliamentary poll on its mind, the SAD-BJP government has issued directions for expediting various road-widening projects in the state. Though most of the projects may not see light of the day by May next (the month scheduled for the Lok Sabha elections), the coalition regime probably wants some trace of these road works on the ground so as to impress the voters.
Auction of 7 mines to be held in open court
HC stays allotment of under-challenge mines
Chandigarh, August 23
In a first, the auction of seven sand and gravel mines in dispute in Pathankot and Ropar districts will be held in an open court. The directions by the Punjab and Haryana High Court came on a bunch of petitions alleging attempts by the Punjab Government and its functionaries to block user-ID during an online auction to facilitate illegal mining in the state.
Will pursue case of Gujarat's Sikh farmers: NCM chief
Amritsar, August 23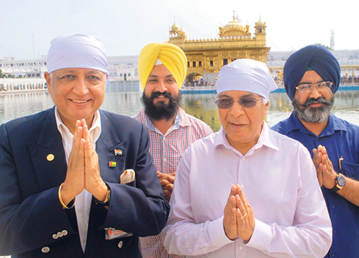 Accepting a memorandum by the SGPC on various issues concerning the Sikhs, National Commission for Minorities (NCM) Chairman Wajahat Habibullah today said the panel was looking into the issue of eviction of Sikh farmers from Gujarat. Addressing mediapersons after paying obeisance at the Golden Temple, Habibullah said the commission had sought replies from the Punjab and Gujarat Governments over the issue.

NCM chief Wajahat Habibullah (2nd from right) at the Golden Temple, Amritsar, on Friday. Photo: Vishal Kumar


Bathinda's cancer hospital resorts to downsizing staff
High treatment cost reportedly keeping patients away
Bathinda, August 23


Max Super Specialty Hospital that came here at the initiative of the Punjab Government for countering the spread of cancer in the Malwa region is reportedly downsizing its staff. The state government had provided four acres of land on lease at a rent of Re 1 per year to the private hospital.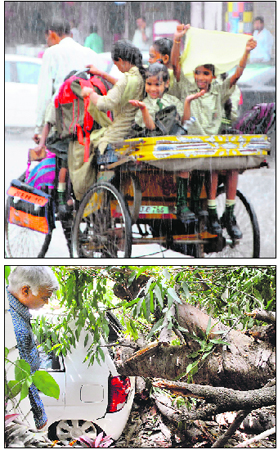 A rainy day: (Top) Schoolchildren are all smiles as they enjoy a rickshaw ride amidst rain in Amritsar on Friday while (above) a Patiala resident assesses loss to his car after a tree fell on it in Baradari Garden area. Tribune photos: Vishal Kumar/Rajesh Sachar

Local scientists develop power theft detector
Chandigarh, August 23
Two city-based scientists have developed a low-cost power theft detector comprising magnetic induction rings. The system, scientists claim, can detect large-scale power thefts in the industrial sector as well as illegal kundi connections in slums and residential premises.
Fazilka dist sees transfers of six SSPs in 2 years
Fazilka, August 23
As many as six Senior Superintendents of Police (SSP) have been posted and shifted in this border district of Fazilka since its creation on July 27, 2011. Frequent transfers of the SSPs within a span of two years have raised many an eyebrow about the suitability and stability of the officers.
Students observe strike, seek free education for girls
Also demand a rollback in exam fee hike
Patiala, August 23
Students of Punjabi University, Government Mohindra College, Government College for Girls and Government ITI, Patiala, today observed a strike on their respective campuses, seeking free education for girl students and those belonging to the SC category. The strike call was given by the Punjab Students' Union.
Protect rights of Sikhs in Canada: SAD
Chandigarh, August 23
President of the Shiromani Akali Dal (SAD) and Deputy Chief Minister Sukhbir Singh Badal today urged Prime Minister Manmohan Singh and External Affairs Minister Salman Khurshid to safeguard the rights of Sikhs living in Canada's Quebec province.
HC dismisses teachers' plea for retirement at 65
Chandigarh, August 23
In a significant judgement affecting teachers in colleges across Punjab, the Punjab and Haryana High Court has dismissed cases of the teaching faculty for enhancement in the age of superannuation from 62 to 65 on the basis of UGC regulations.
Punish schools not sticking to free education Act, state told
Chandigarh, August 23
The Punjab and Haryana High Court has set October 31 as the deadline for the State of Punjab and its functionaries to act against schools failing to comply with the Right of Children to Free and Compulsory Education Act, 2009.


4 arrested with opium, poppy husk in Patiala
Patiala, August 23
The police has arrested four drug peddlers and seized 8-kg opium, 30-kg poppy husk and 1,900 capsules in separate cases from their possession. Senior Superintendent of Police (SSP) HS Mann said on a tip-off, a naka was laid on the Patiala-Balbera road by a team of the police under the supervision of Superintendent of Police (D) Jaskiranjit Singh Teja and Inspector Kuldeep Singh Shekhon, in charge, Anti-Goonda Staff, Patiala, and intercepted an Innova car (PB 11-AF-1064). Sher Mohammad, a resident of Dakala, was arrested with 8-kg opium and a case under the NDPS Act has been registered against him.
Two teachers killed in road accident near Sirhind
Fatehgarh Sahib, August 23
Two teachers were killed and two injured when the car they were travelling in collided with a truck parked on the Sirhind-Patiala road near Gunia Majra village.
SAD factions in Tarn Taran clash; 3 hurt
Tarn Taran, August 23
Three persons of rival groups of the ruling Shiromani Akali Dal (SAD) were injured in cross-firing at Talwandi Mehar Singh village, 30 km from here, late last evening.