Perform or quit, Bajwa tells Chief Minister
Dharamkot (Moga), August 25
President of the PPCC and Lok Sabha member Partap Singh Bajwa today alleged that the SAD-BJP Government had failed on all fronts.



Factually wrong: Govt


Manish Tewari seeks white paper on finances


Cut spending, says Surinder Singla

PPCC chief PS Bajwa in Dharamkot on Sunday. A Tribune photograph
20 vocational institutions lose affiliation
Chandigarh, August 25
The Technical Education Department has cancelled the affiliation of 20 institutions with the State Council for Vocational Training (SCVT), official sources said. The affiliation of five institutions with the National Council for Vocational Training (NCVT) has been suspended and their case forwarded to the DGET.


2014 to be year of regional parties, claims JD(U) chief
Longowal (Sangrur), August 25
Claiming that a third front would be formed only after the Lok Sabha elections, former NDA convener and Janta Dal (United) president Sharad Yadav said regional parties would gain prominence in 2014.

CPS Sidhu's remarks anger SAD leaders
Amritsar, August 25
After her outburst against the state government and the state BJP, Chief Parliamentary Secretary Dr Navjot Kaur Sidhu finds herself in yet another controversy, this time over her remarks against some local SAD leaders.


Dr Navjot Kaur Sidhu (in pic) has accused Amritsar district Akali leaders of indulging in the drug trade


SAD nominee elected Sangrur ZP chairman
Sangrur, August 25
Gurcharan Kaur, who was elected member of the Sangrur Zila Parishad (ZP) on the SAD ticket from the Badrukhan zone, was absent at a meeting here yesterday to elect chairman and vice-chairman of the ZP. She was said to be among front-runners for the post of ZP chief.

Khaira shames SGPC for failing to procure rare Sikh artefacts


Chandigarh, August 25
Sukhpal Singh Khaira, PPCC spokesman, today criticised the SGPC for its failure to acquire rare documents and artefacts related to the era of Maharaja Ranjit Singh that were put under the hammer by an auction house in London on Wednesday.



Education Dept to punish school principals for dummy admissions
Chandigarh, August 25
The state Education Department has warned principals of stern action in case they allowed dummy admissions in their schools.

42 more diarrhoea cases in Phagwara


Phagwara, August 25
At least 42 more cases of diarrhoea were reported in Powadhra village near Bilga today, taking the number of patients to 124.

Labour Party's Dhesi vows help on turban issue
Amritsar, August 25
Tanmanjit Singh Dhesi, who originally hails from Jalandhar and been chosen by England's Labour Party to contest parliamentary elections from the Gravesham constituency, today said that if elected, he would make every effort to ensure that the turban was given due respect at foreign shores.

SGPC approves renovation of Sikh Museum
Amritsar, August 25

The SGPC executive has approved renovation the Central Sikh Museum at the Golden Temple complex here. Museum in charge Iqbal Singh said under the renovation plan, photographs, rare documents, artefacts, weapons and musical instruments kept at the museum would be placed into categories.



in for overhaul: Paintings on display at the Central Sikh Museum, located in the Golden Temple complex, in Amritsar. A Tribune photograph

Out of OPD cards, Rajindra Hospital issues rough slips
Patiala, August 25
While the Government Rajindra Hospital authorities have spent several lakh rupees on building infrastructure, they failed to buy any Out Patient Department (OPD) slips. Patients have been issuing stamped handwritten slips for the last 10 days.
For these panchayat members, it's never too late to learn
Bathinda, August 25
Fifty-year-old Murti Devi's is a classic example of 'it's never too late to learn'. The victory in the recent panchayat elections has also made it possible for her to defeat the bigger "foe" of illiteracy that she had been associated with for the past five decades.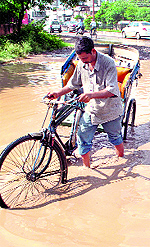 A rickshaw-puller wades through a waterlogged road at Sirhindi Gate chowk in Patiala on Sunday. Tribune photo: Rajesh Sachar


Govt to start 'bed and breakfast' plan for tourists


Chandigarh, August 25
The Punjab Government is set to promote high-end 'bed and breakfast' scheme to boost tourism and provide a home-like affordable accommodation to visitors.

Diagonstic centre to be set up at Sangrur Civil Hospital
Sangrur, August 25
Since CT scan and MRI (magnetic resonance imaging) test facilities are not available at any of the government hospitals in the district, a diagnostic centre is being set up under the public-private partnership mode on the premises of the Civil Hospital here.

2,444 challaned in Sangrur for smoking in public
Sangrur, August 25
As many as 2,444 people have been challaned for smoking in public areas in Sangrur district from January 2013 to July 2013. Amritsar district has issued the second highest number of challans in the same period. It has issued 1,662 challans while Hoshiarpur 1,484 challans.

Varsity cancels admissions of CMJ University students
Patiala, August 25
Punjabi University has finally issued a circular to all departments of the university directing them to cancel the admissions of all students who have sought admission in the university on the basis of a degree issued by CMJ University, Shillong, in year 2013-14.

Villagers seek police action against vandals


Barnala, August 25
The residents of Beehla Khurd village, near Tallewal, staged a dharna in front of the office of the Deputy Commissioner (DC) here, demanding strict action against the accused who had demolished a crematorium, built in the village in memory of a CRPF jawan Darshan Singh.



Faridkot chemists fleece cancer-hit
Faridkot, August 25
Days after the Punjab and Haryana High Court directed the National Pharmaceutical Pricing Authority (NPPA) to finalise the prices of anti-cancer drug formulations and asked the NPPA to widely publicise the anti-cancer drugs being brought under the price control so that there is no fleecing of the patients, some authorised chemists at Guru Gobind Singh Medical College and Hospital (GGSMCH), Faridkot, continue to take the helpless and mostly illiterate cancer patients hailing from the rural areas for a ride.





Delhi woman held in Moga passport scam


Moga, August 25
The special investigation team (SIT) of the police has arrested a US woman at the international airport in New Delhi in the infamous Moga passport scam. The SIT produced her before a duty magistrate here today who sent her to two-day police custody. Inspector Shiv Chand and ASI Tejinder Singh, both SIT members, said the accused, Ritu Kumar, hailed from Rohini area of New Delhi. She was married to Vicky Kumar of Banga in Jalandhar district.

3 travel agents arrested for duping youths
Hoshiarpur, August 25
The police today raided a local banquet hall on the Una road and arrested three travel agents for allegedly duping several youths on the pretext of getting them employment abroad. The accused have been identified as Deepak Kumar, Surinder Kumar and Karnail Singh, all local residents.

FIR lodged for ruckus at Sangat Darshan
Muktsar, August 25
The Lakhewali police has registered a case against few residents of Khunde Halal village and some unidentified persons for allegedly creating ruckus at the Chief Minister's Sangat Darshan at Chibbaranwali village yesterday.

Nine held for clash with cops in Abohar
Abohar, August 25
Most of the 80 residents of Sayeedwala village who were charged with attempt to murder, rioting, obstructing official work and damaging government property after clashes with the police at the Abulkhurana drain on Wednesday are missing from their houses, sources said. About 30 of them, including a woman, were identified in the FIR registered on the basis of the statement given by the sub-divisional engineer of the Drainage Department Shashi Bhushan. The police was able to arrest only nine of the accused today.