Villagers want CRPF unit shifted from school
Hisar, August 25
Residents of Mirchpur village have demanded that a unit of the Central Reserve Police Force (CRPF) be moved out of the compound of a government boys' senior secondary school, stating that the presence of cops is affecting studies.
Only 2 teachers run Jagadhri school
Yamunanagar, August 25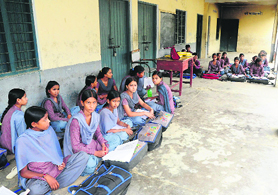 With no teacher for English, mathematics and social studies posted at a Jagadhri government school, Kail, self-study is the only way for the students to pass examination and to 'kill time' during school hours. There are 117 students and only two teachers to monitor them. The only saving grace is that no student can fail under the Right to Education up to Class VIII, which is how the promotions keep going.
A class without a teacher in the government school at Kail village in Yamunanagar. Tribune photo: Parvesh Chauhan

Panic of Kala Kachha gang grips Sirsa, Fatehabad
Sirsa, August 25
Panic has gripped residents of Sirsa and Fatehabad districts as rumours of attacks by the Kala Kachha gang have been prevailing in rural as well as urban areas. Incidents of youths guarding their villages against the possible attack of imaginary Kala Kachha gang ending up thrashing strangers venturing towards their villages by mistake abound in the two districts these days.
28 pc cotton crop under whitefly attack
Sirsa, August 25
Cotton crop in the state is under severe attack of whitefly, an insect capable of damaging the crop through its direct impact as well as by becoming a carrier to a deadly infection — cotton leave curl virus (CLCuV). Nearly 28 per cent of the crop has been affected by the attack, as per a study conducted by scientists of Chaudhary Charan Singh Haryana Agriculture University (CCSHAU), Hisar, against 4 to 5 per cent last year.
Crop failure: Farmers block highway
Hisar, August 25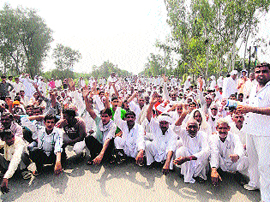 Hundreds of farmers blocked the Delhi-Hisar highway for around two hours today in protest against the district authorities for ignoring the interests of farmers who had suffered huge losses due to crop failure. They also threatened to block the highway indefinitely if the government failed to heed to their demand. They would also block the road on Monday. However, commuters faced inconvenience who got stuck in a jam for around two hours.
Farmers sit on the Delhi-Hisar highway in Mayyar village on Sunday. Tribune photo
Public meeting in Mann's memory
Kalayat (Kaithal), August 25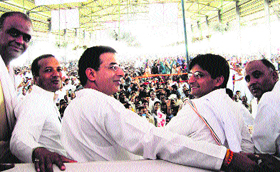 "Late Tejinder Pal Singh Mann was a symbol of struggle and sacrifice and he always had a dream to ensure development of the Kalayat area. We will work in unison to fulfil his aspirations," said Randeep Singh Surjewala, PWD and Industries Minister.
(From left) MP Naveen Jindal, State PWD Minister Randeep Singh Surjewala and MP Deepender Singh Hooda during a meeting in Kalayat on Sunday. Photo: Satish Seth

Residents protest against disrupted power, water supply
Sonepat, August 25
Hundreds of residents of the Patel Nagar locality today blocked the Rathdhana road for an hour in protest against disruption in electricity and drinking water supplies after repeated burning of electricity transformer. They demanded replacement of 100-KVA transformer with the 200-KVA transformer and tightening of loose electricity wires passing over the streets of the locality.
Funds for Ambala shifted to other districts: BJP
Ambala, August 25
The BJP again raked up the development issue with leader of the BJP legislative party Anil Vij accusing the state government of backtracking on its own promises. Vij said despite the government giving in writing that projects worth several crores had been sanctioned for Ambala in 2011, these projects had not got completed till date.
667 bottles of cough syrup seized
Sirsa, August 25
The Crime Investigation Agency (CIA) staff of the Sirsa police today recovered a huge cache of medical intoxicants from a house in the town and arrested two persons under the Narcotic Drugs and Psychotropic Substances (NDPS) Act.
Villager shot at for seeking info under RTI
Sirsa, August 25
A villager was shot at at Rampura Bagria village in Sirsa, allegedly for seeking information under the Right to Information Act for some development works taken up by the village sarpanch. The critically injured villager was first shifted to General Hospital, Sirsa, and then referred to the PGIMS, Rohtak, in critical condition.
Health Mela organised
Kurukshetra August 25
To provide better health services to residents in Haryana is the first aim of the Haryana Government. This was stated by Haryana Finance and Irrigation Minister Harmohinder Singh Chatha at the inaugural function of Health Mela which was organised by the OP Jindal Grameen Jankalyan Sansthan on the 84th birth anniversary of former minister OP Jindal on the premises of Baba Sharwan Nath School Pehowa 20 km from here today.
Boy healthy after liver transplant
Gurgaon, August 25
Four-year-old Rishi, whose mental and physical growth was stunted by citrullinemia, a rare metabolic genetic disorder, was successfully treated with a complex liver transplant procedure at Medanta Liver Institute. It is a piece of his father's liver which has changed his life.
Student booked for classmate's rape
Rewari, August 25
The Rampura police has arrested Ravi Yadav of the nearby Bharawas village, a student of BA (Part II), for allegedly raping his classmate (21), a resident of the Qutubpur colony here, for about one year on the pretext of marrying her.
Petrol station looted at gunpoint
Rewari, August 25
Two armed miscreants have looted about Rs 10,000 and three mobile phones from three employees of a petrol station at gunpoint. The petrol station, Ashutosh Filling Station, is situated at Raghunathpura village on the Bawal-Pranpura road, about 16 km from Rewari. The miscreants locked the employees in a cabin of the petrol station.They also fired several rounds in the air, smashed the security guard Lal Singh's rifle and inflicted grievous injuries on him. On a complaint filed by Lal Singh, the Bawal police has registered a case of robbery, causing grievous hurt, wrongful confinement, causing damage and under the Arms Act. The police also recovered empty shells of the cartridges from the spot. — OC
Ex-servicemen raise demands at HPCC meeting
Chandigarh, August 25
The ex-servicemen cell of the Haryana Pradesh Congress Committee held a meeting of ex-servicemen of Bhiwani district at the Jat Dharamshala, Bhiwani, yesterday. The meeting was widely attended and mainly dwelt upon the issues being faced by ex-servicemen. The main concern was that of 'one rank one pension', parts of which are still unresolved while some ex-servicemen coming from remote rural areas raised the demand for mobile canteens to visit their areas. The other issues raised by them included paucity of medicines for the ECHS scheme for ex-servicemen and exemption of vehicles of ex-servicemen from toll tax. — TNS
MC notice to builders
Rohtak, August 25
The Municipal Corporation Rohtak (MCR) has finally served notices on builders of as many as 39 under-construction buildings. The builders, who have been told to halt the construction, have been warned that the building will be sealed in case the orders were violated. This is perhaps the second or third time when the civic authorities have issued notices against such constructions, though several buildings had been allowed to be constructed in the past years. — TNS
3 booked for dowry
Rewari, August 25
The Kosli police has registered a case of harassment for dowry against Kuldeep Yadav, husband of Mini Yadav, Ram Chander, her father-in-law, and Bimla Devi, her mother-in-law, all residents of Jhajjar district. Mini said soon after her marriage to Kuldeep on December 6, 2011, her in-laws started harassing her for bringing a car. When the situation became unbearable, she returned to her parental house at Kosli. — OC
2 held for murder
Faridabad, August 25
Two of the seven accused in the sensational murder of a man on the premises of the local district courts on Thursday were arrested here last evening. Pawan of Ankhir village in this district and Denesh Pandit of local SJM Nagar are among seven others named in the FIR. The two were produced in a court which sent them in three-day police remand. Vijay Kumar, SHO, said they had confessed of their involvement in the murder. — TNS
Woman commits suicide
Sonepat, August 25
Priti (26), a widow and mother of a three-year-old boy, committed suicide by hanging herself at her residence in Nandnaur village last night. The police said a suicide note was recovered from her possession in which she said she was disturbed over the false allegation of her illicit relations with her late husband's cousin Pramod. Priti's husband Anil was allegedly murdered by Pramod. — OC