Bo calls top witness abominable liar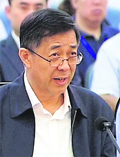 Bo Xilai at a court in Jinan on Sunday. — AP/PTI
Beijing, August 25
The high-profile trial of disgraced Chinese Communist Party leader Bo Xilai was abruptly adjourned on the fourth day today as the defiant pro-Maoist strongman questioned the motives of prosecution witnesses, including his jailed wife.
The trial is due to resume tomorrow morning but there is no certainty as to when it would end and could go on for a while, state-run CCTV reported.
The whole court investigation phase of this case was completed, according to the official media and Bo and prosecution was expected to argue their cases.
Bo, 64, a politburo member of the Communist Party of China (CPC) and the head of the Chongqing city, was sacked last year after allegations of his wife Gu Kailai's involvement in the murder of a British businessman Neil Heywood in November 2011 surfaced early last year.
Bo, a hardline Maoist and critic of CPC reformist ideology unleashed his anger on Wang Lijun, the police chief of Chongqing whose defection to US Consulate in Chengdu blew the lid over the case.
Wang, 53, who reportedly suffered paralytic attack recently while serving a 15-year jail term, was so afraid of Bo's wrath over the investigation into Gu's involvement that he fled to the US mission to protect himself.
Had Wang not defected to US consulate, Bo would have continued as top leader and perhaps would have been elected to the seven-member Standing Committee headed by Xi Jinping that now rules the country, Prof Li Zhaojia of Tsinghua University told CCTV today emphasising on the importance of the case.
It was only subsequently that other charges of bribery and embezzlement were levelled against Bo, he said.
As the court heard yesterday and today of the abuse of power specially his efforts to cover-up Gu's involvement in the murder, Bo hit back at Wang calling him an "abominable liar".
Such was the intense questioning that Bo's lawyers even called for medical examination of his claims of illness.
Bo says that Wang is a person of "extremely abominable character", the South China Morning Post quoted court transcript as saying.
Bo said he could not have punched Wang, because he has no boxing experience and lacks the necessary physical strength.
Wang was "clearly lying", he said while admitting he slapped him.— PTI