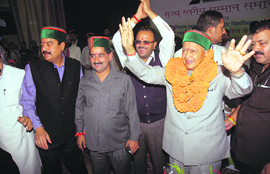 CM bats for semester system in colleges
Shimla, August 25
Chief Minister Virbhadra Singh today said the semester system being introduced in colleges under the Rashtriya Uchtar Shiksha Abhiyan (RUSA) would go a long way in improving academic standards at the undergraduate level.
Chief Minister Virbhadra Singh at Himachal Pradesh University in Shimla on Sunday. A Tribune photograph

Notice to two private varsities for failure to give admission info
Shimla, August 25
The State Private Educational Institutions Regulatory Commission has issued notices to two private universities for their failure to submit the details of admissions in undergraduate engineering programmes within the stipulated period. The commission had directed the management of Manav Bharati University, Solan, and IEC University, Baddi, to appear personally before it along with the relevant record of admissions, or else they would face action.
Mining mafia active in Sarkaghat, Dharampur
Sarkaghat/ Dharampur, August 25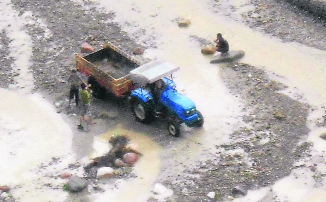 The Sarkaghat-Dharampur belt is fast emerging as the hub of illegal mining in the district. Tractors and tippers loaded with sand and gravel from the Seer, Sone, Chander, Ruso and Sandhol khads have become common sight here. Every monsoon comes here as a harbinger of mineral wealth, sand and boulders for the mining cartel.
Illegal mining is on at the Sone khad in Dharampur. Photo: Jai Kumar

Consumers suffer in absence of check on drugs prices
Palampur, August 25
The common man is ending up shelling out more for medicines, including life-saving drugs, as these are being sold at exorbitant prices. The difference between the cost price (CP) and the maximum retail price (MRP) for generic drugs is ranging up to 700 per cent.hough the Central government had recently controlled the prices of over 317 drugs, life-saving drugs are still being sold at higher prices.
Kisan Sabha questions authenticity of monkey census
Shimla, August 25
Terming the recent head count of simian carried out by the State Forest Department as misleading, the Himachal Kisan Sabha has questioned the authenticity of the population figures of monkeys and blamed the Principal Chief Conservator Forests (Wildlife) for placing wrong data before the public.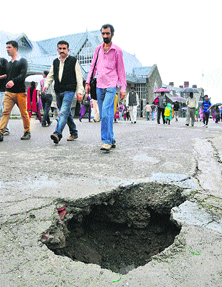 A big hole appears on the Ridge ground after a heavy rainfall. Photo: Amit Kanwar

Crippled 3G service of BSNL irks subscribers
Nurpur, August 25
Subscribers of the 3G (data-cum-voice) service of Bharat Sanchar Nigam Limited (BSNL) are facing tough times due to poor infrastructure and management of BSNL. The 3G service was launched in June, 2011, and it has been provided to subscribers of landline and mobile phones in three sectors. But only subscribers of one sector, comprising one-third of the total subscribers, are availing the benefits of the service.
BJP lashes out at govt for 'all-round failure'
Shimla, August 25
The BJP has criticised the Congress for holding a vikas rally on August 30, without having any achievements on the development front. Party spokesperson Ganesh Dutt today said development activities had virtually come to a halt over the past eight months and the Congress government had been busy wreaking vendetta on political opponents. Over 45,000 employees had been transferred, mostly on political considerations, and the government had been harping on financial crisis.
Chamba district jail shifted to new building at Rajpura
Chamba, August 25
Consequent upon the directives of the state government, the District Jail of Chamba was shifted to a newly constructed jail at nearby Rajpura village last evening. This was stated here today by Bachan Singh, Sub-Divisional Magistrate (SDM), Chamba, who is also Superintendent, District Jail.
| | |
| --- | --- |
| The old jail of Chamba. | The new jail edifice at Rajpura in Chamba district. |
Activities must for personality growth, students told
Bilaspur, August 25
Students should participate in all school activities, including games, as these are essential for the all-round development of their personality, said Chief Parliamentary Secretary (Forests and Fisheries) Rajesh Dharmani during a sports function at Government Senior Secondary School, Dangaar, here yesterday.
Another fraud in encashment of DD detected
Palampur, August 25
Another fraud in the encashment of a demand drafts (DD) in a local bank has come to light. As the Manager of the bank suspected a foul play, the culprit failed to get Rs 6.90 lakh transferred to his saving account.
Bad weather hampers rescue operation
Dharamsala, August 25
Even as there is no clue to two French trekkers, who had gone missing in the Dhauladhar mountain range on August 23, the inclement weather has made the task of the rescue team difficult in the higher reaches.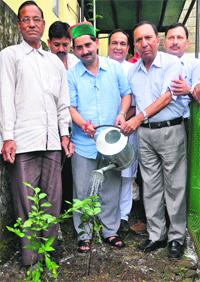 Forest Corporation vice-chairman Kewal Singh Pathania plants a sapling at the Press Club in Dharamsala on Saturday. Photo: Kamaljeet

Anganwadi workers seek status of govt servant
Mandi, August 25
The Anganwadi Workers and Helpers Union, affiliated to the CITU Trade Union, today demanded that they should be given the status of government servant, and their workers be promoted as supervisors and helpers as workers. Addressing a conference of workers and helpers at Paddar today, Mandi unit president Sumit said no government had provided the status of a government employee to anganwadi workers and helpers.
Plantation drive to save Dhauladhars
Palampur, August 25
The Dhauladhar Sewa Samiti, an NGO, today announced to fight against environment degradation caused by power companies in the Dhauladhar hills in the past few years. The samiti today launched a plantation drive and urged residents to come forward and support the samiti to save the Dhauladhar hills and keep the Kangra valley clean and green.
Cong seeks accountability of leaders
Shimla, August 25
Pradesh Congress Committee (PCC) chief Sukhwinder Singh Sukhu has asked the presidents of the district units of the party to send a list of MLAs, office-bearers of the block units and other leaders who failed to participate in the programmes organised to mark Sadbhavana Diwas on July 20.
Seminar held on Hypertension Update
Kangra, August 25
A seminar on Hypertension Update was organised at Dr Rajendra Prasad Government Medical College at Tanda in Kangra yesterday. Transport, Civil Supply and Technical Education Minister GS Bali inaugurated the seminar.
Illegal mining: Sirmour admn seizes 50 tractors
Shimla, August 25
In a major clampdown on the mining mafia, the Sirmour district administration has seized 50 tractors allegedly carrying illegally mined sand and gravel from various rivers in the Paonta Sahib area.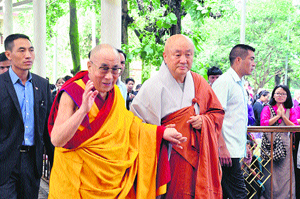 Divine discourse: The Dalai Lama arrives for a teaching session at the Tsuglagkhang Temple at McLeodganj on Sunday. Photo: Kamaljeet

Pratibha meets Antony on SAIL land row
Shimla, August 25
Pratibha Singh, MP, met Union Defence Minister AK Antony in New Delhi on Friday. She requested him to intervene in the land row between Steel Authority of India Ltd (SAIL) and the Field Ordinance Depot, Kandrori, to pave the way for the construction of a SAIL plant.
Traders protest against poor condition of NH
Nurpur, August 25
hopkeepers of the Chogan market today held a silent demonstration by tying black strips on their mouths in protest against the poor and deteriorating condition of the stretch of the Pathankot-Mandi national highway (NH)-154 at Chogan. The market is situated on this highway. The protest was led by Rohit Mahajan, vice-president, Nurpur Beopar Mandal. The traders holding demonstration told mediapersons that this 1-km stretch was full of potholes and had become a death trap for highway users, especially at night driving. But the NH authorities were indifferent towards the deplorable condition of the highway. The agitating traders also gave a two-day ultimatum to the NH authorities to repair and maintain highway. — OC
Cong to hold rally on Aug 30
Shimla, August 25
The state unit of the Congress will organise a Vikas Rally on August 30 here to highlight the achievements of its government over the past eight months. Chief Minister Virbhadra Singh will address the rally. A spokesman of the party said here on Friday that the Congress took over the reins of the state only eight months ago, but it had taken several public welfare decisions. He said the government had also launched many new schemes and programmes. The Skill Development Allowance Scheme-2013, under which eligible unemployed youth, aged between 18 and 35 years, would be given a monthly allowance of Rs 1,000 for training. The youth with disability would be entitled to a monthly allowance of Rs 1,500 under the scheme. He said party workers from all over the state would participate in the rally. — TNS
3 held for posing as vigilance sleuths
Dharamsala, August 25
The Jawalamukhi police has arrested three youths for duping various private schools by feigning as vigilance sleuths. he sources here said in the last few days, three youths from the Palampur area, Suresh Kumar, Parveen Kumar and Kishan Chand, raided various private schools in the Jawalamukhi area posing as sleuths from the Vigilance and Anti-corruption Bureau. They used their Mahindra Xylo car (HP-33D-9259) for fake raids and allegedly collected some money from the schools. owever, on Saturday when they again raided a private school, the authorities got suspicious and informed the police. — TNS
Man found drowned in village tank
Bilaspur, August 25
Gopal Dass (45) of Tata Mithili village on the Bandlla hill, near here, and Class IV employee in the HP PWD here, was found drowned by villagers today. Reports said he had left for his office from his home village yesterday. He must have stopped to wash his hands and face at a village water tank. It is suspected that he must have slipped and fallen into the deep water and got drowned. Villagers noticed his body floating and pulled it out. The police has registered a case and is investigating. — OC