Rupee's decline
Reforms must to tackle structural issues: Experts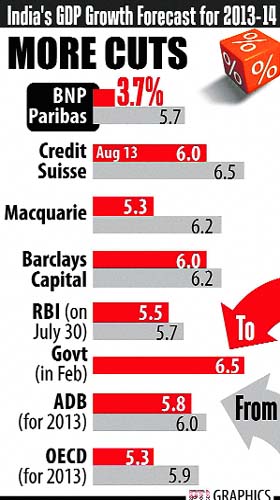 Mumbai, August 28
As Indian economy grapples with the free fall of the rupee against the US dollar, a record high current account deficit (CAD), growing fiscal pressures, and slowest growth in a decade, analysts today pitched for reforms to tackle structural issues.
The Indian rupee slumped to a record low near 69 to the dollar on Wednesday on growing worries that foreign investors will continue to sell out of a country facing stiff economic challenges and volatile global markets.
The rupee had closed on Tuesday at 66.24/25. An assault on the psychologically key 70 level now appears imminent, as intervention from the central bank seen mid-morning only gave the rupee a brief respite. In the stock market, state-run Life Insurance Corporation, which was spotted buying shares, allowed the domestic benchmark index to erase steep early losses and end the day stronger.
"If steps are not taken to implement the reforms necessary to tackle the structural issues, the government will be left with the so-called '3D options': debt default, devaluation, deflation," said Angelo Corbetta, head of Asia equity for Pioneer Investments in London.
"In India, devaluation is happening now and deflation could be about to start. The good news is that the debt default is highly unlikely." Foreign investors have sold almost $1 billion of Indian shares in the eight sessions through Tuesday —a worrisome prospect given stocks had been India's one sturdy source of capital inflows in the first half of 2013. If more foreign investors throw in the towel, traders fear it will put the country in a vicious cycle in which the hit to confidence in turn slams shares and the currency even harder.
Policymakers have consistently struggled to come up with steps that can convince markets they can stabilise the rupee and attract funds into the country despite extraordinary measures last month by the central bank to drain liquidity and action to curb gold imports and cut India's huge oil import bill.
Rising oil prices, US Fed fears amplify pressure
India badly needs foreign capital as it struggles with a record high current account deficit, growing fiscal pressures and an economy growing at the slowest in a decade. The failure to address India's economic challenges is becoming an increasing source of tension at a time when fears of a possible US-led military strike against Syria are knocking down Asian markets, with the prospect that the Federal Reserve will soon end its prolonged period of cheap money further raising concerns. At the same time, rising domestic bond yields threaten to raise borrowing costs across the already slowing economy, while global prices of oil and gold - the country's two biggest imports - have surged this week. "The end game for the current decline would be the day the rupee stops falling, alongside government measures like a substantial diesel price hike," said Samir Arora, a fund manager at Helios Capital in Singapore.
Lacking confidence
The rupee has plunged more than 20 per cent this year, by far the biggest decliner among the Asian currencies tracked by Reuters. Foreign investors are paring equity positions, having sold a net $3.6 billion in stocks since the start of June, but still their net purchases so far this year total nearly $12 billion.
In bond markets, foreign investors have sold more heavily, with outflows reaching nearly $4.6 billion so far this year. Yet the government has so far failed to provide a coherent response, analysts said. Its approval of infrastructure projects on Tuesday was trumped by concerns about the fiscal deficit after the Lok Sabha approved 1.35 trillion rupees ($19.6 billion) plan to provide cheap grain to the poor. In its latest initiative, the government late on Tuesday proposed setting up a task force to look into currency swap agreements, a measure analysts said could bring some relief if carried out in time by reducing market demand for dollars or other major currencies. — Reuters
Biggest fall
On Wednesday, the rupee hit a record low of 68.85; closes at 68.80/81
Records biggest single-day fall since October 1995
Foreign investors turn heavy sellers of Indian shares