The tribune DEBATE: asli vs naqli chandigarh

Growth at core, name means nothing
The rechristening of Mullanpur as New Chandigarh has the people divided. While some feel it is a political stunt, others believe it is a non-issue as the new town will create jobs and relieve pressure on the existing city. Readers write in.
Making the rich richer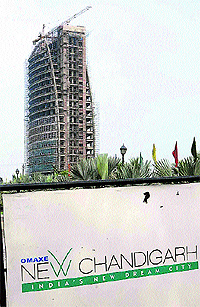 A high-rise building coming up in Mullanpur, near Chandigarh. Tribune file photo: Manoj Mahajan

Rather than building New Chandigarh, the Punjab Government should have focused on dispersive development across the state. There is disparity in development in the Majha, Malwa and Doaba regions. Development in rural areas is only taking place in Bathinda district, in which the Badals have political interest and from where Harsimrat Kaur Badal is the MP. No other reason can be cited for this craze for New Chandigarh except the fact that the Chief Minister, his son, ministers, bureaucracy, and other high-ups in the administration have vested interests in the project.
Environmental theories do not highlight the plight of the 'aam aadmi' in Punjab. If every HRD institute is established in and around Chandigarh, New Chandigarh and Mohali, the youth in far-flung rural areas are not going to benefit from these. Why does the Central University of Punjab have to be established in Bathinda, or NIPER in Mohali, when no such institution exists in Gurdaspur and surrounding districts of the Doaba region?
New Chandigarh will merely make the rich richer. Why does the judiciary always have to step in to correct the blunders committed by the public authorities and governments? Have persons at the helm of affairs lost all sense of governance?
The Saundha bus mishap is a small pointer to tragedies that will keep happening due to the callousness of the government. No one is spending on infrastructure for the safety and welfare of the people. But projects like New Chandigarh will get priority as the bigwigs will get a chance to make hefty amounts of money.
There are no safety measures on national highways and main roads; many level crossings are unmanned; liquor vends are operating from highways; the youth is taking to drugs. What is the government doing?
— Col MS Bajwa, Chandigarh
Give it a chance
Any development that takes place close to an existing city will face resistance. But there are positive aspects too. Firstly, the master plan does not touch any eco-fragile area. Secondly, the farmers have received good compensation ranging between Rs 1.5 crore and Rs 10 crore. Just a few years ago, it was very difficult for them to even make both ends meet. The farmers are now increasing their landholdings by purchasing land in other parts of Punjab and Haryana.
The land-pooling policy of the government has made farmers an active partner in development. At least now a middle-income group person can also dream of having a residential or commercial set-up in proximity to Chandigarh, and that too in an area that is better planned and will have the latest infrastructure. Moreover, with Chandigarh having no further space to grow and the existing infrastructure meant only for a population of half a million, New Chandigarh will prove its critics wrong. The 'naqli' may prove to be better than the 'asli'! Let's give it a chance.
— Girish Anand, Manimajra
'New Mullanpur' will do
The first attempt to create New Chandigarh was made by former Punjab Chief Minister Beant Singh in 1993. He had planned to acquire land around 17 villages near Chandigarh for the purpose. The next attempt was made by Chief Minister Parkash Singh Badal in 1999. He had planned to acquire the land around 25 villages near Anandgarh. The plan was shelved on legal grounds after the intervention of the Punjab and Haryana High Court. The latest attempt is by Deputy Chief Minister Sukhbir Singh Badal. He promises world-class medi-city, spa village, edu-city, golf course and other such recreational activities. Are these facilities enough to lead a good life? The realities of life are harsh. If a handful of people in Punjab are enjoying this lifestyle, it doesn't mean that the majority of people would welcome this step as it is still a dream for them. There are hundreds of problems facing Punjab, out of which water supply, electricity, unemployment and other basic issues remain untouched. Name it 'New Mullanpur' instead.
— Gurpreet S Malhotra, Kansal
What's in a name?
The Punjab Government's idea to develop Mullanpur as New Chandigarh is not wrong. It is the need of the day as the population of Chandigarh is increasing. The city has become too crowded. People of Punjab can dream to have a home in New Chandigarh. Moreover, the city can be developed as per the latest technology and proper planning, with wide roads and enough green cover. The fuss over the name is meaningless.
— Kamaljit Malwa, Mansa
Only for land sharks
I have seen Chandigarh being shaped into city beautiful since 1970 when I was a student of DAV College. Today, it pains me to learn New Chandigarh is being planned in its proximity. If the intentions were noble and well coordinated, no one would have minded it. But the concept is politically motivated, to benefit the big land sharks. The high-rises and haphazard buildings will not only lead to a bigger urban sprawl, but also further stretch the civic and service amenities of Chandigarh. Institutions like the PGI, which are already strained, will bear the brunt. It is a classic case of destroying a positive, and replacing it with a negative. The Punjab Government should rise above vested interests and plan the city at least 40 km away from Chandigarh, under a different name. It is unethical to call it Chandigarh. It should come up only once a committee of prominent citizens of Chandigarh have approved it. Else, the Punjab Governor must step in to save City Beautiful - the pride of the nation.
— Col (retd) RD Singh, Ambala
Where is the money?
Building a new town will lead to more job opportunities, new infrastructure and accommodations for the people, but does the government have the finances to establish such facilities? Chandigarh's Madhya Marg will witness frequent traffic jams in the area. Punjab does not have the funds for such large development. It should develop areas that are already struggling. The government will not be able to provide enough power and water, besides other facilities to the people of New Chandigarh. The project should be analysed to know if it would benefit the people of Punjab. We need good political leaders, not businessmen. We have seen the consequences of poor development in Uttarakhand. The Congress and the SAD must arrive at a consensus on Mullanpur. It should not be linked to Chandigarh to lure people. The new city will take several years to develop.
— Beerinder Singh Bhatt, mail
Chandigarh is a liability
I am shocked at the biased view being promoted by a newspaper I always held in high esteem. What is wrong in developing a planned city? What is wrong in developing high-rises, when soon we are going to run out of space for our burgeoning population? All cities have their satellite towns. The National Capital Region was recently expanded to include more areas. What is the big deal about the name? As far as the character of Chandigarh is concerned, I quote from the "Land of Seven Rivers" that the country's urban thinking is "severely damaged by Le Corbusier's philosophy that buildings were machines for living". It has generated little of economic and cultural value. It remains a sterile and heavily subsidised city of tax-consuming bureaucrats that encourages neither entrepreneurship nor tax-generating jobs despite being the capital of two prosperous states.
— Sandeep Mahajan, Mohali
Chandigarhians' issue
Owning a home is a dream very few can realise despite a slowdown in the real estate market. Many salaried class people are settled in Zirakpur, Dera Bassi and Kharar. The quality of life in these haphazardly developed townships is nowhere close to 'City Beautiful'. Potholed roads, overflowing drains and long power cuts are a far cry from Chandigarh's well-designed infrastructure. With the Punjab Government's decision to develop Mullanpur like Chandigarh, there is a glimmer of hope. I would like to ask all those who are objecting to the re-naming and development of Mullanpur where they reside. Chandigarh is my guess!
— Ragini Gulati, mail
People's needs important
Growth and development are positive indicators. It is astonishing that the three-time MP from the city — who has not contributed to the city's growth but only created slums for the sake of votes — says a city should not come up close to Chandigarh. New Chandigarh will ease out the pressure of population, environment, traffic congestion, water and power. Various Punjab Government offices and departments will move out. It is a coincidence that some land around the city belongs to politicians, bureaucrats and real estate developers. Can this new town, with all the benefits, be called 'naqli'? The needs of the people are more important than the opinions of people. When the then Chief Minister Partap Singh Kairon conceived the idea of carving Chandigarh, he was criticised, but people now appreciate his vision.
— Capt Amar Jeet Kumar, Mohali
All deserve to work, grow
The people of Chandigarh don't want a second Chandigarh as they feel the 'asli' would lose its glory. Mohali and Panchkula are planned and have their own growth story, without disturbing Chandigarh in any way, or taking away from it. These people are afraid of their own prestige and status getting lost. The new town should come up, and can be given any name. It would give thousands of people a chance to work and grow.
— Dr Surinder P Singh, Kapurthala
Protect brand Chandigarh
Cheap imitation products of popular brands are often sold at public places. Brand owner companies take action because it dilutes the identity of their product since the quality of the fake product is poor and financial gain is the only consideration. The case of New Chandigarh is not any different. Coining the name is a cheap imitation for financial gains for a handful of real estate and property owners.
Brand Chandigarh has established itself by virtue of its unique planning and architecture. No other Indian city comes close to it. How can Chandigarh allow anyone else to use its name and capitalise on its character? Sukhbir Badal had said if Mumbai could have Navi Mumbai and Delhi, New Delhi, what is wrong with New Chandigarh. He should be reminded that Navi Mumbai and New Delhi are in the same state where the old city is.
A thought must be given to how it will burden the infrastructure of Chandigarh and affect the fragile ecology of the Shivaliks. Chandigarh's identity must be protected.
— Vikas Dureja, mail
(More reader responses on the debate appear tomorrow)