Flood fury claimed two lives in Muktsar
Muktsar, August 30
Two persons, including a 15-year-old boy, have so far died due to floods in the district. An overflowing drain near Raniwala village in Malout sub-division claimed the life of a Class VIII student, Gurwinder Singh, who had gone to assist his father to save the crops on Sunday. He slipped and was drowned in the drain. The family approached the police for help, but the body could be recovered only yesterday.
Water damaged 3,655 houses in Fazilka
Fazilka, August 30
The recent floods have wreaked havoc in the district, causing extensive damage to crops, houses and other infrastructure in several border villages.
Alliance showered bounties on select industrialists: Bajwa
Jalandhar, August 30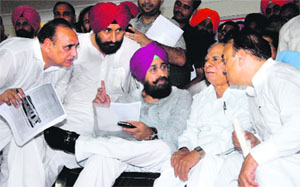 Punjab Pradesh Congress Committee (PPCC) chief Partap Singh Bajwa today alleged that the state government had showered favours on a few industrial houses by sleeping on the recovery of hefty loans running into several hundred crores for years. Such policies, said Bajwa, were to blame for the alleged financial emergency-like situation facing the state. he was speaking at the Congress' 'Mass Contact Programme' function at Dhina village in Jalandhar cantonment constituency.
PPCC chief Partap Bajwa along with Congress leaders in Jalandhar on Friday. Tribune photo: Malkiat Singh


Navjot Kaur on unity drive, extends olive branch to Joshi
Amritsar, August 30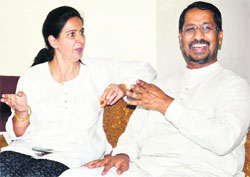 In an apparent bid to prepare the ground for MP Navjot Singh Sidhu's return to his constituency after a hiatus of over six months, his wife and Chief Parliamentary Secretary Dr Navjot Kaur Sidhu has embarked on a unity drive by extending an olive branch to Industry Minister Anil Joshi.

CPS Dr Navjot Kaur Sidhu meets Industry Minister Anil Joshi in Amritsar. Photo: Vishal Kumar

Majithia dares Cong to seek fiscal emergency in country
Gurdaspur, August 30
State Cabinet Minister Bikram Singh Majithia has blamed the country's federal structure responsible for the state's fiscal mess. Speaking at a sports festival organised by Chief Parliamentary Secretary GS Babbehali at his native village today, Majithia claimed that ever since Dr Manmohan Singh had taken over as Prime Minister, the country was facing a financial problems. This in turn had had a cascading effect on the economies of others states, including Punjab.
Major drive against sale of addictive drugs
Chandigarh, August 30
In a drive to check the sale of habit-forming drugs, the Punjab Government has arrested three chemists and registered more than 50 non-cognizable cases under the Narcotics Drugs and Psychotropic Subtances Act (NDPS), 1985, at various places in the state.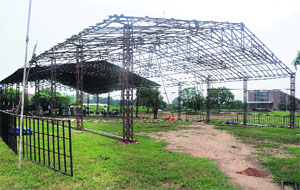 In memory:

A special structure being raised for the death anniversary of Beant Singh in Sector 42, Chandigarh, on Friday. Tribune photo: Parvesh Chauhan
SGPC flays university for teaching 'distorted' history
Amritsar, August 30
The SGPC today took a serious notice of the alleged distortion of facts about Guru Gobind Singh in a book being taught to the students at the Lovely Professional University (LPU), Jalandhar.
Ownership title for householders in villages mooted
Chandigarh, August 30
With property rates in villages shooting up, the Punjab Government has launched a pilot project to award ownership title to those owning houses in villages that fall within the "lal dora". After a series of high-level meetings, Fatehgarh Sahib and Ropar districts have been selected for the pilot project.
Industrial policy in red-tape
Chandigarh, August 30
A policy meant to fast-track industrial growth in the state has itself taken three months to be finally ready for implementation.
2 shortlisted for IAS post
Chandigarh, August 30
A committee headed by the Chief Secretary has shortlisted two candidates, Mohan Lal Sharma and Shiv Karan Singh Kahlon, from among the non-PCS officers for the single IAS post, said reliable sources. The committee had "interacted" with 15 such officers yesterday.
Police spending Rs 9.28 cr annually on VIP security
Chandigarh, August 30
The Punjab Police is spending Rs 9.28 crore per year on providing security to 25 VIPs, including members of Parliament, living outside Punjab. They have been provided with a security cover comprising 207 police personnel and three sections of the CRPF.
8 IAS, three PCS officers shifted
Chandigarh: The state government today transferred eight IAS and three PCS officers. Ramesh Kumar Ganta has been posted as Director, Treasury and Accounts and ex-Officio Secretary, Finance, along with the additional charge of Member Secretary, Punjab State Scheduled Caste Commission. Ajoy Kumar has been made Chief Administrator, Greater Ludhiana Area Development Authority.
Patiala girls to get free bicycles
Patiala, August 30
The Punjab Government will provide 10,825 free bicycles to girl students of Class XI and XII in the Patiala district within two months under the Mai Bhago Vidya scheme.
Govt schools directed to download question papers before exams
Chandigarh, August 30
The Punjab Education Department has asked the government schools to download the papers for the forthcoming September examination from their computers on the day of the examination and keep a copy of them before distributing it among students.
Food Security Bill will wipe out hunger: Capt
Chandigarh, August 30
Former Chief Minister and a permanent invitee to the Congress Working Committee, Capt Amarinder Singh, today hailed the passage of the Food Security Bill and the Land Acquisition Bill in Parliament saying these will change the destiny of crores of people across the country.
Compulsory Retirement
Why just us, ask PCS officers
Chandigarh, August 30
Threatened by the government's decision to compulsorily retire officers for acts of omission and commission, The Punjab Civil Services (PCS) Officers Association has demanded that this should not be restricted to PCS officers alone.
Army sensitises villagers on road safety
Abohar, August 30
The Army carried out 'Safe driving and anti-drug abuse' campaign at Diwan Khera village in this sub-division on Thursday.
750 bags of PDS wheat seized, three booked
Ropar, August 30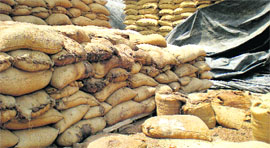 More than 40 tonnes of wheat meant for the government public distribution system (PDS) was seized by the district police when it was being taken for sale in the open market at Tapparian village last night.Three persons, identified as Pawan Kumar, Charan Dass and Munish Kumar, have been booked in this connection. Ropar SSP Inder Mohan Singh Bhatti said the accused were involved in buying wheat meant for distribution to ration cardholders at cheaper rates and used to sell it in the open market.
Panchayat secy caught red-handed accepting bribe
Fatehgarh Sahib, August 30
A Vigilance team from Patiala today nabbed panchyat secretary Tejinder Singh working in the Block Development Office, Sirhind, while accepting bribe.
17-yr-old boy held for rape
Fatehgarh Sahib, August 30
The police has arrested a 17-year-old boy for raping a class IV student of the government girls school, Sanghol, today.
Drugs seized during raid at 11 outlets
Ferozepur, August 30 In a joint operation launched by the police in coordination with the health department and the civil administration, around 11 drug outlets were raided in the district during which a large amount of intoxicating tablets, capsules and banned injections were recovered.
Four held with heroin
Tarn Taran, August 30
Teams of the district police have arrested four persons and seized 110 grams of heroin from their possession. The police said 60 grams of heroine was recovered from Gurwinder Singh Babblu of Lauhka, 20 grams each from Rashpal Singh of Bachre village and Gurjit Singh of Algo Khurd village. Ten grams of heroin was seized from Lakhbir Singh of Chander village.