Deputy CM selling false hope, says PPCC chief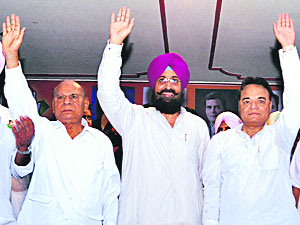 Phillaur, August 29
Blaming the ruling SAD-BJP leadership for the financial mess in the state, Punjab Pradesh Congress Committee leader Partap Singh Bajwa today attacked the state government for its failure to pay dearness allowance (DA) installments to its employees.




Partap Singh Bajwa (centre), Pradesh Congress president, with senior Congress leaders at a party rally in Phillaur on Thursday. A Tribune photograph

Holy city gets air link with Australia
Amritsar, August 29
The international air connectivity from Amritsar got a boost today with Air India linking the holy city to Australia via New Delhi through a connecting flight.
Maluka's relative, ex-Speaker's son in race for IAS post
Chandigarh, August 29
Parampal Kaur, daughter-in-law of state Education Minister Sikander Singh Maluka, Shiv Karan Singh Kahlon, son of former Punjab Vidhan Sabha Speaker Nirmaljit Singh Kahlon, and ML Sharma, Chief Minister's economic adviser, who are all non-PCS officers, are among the contenders for the single post in the IAS.
Villages flooded, residents blame political rivalry
Muktsar, August 29
Even though there has been no rain since August 18, a number of villages are still inundated in the district. In the worst-affected Haraj village, nearly 60 per cent of its population has been displaced and except a link road, there is no other way left to enter the village.

A flooded house at Haraj village in Muktsar district. Tribune photo

Amritsar's PRTS fails to make any headway
Amritsar, August 29
Though the state government has announced a Bus Rapid Transport System (BRTS) for Amritsar and Ludhiana, there has been no forward movement on its ambitious Personal Rapid Transport System (PRTS) project here. Deputy Chief Minister Sukhbir Badal had laid its foundation stone in December 2011.
New Punjab Prisons' Act on anvil
Patiala, August 29
The Punjab Government is all set to introduce a panchayat system inside state prisons to monitor problems faced by inmates.
Sangrur water firm flouts safety norms again
Sangrur, August 29
Naina packaged drinking water, manufactured by Shri Sai Mineral Corporation, located at Mehlan village in Sunam tehsil in the district, has been tested unsafe for human consumption for the second time in the past eight months. The sample collected on August 2 by district health authorities was tested by the Food Analyst Punjab, Chandigarh.


In support of sports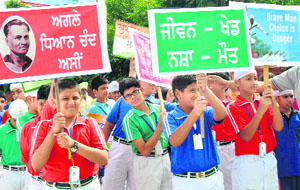 Students of a private school hold an awareness rally on the National Sports Day in Patiala on Thursday. Tribune photo: Rajesh Sachar
3 names shortlisted for PSEB post
Mohali, August 29
The government today shortlisted the names of three senior PCS officers to be considered for the post of Secretary of the Punjab School Education Board (PSEB).
'Whistleblower' at Rajindra Hospital denied extension
Patiala, August 29
The 'whistleblower', who had highlighted the fact that expired medicines or those about to expire were stored by Rajindra Hospital authorities, has been denied one-year job extension.
State govt gets tough, books 18 rice millers
Chandigarh, August 29
While 18 rice millers have been booked for milling 50 per cent or less rice from the stock allotted to them, the Central Government has been asked to extend the deadline for depositing the remaining stock with the central pool to September 30.
Yet another bid to stop Lahore bus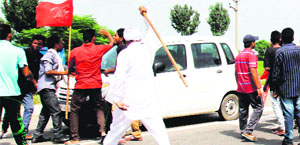 Amritsar, August 29
After the Punjab Youth Congress and the Shiv Sena, it was the turn of various Dalit organisations to try and stop the Sada-E-Sarhad Delhi-Lahore bus service here today. They were protesting against alleged police inaction in several cases of atrocities on Dalits.

Protesters block the Amritsar-Jalandhar highway near Manawala in Amritsar on Thursday. Photo: Vishal Kumar

2 killed in clash over land dispute
Abohar, August 29
Hanuman Dass, a farmer, and his son Sandeep Kumar were killed and four others were injured reportedly in an exchange of fire between two groups over a land dispute in Raipura village on the Abohar-Seetogunno road today.
3 officials dismissed for siphoning rice, wheat
Moga, August 29
A couple of days after Moga MLA Joginder Pal Jain was told to resign from the post of Punjab Warehouse Corporation chairman, senior authorities of the food procurement agency have dismissed three officials for allegedly embezzling rice and wheat.
Detained 'illegally', woman released after protest
Qadian (Gurdaspur), August 29
Charanjit Kaur Bajwa, Qadian Congress MLA and wife of PPCC chief Partap Singh Bajwa, along with her supporters held a protest against the Batala police for "illegally" detaining the wife of a local Congress leader.
Liquor firm alleges bias in licence renewal
Chandigarh, August 29
The alleged arbitrary rejection of an application for renewal of wholesale liquor licence has come under the Punjab and Haryana High Court scanner.
Namdhari Satguru returns from UK
Bhaini Sahib, August 29
Satguru Uday Singh, chief of Namdhari Darbar, returned to Bhaini Sahib after completing his tour of England. He was attacked with a sharp-edged weapon in England when he was reciting kirtan on August 12. The Satguru escaped with minor injuries and soon resumed his day-to-day functioning.
Students protest poor facilities in varsity
Patiala, August 29
Several students under the banner of Secular Youth Federation of India (SYFI) staged a massive protest on Punjabi University campus today.
Villagers block road after student killed in mishap
Sangrur, August 29
Several villagers today blocked Malerkotla-Dhuri road by placing the body of a girl student, Arshpreet Kaur from Banbhauri village, on the road, near Bhaini Khurd village.



Cong's Henry may be in more trouble
Chandigarh, August 29
In what could spell fresh trouble for Avtar Henry, the Jalandhar police has moved the Judicial Magistrate's court seeking orders to conduct investigations against the former minister for commission of non-cognisable offence under the provisions of the Representation of the People Act.
HC: Book policemen for jailing 70-year-old despite bail orders
Chandigarh, August 29
In yet another embarrassment for the Punjab Police, the Punjab and Haryana High Court has minced no words to say policemen indulged in "high handedness" by arresting and lodging in jail an infirm woman of 70 despite bail orders. Ordering the registration of a case against "erring police officers" on a petition filed by Manjit Kaur, Justice Naresh Kumar Sanghi also rapped the investigating officer in the case by observing that he acted in a callous manner.
Amritsar Improvement Trust case
Capt Amarinder skips court hearing again
Mohali, August 29
Former Punjab Chief Minister Captain Amarinder Singh, who again failed to attend court hearing in Amritsar Improvement Trust Land scam today, has been directed to attend the next hearing on September 12.
Faridkot Maharaja case
Another royal scion files appeal in court
Chandigarh, August 29
On a petition filed by Bharatinder Singh, son of Kanwar Manjitinder Singh, the younger brother of erstwhile Faridkot Maharaja Harinder Singh Brar, challenging the recent court verdict, Additional District and Sessions Judge RK Yadav has issued a notice to Maharaja's daughters Amrit Kaur and Deepinder Kaur.