Don't toy with Chandigarh's identity
It's not just about developing a new town. Law and order, and access to basic amenities like power and water are paramount. Can Punjab deliver, or will New Chandigarh go the way of most cities in the state? Tribune readers respond
Rationale absurd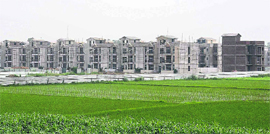 Investment in farmland has yielded high profits for many builders and small private buyers, not necessarily for farmers. Tribune file photo: Manoj Mahajan
THERE is no rationale in renaming Mullanpur as New Chandigarh because both have nothing in common. It is an exercise to cash in on the name of Chandigarh to sell land at a premium. Mullanpur has no potential of its own except that it falls in proximity to Chandigarh and has higher degree of connectivity.
It will only put pressure on the city in terms of high intensity of traffic and other amenities. Planners of Chandigarh had a vision and commitment to develop a city with the highest standards of amenities and best quality of life. To protect the city from haphazard development, a buffer was provided in the form of periphery which extended up to 16 km. However the re-organisation in 1966 left the periphery most vulnerable due to its subdivision among the states and the UT.
The periphery, which was to protect, has emerged as the most potent threat to the fabric of the city. Mullanpur is highly fragile and eco-sensitive. Urban growth will destroy the flora and fauna of the area. Lack of water will be a major challenge. Punjab has 217 towns, a majority of which are languishing for want of planning and investment. Small dose of investment in these areas will help them become self-sustainable. Small is beautiful and bigger is a disaster, is the new mantra in urban development. Let Punjab define a new order of development, focussing on neglected cities away from Chandigarh.
— Jit Kumar Gupta, email
Give breathing space
There is a need for a town like New Chandigarh as Punjab does not have a well-planned city. But the government should ensure that it provides more access points, especially alternative roads to the airport, bus stand and railway station so that Chandigarh roads do not get congested. It should also be the responsibility of the government to ensure that the beauty and heritage of Chandigarh is not lost. There is no harm in setting up a new township.
— Parminder Singh, Ludhiana
Stop rape of Chandigarh
Congratulations to The Tribune for highlighting this issue. The Punjab Government has already mutilated Chandigarh by assigning sector numbers to the localities in Mohali adjoining Chandigarh sectors. What right did it have to do that? Panchkula could well follow the example. The character of Chandigarh is sacred. New Chandigarh will destroy the aura of the city. Gurgaon and Noida did not rob any other city of its name in developing into enviable townships. They did it on their own strength. Chandigarh will be devoured if the Punjab Government is not checked.
— Pratibha JS Sharma, email
Identify real players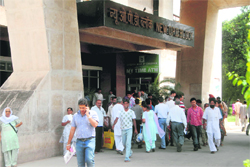 New Chandigarh will put more strain on institutes like the PGI.
Why are we thinking of the lack of infrastructure to sustain New Chandigarh or the affect on Chandigarh? When jhuggis mushroom, politicians make it their vote bank and allow them to use amenities free of charge. Does this not spoil the beauty of the adjoining area and become a burden on the amenities? The powerful have enforced their will. How can one fight for justice when the very protectors are an interested party? Nothing will come of this debate. If The Tribune really wants to do justice, it should conduct a probe into the genesis of the idea, identify real players, its progress at different stages, the plight of those whose land has been acquired and the compensation received by them. Why Punjab, known for agriculture, is speedily being converted into a concrete jungle?
— Dr Sushil Kumar Bali, email
Don't abandon project
The decision to develop Mullanpur as New Chandigarh is logistical and laudable. Chandigarh is overpopulated and congested. The standard of living in Chandigarh is too costly and the common man can't afford it. It is the city of 'babus' and wide roads. New Chandigarh should be developed expeditiously, lest the project is abandoned midway following opposition.
— DP Jindal, Mandi Gobindgarh
Old is gold
Mohali and Panchkula have developed as Chandigarh's satellite towns. The need is to develop more townships in other areas like Anandpur Sahib, Nangal, Jalandhar and Amritsar, with round-the-clock power supply, bus service, schools and hospitals. The clearance of New Chandigarh has cheered property dealers and eminent personalities who have huge land pieces in the area. New Chandigarh may prove to be a white elephant as ample funds will be needed at all times for its maintenance. The government will ultimately shift the burden to business houses and traders. Old is gold and 'old' Chandigarh will continue to dominate New Chandigarh.
— Rajat Kumar Mohindru, Jalandhar
Develop existing cities
Chandigarh already is under much strain. If at all the Punjab Government is interested in giving Chandigarh-like lifestyle to its people, it should develop such cities in Amritsar, Jalandhar, Ludhiana and other major cities. It should not take advantage of the 'goodwill' earned by Chandigarh.
— Lajpat Rai Thakral, Amritsar
Won't make it 'heaven'
Townships near Chandigarh are bursting at the seams. Mullanpur Garibdas area came to the notice of realtors, politicians and bureaucrats due to its proximity to Chandigarh. The area is in the hands of cooperative societies, politicians and big and small developers. The intervention of the Punjab Government will regulate development. But a city does not become liveable just because of its wide roads, parks and exotic trees. The rule of law is the first ingredient of any good living area. People of Punjab want to live in Chandigarh because most Punjab cities have become dirty and lack law and order. Name it 'New Heaven', it will not be different from any other Punjab city.
— Surinderjit Singh Sandhu, Amritsar
Hell that is Mohali
The Punjab Government is very quick in executing projects, but tardy in maintaining them. Mohali is next to Chandigarh, but there is a marked difference between them. Chandigarh is heaven while Mohali is hell. In Mohali, the money meant for the city goes into the pockets of politicians. The same will happen in New Chandigarh. A worst city is going to be made out of the best city.
— Dr PS Jassal, Ludhiana
Watch what you say
A seasoned politician like Parkash Singh Badal should not pull wool over the eyes of the people. Mullanpur Garibdas can be developed on the model of Chandigarh but not as New Chandigarh, which means an extension of the UT. It is absurd. He should desist from ruining his image by indulging in unwanted stunts.
— RK Kapoor, Chandigarh
Get 'new' Corbusier
The Punjab Government must implement similar development policies in other cities and set right the horrifying condition of the state. People don't want malls and showrooms as much as they need basic amenities. The government must look for a new Corbusier to plan the town. The problems of parking, water and roads are minor if considered before hand.
— Arshdeep Singh, Mohali
Let Punjab have its way
Food production is declining. We must save agriculture land. We should go for high-rises near the cities. To divert the issues of unemployment, corruption, rising prices and scams, politicians touch the nerve of the masses with ideas like New Chandigarh. Baddi in Himachal and Pinjore and Kalka (Panchkula extension) are connected to Chandigarh. No one objected to their development? Why should the development of Mullanpur, with various seasonal rivulets and where the land is not good for crops and the input cost high, be objected to? The development in Chandigarh has only been towards Panchkula. The area near Punjab has not been brought under any major project. Instead, slum colonies have been set up. The other political parties of Punjab are silent on this issue due to the polls. The contention that only a few politicians and influential persons will benefit is incorrect. Most of the land being acquired belongs to poor village residents who opted for land pooling. As regards a new town at a distance of 40 km, why did the Centre not sanction a defence university at Fatehgarh Saheb for which land was offered to it? Instead, it was sanctioned to the neighbouring state. How can Punjab, whose fiscal health is alarming, develop a new city at a distant place?
— Col (retd) Balbir Singh, email
Counterproductive
It is claimed that New Chandigarh has been conceived as a self-sustaining city to cater to the spillover of Chandigarh and Mohali. It will just have the opposite effect. The UT Administration had got a study carried out in 2008 for evolving a comprehensive mobility plan for Chandigarh Urban Complex. It was recommended that underpasses should be provided as traffic volumes have far exceeded their capacity. With additional traffic entering city roads through New Chandigarh, we may need elevated highways. Punjab is planning an expressway in Mohali. This needs to be given the highest priority. The Centre has appointed a committee to regulate development around Chandigarh. It needs to be given statutory powers so that its decisions are implemented and the character of Chandigarh is maintained.
— Harish Sethi, email
Will meet same fate as New Mohali, Aerocity
Why doesn't the Punjab Government first help people whose hard-earned money is stuck in the then-much-hyped New Mohali and Aerocity projects? Why does it want to bite more than it can chew? Its coffers are already empty. The common man is being taken for a ride again. Once plots are sold at inflated prices, the project will meet the same fate as the previous ones. The crescendo which is being built through this exercise should be used not only to stall this adventure, but also bail out the real end-users who are facing the brunt of delayed projects, in which the government has already lost interest.
— Paramvir Singh, email