| | | |
| --- | --- | --- |
| | OPED SOCIAL SECURITY | |
Need for universal pension in India
The institution of family as a primary care-giver to the aged has undergone a transformation. The government needs to consider a focused policy for the elderly in terms of their relevance and contribution to society
Charan Singh
In India people are living longer and enjoying better living conditions than ever before as a result of increased life expectancy and medical advancements. Unlike previously, in recent times the function of the family as a primary care-giver to the aged has undergone a transformation due to structural changes -- both internal and external, most importantly to the nuclearisation of family. As a result, care of the elderly has been neglected. And, the elderly themselves, due to lack of financial awareness and financial resources, given India's growth performance, have not been able to plan for a steady income stream for old age.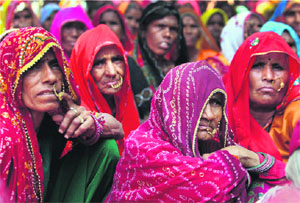 Women hold a dharna in Delhi's Jantar Mantar to demand old age pension. A file photo
There are two types of elderly people, broadly, in the country –pensioners and non-pensioners. The pensioners, especially younger ones, given that the retirement age varies from 52 years to 65 years, generally compete for employment at nominal salaries in the private sector to remain productive, relevant and busy. Therefore, the government could consider raising the retirement age as life expectancy has increased to 66 years in 2010. And if longevity is increasing, is the mandatory retirement age of less than 65 years desirable? This is especially applicable for defence, semi-defence and police forces where fresh recruitment is not forthcoming and shortage of manpower is a usual refrain after every untoward incident. The government could also consider offering re-employment opportunities to retirees to take advantage of their rich experience. Illustratively, in some institutions like the World Bank and the IMF, normally all retirees are retained, within the organisation as consultants.
Non-pensioner elderly
It is the non-pensioner elderly (NPE), mainly hailing from the non-organised sector and accounting for nearly 90 per cent of the elderly, who deserve attention. The NPE normally do not stop working until health compels them. Many elderly continue to render useful services to the family in terms of day care of family property and young children. Further, many elderly are also responsible for the upbringing of dependents. On the basis of a sample survey undertaken by the United Nations Population Fund (UNFPA) in seven states (Himachal Pradesh, Kerala, Maharashtra, Odisha, Punjab, Tamil Nadu and West Bengal) during 2011, the work participation rate was found to be as high as 39 per cent for elderly males and 11 per cent for elderly females.
The health services in our country are not focused on elderly who suffer from a mixed burden of diseases like cardio-vascular illnesses, circulatory diseases, cancer, arthritis, hyper tension, osteoporosis, communicable diseases, high blood pressure, kidney problems, vision problems, diabetes, rheumatism, and locomotive and digestive disorders.
In general, according to the UNFPA, 2012 all elderly suffer from similar problems, except in case of memory loss which seems to be impacted more by wealth. The prevalence of some diseases of the elderly does have a residence bias. Illustratively, arthritis is more prevalent among rural elderly while hypertension, diabetes and heart diseases are more prevalent among the urban elderly.
In India, mental health deficits are generally not acknowledged while elderly commonly face dementia and depression which manifests itself in unique ways. Available estimates indicate that about 0.2 per cent of the elderly population suffer from mental illnesses. And, then, the elderly generally also require home care mainly because of illness related to confinement. According to available statistics, only about 91.2 per cent of males, and 89.1 per cent of females, irrespective of rural/urban residence, are mobile, implying that nearly 8-10 per cent of the elderly population is confined either to bed or home and need special care. As medical expenses are directly related to ageing, many a time health issues of the elderly are neglected in favour of the general household expenditure. The NPE are generally in poor health condition due to lack of financial resources, an inefficient public health system, unavailability of health services, lack of gerontologists and unaffordable medical help.
A number of studies have established that the elderly, when employed and busy, tend to live healthier and longer. Interestingly, in many foreign countries there are interesting employment opportunities for the elderly in different occupations where elderly can volunteer to offer services free of cost. Illustratively, the elderly volunteer to become tourist guides in the Kennedy Center for Arts in Washington DC. This keeps them busy, entertained as well as provides them with the feeling of social relevance. In India, something similar already happens in temples where elderly regularly perform voluntary service. Similar voluntary opportunities for the elderly, who would be willing to volunteer to work for enhancing social welfare, should also be encouraged in India.
Economic implications
Ageing has important economic implications in terms of labour supply, consumption patterns, investment, cross-border capital flows, fiscal balances and private saving. In countries, where the provision of public pensions increases, the need for private savings and need to privately hoard wealth declines.
To cater to the rising elderly population, the government has been undertaking pension reforms. The Pension Fund Regulatory and Development Authority was established in 2003 and has been making efforts to improve social security in India. Despite such efforts, and introducing a New National Pension Scheme that includes "Swavalamban", and launching extensive financial education programme, pension penetration is low and restricted generally to those who have retired from the organised sector. In India with the setting up of an Insurance and Regulatory Authority in 1999, life insurance companies have increased from one, LIC, to 24 but penetration is still low, around 4 per cent by some estimates.
The government needs to consider a focused policy for the elderly in terms of their relevance, contribution to society, medical requirements and shelter homes, given the changing family structure. The elderly, in the twilight zone of their life, generally neglected and ignored, have to compromise on many aspects of their living, including health, as traditions of the ancient Indian culture are fading away. As modern medicine is expensive, general and traditional medicines for the elderly could be considered for distribution through fair price shops (FPS) at reasonable prices. In view of the severe health problems that our elderly face and given that Aadhar cards have been prepared, the distribution of special foodgrains or cereals for the elderly could be considered through the network of more than 5,00,000 FPS.
There is also a need to have hygienic and appropriate old age homes for the elderly where special care, medical assistance and shelter could be provided on a long-term basis. In many countries of the West, like the US, specialised home care for the elderly is assured by the authorities at highly subsidised rates. In India, where traditional family support is rapidly eroding, the elderly could have community and day care centres to meet their needs for counselling, meals, networking, outreach, recreation, and medical and any other support, as is extended by the government in countries like Hong Kong, Australia and Canada.
Universal pension
As majority of the elderly in the country are dependent, and considered as a financial burden on the family, their self-esteem, health and general well-being are low. Therefore, to give them a sense of relevance and feeling of important participants of nation building, the government could consider universal pension and insurance coverage (UPIC) for citizens above a certain threshold of age, say 60 years. The government already extends small pension to 1.7 crore elderly living below the poverty line (BPL).Assuming, based on population statistics, that the non-BPL elderly citizens of India above 60 years, are 8 crore and if a UPIC of about Rs. 6,000 per annum is awarded to each of them, then the annual fiscal implication of this measure at Rs.48,000 crore would be nearly half of the food subsidy in 2013-14 and nearly one fourth of the projected cost of the Food Security Bill. These computed costs of UPIC are an overestimate, since these have not been adjusted for the existing retirees drawing pension from the government or the public sector and need not be considered for UPIC. And this fiscal cost could be shared between the Centre and states.
As females live longer than males, UPIC would eventually empower women too. UPIC would also usher in efficiency in expenditure management as some elderly people are responsible for catering to dependents, for basic necessities of a household. In recent years, given technological innovation in the country, including Aadhar card, the government could consider the use of banking channel for direct benefit transfers (DBT) as there are instances of pilferage when pensions/benefits to the elderly are made through intermediaries. The use of DBT will lend popularity to bank accounts, make them useful to a wider population and result in achieving higher financial inclusion too.
To help the elderly, the government should consider partnership with the private sector, NGOs, religious institutions, insurance companies and medical facilities more effectively. UPIC would instil confidence and self-esteem in the elderly along with imparting a sense of social security as well as economic relevance. This will help the elderly to live their last few years, fulfilled and with a sense of satisfaction of having successfully toiled for their country and having achieved recognition for the same. This effort will enhance the general welfare of our society, benefits outweighing the costs.

The writer is the RBI Chair Professor of Economics, IIM Bangalore. The views are personal.