Sukhbir emerges master strategist
Chandigarh, September 2
Deputy Chief Minister Sukhbir Singh Badal, who was groomed by his politically astute father, Chief Minister Parkash Singh Badal, is no more a greenhorn in politics. Over the years, he has emerged as a skillful strategist and a shrewd manager.
Tougher security norms for VIPs
Patiala, September 2
The Punjab Government has decided not to give security to VIPs travelling outside the state. These VIPs will now have to intimate the security wing each time they travel outside the state. A security cover will then be given to them for not more than 72 hours at a stretch.


District officials relieved as Badal's Sangat Darshan in Qadian concludes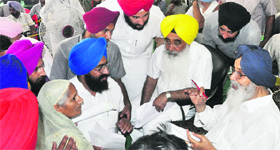 Qadian (Gurdaspur), September 2
For the past three days, Chief Minister Parkash Singh Badal has played the Pied Piper with hundreds of officials following him, dutifully obeying his diktats. This evening, as curtains came down on Sangat Darshan, these overworked officials, who had been on their toes for the past 72 hours, heaved a sigh of relief.

Chief Minister PS Badal at Sangat Darshan in Qadian on Monday. A Tribune photograph

Funds earmarked for repair of martyr Sukhdev's house
Chandigarh, September 2
The monuments in Punjab are set to regain their lost glory.The Centre has sanctioned Rs 3.24 crore for the conservation and preservation of "protected monuments". Out of this total, a sum of Rs 81 lakh is to be spent on the house of martyr Sukhdev Thapar.
Govt issues advisory to depts on VB probes
Chandigarh, September 2
The Punjab Government has prohibited all departments against running parallel inquiries in cases currently being investigated by the Vigilance Bureau (VB).
Historic mansion of Sikh general near Golden Temple razed

Amritsar, September 2
With the successive governments caring little about preserving heritage buildings, a historic mansion of Sikh general Mangal Singh Ramgarhia, who was in Maharaja Ranjit Singh's army, has been reportedly demolished by its new owner at Kucha Mangal Singh Ramgarhia area of the city.

The remains of the historic mansion of Sikh general Mangal Singh Ramgarhia in Amritsar. Photos: Vishal Kumar

Police gears up for SAD meet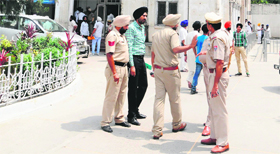 Amritsar, September 2
The stage is set for the re-election of Deputy Chief Minister Sukhbir Singh Badal as SAD president at the SGPC headquarters at Teja Singh Samundari Hall here tomorrow.



Policemen at SGPC headquarters in Amritsar.

IAS post
Ex-Speaker's son among 5 shortlisted
Chandigarh, September 2
The four-member board of officers led by Chief Secretary Rakesh Singh has recommended the names of Shiv Karan Singh Kahlon, son of former Punjab Vidhan Sabha Speaker Nirmaljit Singh Kahlon, and ML Sharma, Chief Minister's economic adviser, amongst the five people empanelled for selection to the IAS from amongst non-PCS officers of Punjab.
MPs, MLAs resolve to prevent climate change
Chandigarh, September 2
MPs, MLAs and councillors belonging to different parties from Punjab today unanimously underlined the urgency to prevent a climate change in the state during a roundtable discussion on socio-economic causes and impact of climate change on Chandigarh and Punjab.
Docs demand immediate release of DA
Patiala, September 2
The Doctors Federation of India has demanded immediate release of the January 2013 instalment of the Dearness Allowance (DA) and the arrears of the revised pay fixations which were due in May 2013.
Activists seek amendment to juvenile Act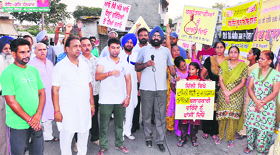 Sangrur, September 2
Members of various social organisations today urged the Union Government to make an amendment to the Juvenile Justice Act for awarding harsher punishment to criminals above the age of 15 years, especially in rape and murder cases.


Social activists hold a rally in Sangrur on Monday. A Tribune photograph

Patiala civic bodies get grant worth Rs 29.74 cr
Patiala, September 2
The Punjab Government disbursed a grant-in-aid worth Rs 29.74 crore to the Municipal Corporations and Municipal Councils of the Patiala district to compensate them for the loss of octroi.
Need to identify crop-specific areas: Experts
Rudki (Fatehgarh Sahib), September 2
There is a need to identify crop-specific areas where processing and marketing facilities could be provided to farmers to improve the latter's financial condition, said Dr Gurbachan Singh, Chairman, Agriculture Scientists Recruitment Board (ASRB).
3 yrs on, woman moves HC to seek justice for murdered son
Fatehgarh Sahib, September 2
Three years after the police failed to nab her son's killers, a 68-year-old woman has moved the Punjab and High Court demanding a CBI enquiry into the case.
Pension sought for elderly villagers
Sangrur, September 2
All India Kisan Sabha secretary Joginder Dayal today demanded pension worth Rs 3,000 per month for all persons, especially farmers, above the age of 60 years residing in rural areas.
Primary schools told to upload data of students on Education Dept's website
Fatehgarh Sahib, September 2
The district administration has directed the Education Department to upload the data of students, teachers and other staff of primary schools on its website by October 31.


Appointment of Jalandhar NIT director upheld
Chandigarh, September 2
The Punjab and Haryana High Court has upheld the appointment of Dr Samir Kumar Dass as Director, Dr BR Ambedkar National Institute of Technology, Jalandhar. One of the grounds for challenging the appointment was that he was not eligible for the post, as he did not have the requisite experience.


BSF seizes 11-kg heroin in Amritsar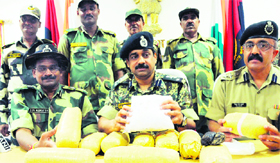 Amritsar, September 2
The BSF today seized 11 kg of heroin worth Rs 55 crore in the international market from Amar border outpost in Bhikhiwind area of the Amritsar sector.





BSF officials show the seized heroin in Amritsar on Monday. A Tribune photograph