Tibetan Democracy Day observed in Dharamsala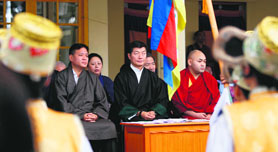 Dharamsala, September 2
Tibetans observed the 53rd anniversary of Tibetan Democracy Day here today. In its message, the Central Tibetan Administration (CTA) said the situation inside Tibet continued to be grim with increasing incidents of self-immolations. At least 103 persons have self-immolated themselves.
From left: Pempa Tsering, Speaker, Dr Lobsang Sangay, Prime Minister of the Tibetan government-in-exile, sit on the dais at McLeodganj on Monday. Photo: Kamaljeet

HPCA may face action for 'changing' status
Shimla, September 2
With the state government finding the reply of the Himachal Pradesh Cricket Association (HPCA), justifying the change in its status from a society to a company illegal, the sports body is all set to face action for violating the Himachal Pradesh Societies Registration Act, 2006.
Solan village opposes builder's water-boring proposal
Solan, September 2
Residents of Huran Kotla panchayat in Dharampur block today registered a stiff opposition to a water-boring proposal of a builder, fearing it would lead to drying up of natural sources of water and the sanitation issue in the area.
Stokes, Pathania slam Dhumal on land allotment to HPCA
Shimla, September 2
Former Chief Minister PK Dhumal has come under fire from the Congress for defending the allotment of land at various places to the Himachal Pradesh Cricket Association (HPCA), headed by his son Anurag Thakur, and terming it as an action taken in "public interest".
From Baddi to Kanyakumari on tractor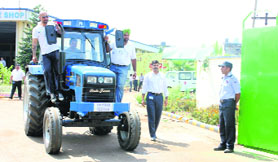 Baddi, September 2
Having established a mark for itself in Bollywood movie "Chennai Express", the powerful 75 BHP Indo-Farm tractor was flagged off today from the premises of a private factory for the Great Indian Tractor Journey which began from Baddi to Kanyakumari today.
Jaibir Singh Virk and Amit Chaudhary at Baddi on Monday.

12 children awarded karate belts
Sundernagar, September 2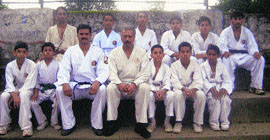 The Academy of Martial Arts, Sundernagar, organised a special grading test for its trainees here yesterday. As many as 12 children were awarded karate belts. The test was conducted by a penal of four black-belt holders.
The trainees, who have cleared the karate test, at the Academy of Martial Arts in Sundernagar.

Man dies of snakebite
Bilaspur, September 2
Ramesh Chand (44) of Baddu village near Ghumarwin, who worked as a labourer, died of snakebite here. He was bitten by a poisonous snake while returning from a function in his village. However, he did not realise that it was snakebite. His condition deteriorated in the wee hours and he was rushed to the nearby Civil Hospital, Ghumarwin, where doctors declared him brought dead. The police has registered a case and handed over the body to his family after conducting a post-mortem examination. — OC
Rape accused gets police remand
Nurpur, September 2
Kushal Kumar (30) of Samker village, who was arrested last evening for allegedly raping a minor girl, was produced in the court today and the police took his remand for further investigations. DC Verma, DSP, Jawali, said the accused allegedly had raped a minor girl of Farian. She was studying in Class IX and staying with her maternal uncle at Samker. Kushal had taken her to his shop and committed the crime. The DSP said the medical examination report of the victim had confirmed rape and a case under Sections 363, 366 and 376 of the IPC was registered against the accused. — OC
Vishav Jagriti Mission poll held
Sundernagar, September 2
The following were elected office-bearers of the Vishav Jagriti Mission, Sundernagar unit: president-Pyare Lal Gupta; general secretary - Vijay Sharma; secretary - Bihari Lal Gupta; cashier - KP Sharma; and press secretary - Purshotam Dutt.
According to Pyare Lal, 12 members were nominated members of the executive committee. — OC