Vigilance to expedite probe into charges against Dhumal regime
Shimla, August 31
The Vigilance and Anti-Corruption Bureau will expedite investigations into all old cases pending with it since 2011 and charges contained in the Congress chargesheet against the Dhumal regime.
Hold test, interviews of MSc (IT) candidates in 8 weeks: HC
Shimla, August 31
The Himachal Pradesh High Court (HC) has directed the state government and the State Subordinate Selection Board to hold a written test and interviews for the posts of post-graduate teacher (informatics practices) and complete the entire process, including the declaration of result, within eight weeks.
Construction of new Hamirpur bus stand hangs fire
Hamirpur, August 31
The construction of a new bus stand in Hamirpur seems to have run into rough weather with the reports of the company engaged for building this project backing out. The construction work on this project is yet to start even after laying of its foundation stone about three years ago by then Chief Minister PK Dhumal in September 2010.
YPS, Patiala, wins declamation contest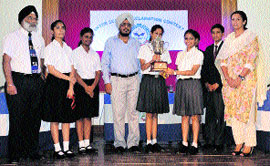 Solan, August 31
Yadavindra Public School (YPS), Patiala, lifted the 13th Inter-School Declamation Contest Trophy today at Pinegrove School, Subathu, where 13 schools from Shimla, Patiala, Chandigarh, Dagshai and Hisar participated.
The winning team of YPS, Patiala, with the declamation contest trophy at Pinegrove School, Subathu, on Saturday.

CM lays stone of housing project in Shimla
Shimla, August 31
Chief Minister Virbhadra Singh today laid the foundation stone of a housing project involving the construction of 300 houses under the Rajiv Awas Yojna at the Krishnanagar locality here today.
HLP flays hike in salary of legislators
Bilaspur, August 31
The Himachal Lokhit Party (HLP) has criticised Congress and BJP legislators for giving themselves a pay raise of not less than 60 per cent within 13 months of an earlier 33 per cent pay hike. It has described the move as the "betrayal of trust of masses of the poor state."
2 fined for denying info under RTI Act
Hamirpur, August 31
The state Chief Information Officer (CIO) has imposed a fine of Rs 25,000 and Rs 7,500, respectively, on two officials for not providing required information in a stipulated period under the RTI Act.
Protect trees, conservator tells trainees
Sundernagar, August 31
Forest Ranger trainees and staff of the Forest Training Institute (FTI) and Rangers College, Sundernagar, celebrated the Van Mahotsava by planting saplings today. The authorities said the college had completed its one year and to celebrate the occasion, all the 29 trainees (15 from Kerala and 14 from Jammu and Kashmir), along with staff of the college, planted saplings and took an oath to save the trees.
Leopard attacks man in Bilaspur
Bilaspur, August 31
Rajesh Kumar (35), a resident of Baggad village, had a narrow escape from the jaws of a leopard that attacked him when he was returning home last evening near Salnoo village. Rajesh Kumar was admitted to the Regional Hospital with injuries on the head, temple, ears and other parts of the body. He is now out of danger.
Woman axed to death by brother-in-law
Nurpur, August 31
A woman was allegedly axed to death by her brother-in-law, this morning. She was rushed to a private hospital at Pathankot, but she succumbed to her injuries on the way. The victim was identified as Rachna Devi (33). Family members of the deceased and villagers of Danni held a protest on the premises of the local Civil Hospital where Rachna's body was brought for a postmortem examination. The Jawali police has registered a case under Section 302, IPC, and arrested the accused. — OC