Patiala MC apathetic to stray dog menace
Patiala, August 31
While the Patiala Municipal Corporation is going to start a campaign to catch stray cattle, it is still to take a concrete step on stray dog problem. The Society for People's Welfare and Awareness (SPWAP), Patiala, an NGO, allege that the MC has shown its non-serious approach towards the Punjab State Human Rights Commission (PSHRC).
Man poisons 2-year-old son, commits suicide
Fatehgarh Sahib, August 31
Allegedly harassed by his wife a husband identified as Kamaljit Singh, a resident of Ghumandgarh village near Bassi Pathana, first gave a poisonous substance to his two-year-old son Sidakpreet Singh and then committed suicide by consuming the same at his residence today.
DC warns schools charging extra funds
Fatehgarh Sahib, August 31
It is unfortunate that certain school heads are illegally collecting extra funds from students on the pretext of meeting the school expenses by projecting poor financial condition of the school but ultimately using the funds for their own use. "The government has provided enough funds for strengthening the infrastructure in the schools," said Arun Sekhri, Deputy Commissioner, while presiding over the meeting of the District Education Committee called to review the progress of the Education Department.
Two booked for forgery
Dera Bassi, August 31
The police has registered a case against two unidentified youths for forgery. The accused had withdrawn Rs 20,000 through an ATM of a woman.
1 killed, 2 hurt as truck overturns
Kalka, August 31
A 32-year-old truck driver died and two others got injured when the truck in which they were travelling overturned on Friday night, near Tipra village adjacent to kalka.


13,966 cases disposed of at Lok Adalat
Chandigarh, August 31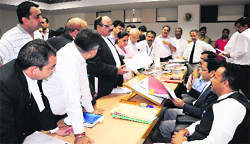 A total of 13,966 cases of different categories were disposed of at fourth mega Lok Adalat held at the District Courts here today. This included 12,970 traffic challans for which Rs 28, 61,410 were collected as fine.


Cases being disposed of at a Lok Adalat held at the District Court Complex, Sector 43, in Chandigarh on Saturday. Tribune Photo: Parvesh Chauhan
Court finds ex-banker guilty
Panchkula, August 31
The CBI court, Panchkula, held a former manager of the PNB and a cashier guilty of embezzlement of funds today.


Four involved in theft cases held
Chandigarh, August 31
The Chandigarh Police has arrested four accused involved in various cases of house thefts and recovered 17 mobiles phones, gas cylinders, ceiling fans etc.
2 members of inter-state gang arrested
Mohali, August 31
The Mohali police has arrested two members of an inter-state gang, who used to commit robberies in the area. The arrested miscreants have been identified as Vijay Kumar and Pardeep Kumar, both residents of Savla village, Haryana.
2 booked for forgery
Panchkula, August 31
The Panchkula police has booked Rajiv Gupta and Rajeshwar Ahlawat in a case of forgery. Rajiv Gupta, a Chandigarh-based businessman, is one of the accused in the "cash at judge's door" case.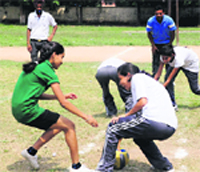 GMHS-26 clinch dodgeball title
Chandigarh, August 31
The dodgeball squad of Government Model High School, Sector 26, defeated Dev Samaj School, Sector 21, 2-0 (10-8, 9-6), to win the final match of girls' (U-17) category during the concluding day of the 2nd Chandigarh State Dodgeball Championship for boys and girls at IS Dev Samaj Secondary School in Chandigarh.

Players in action during the Chandigarh State Dodgeball Championship at IS Dev Samaj Secondary School in Chandigarh. Tribune Photo: Parvesh Chauhan
Local golfers bring laurels
Chandigarh, August 31
Local golfers Aadil Bedi and Vasundhara Thiara, students of Vivek High School, defeated players representing Scottish High International School, Gurgaon, during the 3rd Albatross Inter-School Golf Championship that concluded at the ITC Classics Golf Club.
Patiala spinner wrecks Chandigarh
Chandigarh, August 31
Patiala's left arm spinner Rajwinder Singh damaged Chandigarh team's batting lineup by claiming seven wickets during the first day play of the Katoch Shield Cricket Trophy Tournament, held today.
Tug-of-war championship gets under way
Chandigarh, August 31
The 21st senior state-level tug-of-war championship started at Chandigarh University, Gharuan, today. During the first day, Haryana's men and women teams won their preliminary matches after defeating Delhi and Jammu and Kashmir respectively.