RAIN NO DAMPER: Athletes take part in a marathon near the Sukhna Lake on Sunday. Tribune photo: Pradeep Tewari

Air travel to burn a hole in your pocket; fares up 30%
Chandigarh, September 8
Following an increase in the airfare by major airlines due to a hike in the prices of aviation turbine fuel (ATF), air travel from Chandigarh is no longer cheap now. A hike of over 30 per cent in the fares from Chandigarh has been reported from all major airlines.
Passengers come out of the Chandigarh airport. Tribune photo: S Chandan



Fasting PU students hospitalised
Chandigarh, September 8
The indefinite fast by PU students outside the Vice-Chancellor's office continued for the fifth day today. Over 15 students were admitted to the GMSH, Sector 16, after their health deteriorated.
Students of Panjab University on an indefinite fast outside the VC's office on Sunday. Tribune photo: Pradeep Tewari


Police complaint against Asaram, his ashram
Chandigarh, September 8
A police complaint against controversial spiritual guru Asaram Bapu and Sant Shri Asaram Ashram, Soonk village, Mohali district, has been filed by Usha Sharma, a resident of Sector 41, Chandigarh, who has alleged that she had paid Rs 1 lakh to the Trust in 1998 after being promised a plot in Soonk.


Engineering students develop robot for soil testing
Chandigarh, September 8
With a view to reducing the efforts of scientists and farmers and helping them in soil testing, students of the University Institute of Engineering and Technology (UIET), Panjab University (PU), have developed an autonomous surface monitoring robot (ASMR), which will measure the characteristics of soil.

UIET students Bhavjeet and Bharat, part of a five-member team, show the robot at Panjab University. Tribune photo: S Chandan

open house response
Qualified technical staff required
For the last ten days, residents of Chandigarh and Mohali are struggling to procure even a single bucket of water to quench the thirst of their families. It is very much like "water, water everywhere but no water to drink". This man-made water crisis needs thorough investigation and resultant punishments.


Water pipeline repair work under way at Gharuan village near Kharar. A file photograph


A picture of apathy

Cattle have a field day at Sector 71 in Mohali. Tribune photo: Vicky Gharu

A potholed road at Sector 18 in Panchkula.
Heaps of garbage near the roundabout of Sectors 17 and 18; and (right) a road in a bad shape at the Industrial Area, Phase I, in Panchkula. Tribune photos: S. Chandan

Mobile mammography van
Officials sit on complaint
Chandigarh, September 8
Even nine months after the Vigilance Department, UT, sought comments from the Health Secretary over the complaint pertaining to the alleged pooling of tenders in the purchase of a mobile mammography van of the GMCH-32, the latter has failed to respond.


Health Notes
Walkathon held at Sukhna Lake
Fortis Hospital, Mohali, on Saturday organised a walkathon at the Sukhna Lake to mark World Physiotherapy Day. Over 120 persons participated in the walkathon. Chandigarh Deputy Commissioner Mohammad Shayin flagged off the walkathon, which comprised Fortis doctors and senior management, apart from patients.
134 trees axed for multi-level parking
Chandigarh, September 8
Four days after the Chandigarh Municipal Corporation received an environment clearance, 134 trees were cut today for setting up the multi-level parking in Sector 17. "The work will be allocated within one month, according to officials. The estimated time frame for completion of the project is around two years," said MC Chief Engineer, SS Bidda.


Defaulters may have to pay more for impounded vehicles
Chandigarh, September 8
Get ready to bear high penalty for impounding of your vehicle by the Municipal Corporation. A proposal has been mooted by the finance and contract committee (F&CC) that the authorities should start charging from vehicle owners, after seven days, in case they do not deposit the fine amount of their impounded vehicles to the department.
Impounded vehicles at the Industrial Area, Phase I, Chandigarh. Tribune photo: Manoj Mahajan
Mohali police checks PGs
Mohali, September 8
Under its special drive to check the paying guests' accommodations, the Mohali police today visited some premises in Phase IX and Phase VII, in which such businesses are being run.


Patient alleges misbehaviour by Mohali Civil Hospital doctor
Mohali, September 8
"If you want to administer injection to your patient, get the syringe from those to whom you have voted for," this is what a doctor allegedly told to family members of patient, admitted in an emergency at the Civil Hospital, Phase VI, here today.

Patient Manjit Kaur
Stray cattle menace
Residents back civic body drive
Chandigarh, September 8
The Federation of Sector Welfare Associations Chandigarh today held its executive committee meeting at the Sector 35 community centre. The members discussed the issue of stray cattle in the city.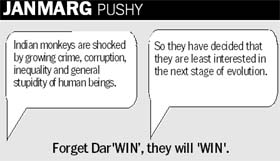 MP for better ties between India, Nepal
Chandigarh, September 8
Pawan Kumar Bansal, Member of Parliament from Chandigarh, has sought strengthening of ties between India and Nepal. Extending wishes on the occasion of Nepali 'Teej', which was organised by the Nepali Jan Sampark at Mani Majra here today, he said both the countries shared good relations and it was a moment of pride for the city to have people from Nepal settled here.


Portraying a tale of desire & deception
Chandigarh, September 8
Nagamandala, a contemporary dance theatre show based on a play written by Girish Karnad, was staged at the Tagore Theatre. Directed by Sangeeta Sharma, Nagamandala was a mystical story that highlighted the problem of a woman's desire, independence, fulfilment and transgression.
Artistes stage "Nagamandala", a contemporary dance theatre show, at the Tagore Theatre, Sector 18, in Chandigarh on Sunday. Tribune photo: Parvesh Chauhan

Reporters' diary
Councillors using peons for spying
These days MC councillors and officials are using peons and lower staff for spying on other councillors and officials at the MC building. These peons are regularly checking who is sitting with whom, who is coming to meet whom, etc., and reporting the same to their bosses.
AK Grover, Vice-Chancellor of Panjab University, walks on a road littered with pamphlets on the PU campus on the day of the student council polls. A file photograph


TRICITY SCAN
Plantation drive
The Department of Environment, UT, and The Institute of Chartered Accountants of India (ICAI), Chandigarh branch, joined hands with a few corporate companies like DLF and Infosys to carry out a massive plantation drive across the city. The drive was initiated on September 1.



More schools to have traffic marshals
Chandigarh, September 8
The UT Education Department will soon extend the Traffic Marshal Programme to around 10 more government schools. The programme began from July 1 to ensure the safety of schoolchildren during morning and afternoon hours.

A traffic marshal helps schoolchildren cross the road outside the GMSSS, Sector 21, in Chandigarh. A file photo


NGO honours varsity Chancellor
Chandigarh, September 8
Dr Zora Singh, Chancellor, Desh Bhagat University, and chairman, Desh Bhagat Group of Institutes, has been given the Punjab Ratan Award. The award was given by the All-India Conference of Intellectuals, an NGO, at a ceremony held in Chandigarh.
FROM COLLEGES
International Literacy Day
The Dev Samaj College of Education, Sector 36, celebrated International Literacy Day on Saturday. The head of biophysics department at Panjab University, Dr Ashwini Koul, was the chief guest.
FROM SCHOOLS
Honoured
Lovleen Kaur, headmistress of Government High School, Dadu Majra, has been honoured with the Rajiv Gandhi Education Excellence Award by International Institute of Education and Management at New Delhi. Lovleen Kaur is one of the 80 dignitaries who were honoured.


| | |
| --- | --- |
| Students of the Chandigarh College of Engineering and Technology take out an awareness rally on eye donation near the Sukhna Lake in Chandigarh on Sunday. Tribune photo: S Chandan | The elderly play a game of carrom during the Grandparents' Day celebrations at SMD Little Champs School, Sector 2, in Panchkula on Sunday. A Tribune photograph |