Eyeing elections, Youth Cong starts membership drive
Mandi, September 8
Vikramaditya Singh, president, Himachal Youth Sports and Cultural Organisation, and son of Chief Minister Virbhadra Singh, has kick-started a membership drive to mobilise the youth ahead of the upcoming Youth Congress elections to be held in November.
Vikramaditya Singh, president, HP Youth Sports and Cultural Organisation, at a youth conference in Mandi.
Kangra bank polls: Congress invades Dhumal's bastion
Hamirpur, September 8
The Congress's performance in the Kangra Central Cooperative Bank (KCCB) elections has once again reflected the changing political scenario in the state politics.


No paucity of funds for development: Musafir
Hamirpur, September 8
State Planning Board Vice-Chairman GR Musafir has said there will not be any paucity of funds for development and urged the district administration to complete ongoing projects in a stipulated time-frame.

State Planning Board Vice-Chairman GR Musafir holds a review meeting in Hamirpur on Friday.
As rupee falls, pharma firms' import cost goes up
Solan, September 8
With the rupee falling to an abysmally low level against the US dollar, pharmaceutical investors are facing the brunt of costlier raw material as a majority of it is imported.


Community policing being strengthened: DGP
Dharamsala, September 8
DGP Sanjay Kumar, who was on a visit to Dharamsala on Thursday, said the community policing was being strengthened in the state. He said policemen were being taught to refine their behaviour towards the common man right from the beginning of the training.
DGP Sanjay Kumar being welcomed by the Kangra SP on his arrival at Dharamsala on Thursday. Photo: Kamaljeet

Register cases regarding irregularities, officials told
Chamba, September 8
The Public Accounts Committee (PAC) of the Himachal Pradesh Vidhan Sabha has directed the departments implementing the Mahatma Gandhi National Rural Employment Guarantee Act (MNREGA) and other government schemes to register cases regarding the irregularities found in these schemes instead of making a recovery of embezzled funds.
PAC Chairman Ravinder Ravi addresses a meeting of officials at Chamba on Sunday.


Adopt agriculture, horticulture as profession, farmers told
Bilaspur, September 8
Farmers of the country should unite to stress their main demand of attaching prices of their produce with the price index and they should also ensure that they get essential facility of free medical treatment like government employees and BPL families got.
Decision to rationalise govt staff hailed
Kangra, September 8
The Association of School Principals has hailed the Chief Minister's statement to carry out rationalisation of government staff, particularly in the Education Department.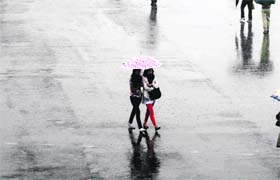 Girls walk on a deserted road as it rains in Shimla on Sunday. A Tribune photograph
Sukhu seeks foreign trade institute for state
Shimla, September 8
Pradesh Congress Committee Chief Sukhvinder Singh Sukhu met Union Commerce and Industries Minister Anand Sharma in New Delhi on Friday and urged him to set up an Indian Institute of Foreign Trade (IIFT) in the state.
Cong leaders sheltering mining mafia: Satti
Hamirpur, September 8
State BJP president Sat Pal Singh Satti has accused the state government of misusing the Vigilance Department and other investigating agencies to register false cases against its political opponents.
Gaddi leaders seek BJP ticket from Kangra
Nurpur, September 8
Leaders of the Gaddi community from Nurpur, Jawali and Indora Assembly segments convened a meeting here recently in which local and district-level Gaddi unions took part.
BJP blames Cong for inflation, unemployment
Chamba, September 8
The district unit of the BJP has slammed the Congress government for the sky-rocketing prices and the unemployment prevailing in the state.
'Government committed to welfare of freedom fighters'
Kangra, September 8
Sushil Chand Rattan, newly appointed vice-chairman, Himachal Pradesh Freedom Fighters Welfare Board, has said the state government was committed to the welfare of freedom fighters and their wards.
Sudhir listens to people's grievances
Dharamsala, September 8
A huge rush greeted Minister for Housing and Urban Development Sudhir Sharma in Dharamsala on Friday. The minister was at the Secretariat to listen to grievances of the public.
Dogra is chairman of Bar Council
Shimla, September 8
Advocate General Shrawan Dogra was unanimously elected Chairman of the Himachal Pradesh Bar Council. Vikas Rathore was elected vice-chairman of the council.


Youth told not to indulge in ragging
Kangra September 8
Students of the DRPGMC, Tanda, organised a freshers' party where colourful cultural programmes were presented. Kangra district police chief BS Thakur was the chief guest on the occasion. He said the youth should not indulge in ragging and other anti-social activities.

Students of pre-nursery and nursery classes present a cultural programme at Highland School in Sudher on Sunday. Photo: Ashok Raina

Lawrence School wins business quiz
Solan, September 8
Lawrence School, Sanawar, won the 9th inter-school Kirloskar Business Quiz which concluded at Sanawar last evening. It saw participation from 21 schools from across the country.

The Lawrence School team after winning the 9th Kirloskar Quiz competition at Sanawar on Saturday.




Self-help groups honoured
Mandi, September 8
Deputy Commissioner (DC) Devesh Kumar honoured self-help groups (SHGs) and their coordinators for their work in village development, literacy and economic regeneration here today.

DC Devesh Kumar felicitates a woman at a function in Mandi on Sunday. Photo: Jai Kumar



PK Dhumal misleading people: Cong
Bilaspur, September 8
Bilaspur Sadar MLA Bambar Thakur has said there is "no truth" in starting any hydro-engineering college at Bilaspur and former Chief Minister Prem Kumar Dhumal and MP Anurag Thakur have been "propagating a myth" all these years.
Pensioners of HPRTC stage protest
Dharamsala, September 8
Pensioners of the Himachal Pradesh Road Transport Corporation (HPRTC) organised a protest march in Dharamsala on Thursday. Carrying placards, the protesters alleged that the corporation was not giving their pension on time.
Government to spend Rs 3,836 crore on education
Bilaspur, September 8
The state government will spend Rs 3,836 crore on education, Rs 63 crore on the construction of schools and Rs 24 crore for encouraging sports in schools this fiscal.
Jukhala valley to have vegetable market
Bilaspur, September 8
The Jukhala valley is leading in the production of vegetables, and steps will be taken to open a market in this area at the earliest.
Grandparents' Day celebrated
Kangra, September 8
Grandparents' Day was celebrated with enthusiasm at Highland Public School, Sudher, today. Students of pre-nursery and nursery presented a cultural programme.


Sundernagar village gets contaminated water
Sundernagar, September 8
Residents of Dhaanotu village, near Sundernagar, have been getting contaminated water for the last few days. Some times they even get live fish through taps of the Irrigation and Public Health (IPH) Department.

Seen in picture is a live fish which had flowed into a glass tumbler at Dhaanotu village in Sundernagar. Photo: Mahesh Chander Sharma
Eco-friendly mining policy demanded
Palampur, September 8
Following the crackdown on illegal mining in the district, owners of tractor-trailers have demanded an eco-friendly mining policy so that scientific mining is allowed.
Leopard fear grips parts of Bilaspur
Bilaspur, September 8
Two leopard attacks in Amarpur and Barthin gram panchayats in the district have created panic in the villages. Village elders have urged the Forest Department to take immediate steps to ensure that these leopards are caught.
Holy mace to reach Manimahesh lake on Sept 12
Chamba, September 8
The holy chhari (mace) of the famous Manimahesh pilgrimage left for the Manimahesh lake from the ancient Laxmi Narayan temple complex of Chamba town on Friday evening.