Minimum wages elude teachers in pvt schools
Dharamsala, September 5
Various schools of the district organised functions to mark Teacher's Day today. However, nobody cared to highlight the plight of teachers in most of the private schools in the state who are even being denied minimum wages fixed for labourers.
Anandpur Sahib-Naina Devi ropeway
Review scrapping of project, says Punjab CM
Una, September 5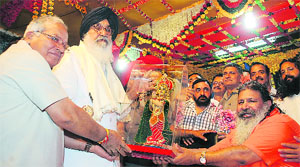 Punjab Chief Minister Parkash Singh Badal has appealed to Chief Minister Virbhadra Singh to review the decision of scrapping of the Anandpur Sahib-Naina Devi ropeway project. He said the Anandpur Sahib Naina Devi ropeway was of great socio-religious importance for both the states.
Punjab Chief Minister Parkash Singh Badal receives an idol of Lord Krishna from Baba Bal at Kotla Kalan in Una district on Thursday. Photo: Kamaljeet

Multi-speciality surgical camp from Sept 7
Nurpur, September 5
The State Health and Family Welfare Department is organising a seven-day free multi-speciality surgical camp at the Gangath Community Health Centre, near here, from September 7 to 13.
CM directs officials to review expansion of cement unit
Solan, September 5
The State Pollution Control Board has filed a case against unit-I of Jaypee Cement Plant in a local court for undertaking expansion without obtaining the environmental clearance and other approvals.
Let state host international film festival: Pratibha
Shimla, September 5
Member of Parliament Pratibha Singh today requested Information and Broadcasting Minister Manish Tewari to organise the 45th International Film Festival of India in Himachal Pradesh.
Power projects in Shahpur harming ecology: Mankotia

Dharamsala, September 5
Vijay Singh Mankotia, Congress leader from Kangra, said today that the micro-hydel projects in the Shahpur Assembly constituency were wreaking havoc on the ecology of the area. He said due to the violation of norms by micro-hydel projects, houses at Harvoh were sinking. He specifically targeted the 5-MW Brahol Top micro-hydel project, which is owned by Kamal Padha, BJP leader from the area, and the Raheja power project.
Rattan on freedom fighters' board
Shimla, September 5
Chief Minister Virbhadra Singh has appointed freedom fighter Sushil Chand Rattan of Jwalamukhi vice-chairperson of the Himachal Pradesh Freedom Fighters' Welfare Board.
39 parents get Rs 1,100 under Kanya Chhaya
Solan, September 5
As a novel step towards saving girl child and instilling sense of conserving the environment, the Nalagarh SDM today distributed fixed deposit receipts of Rs 1,100 each to 39 parents of girl child and planted saplings in their name at Baddi. This initiative has been named Kanya Chhaya.
Govt reins in private varsities
Shimla, September 5
Taking a serious note of the arbitrary manner in which private universities have been imposing fines on students for delay in the payment of fee and other charges, the government has specified the quantum of penalty for late fee charges.
Contract college teachers stage protest
Shimla, September 5
As a mark of protest against "exploitation", more than 500 assistant professors working in various degree colleges on a contract basis in the state today wore black badges by observing "Shok Diwas" on the occasion of Shikshak Diwas.


Students of PG College celebrate Teacher's Day at Dharamsala on Thursday. Photo: Kamaljeet
Teacher's Day celebrated
Kangra, September 5
Teacher's Day was celebrated in various educational and professional institutions here today and tributes were paid to the teaching community.
Teachers donate to CM's fund
Shimla, September 5
Chief Minister Virbhadra Singh was presented a cheque of Rs 1.51 crore towards the Chief Minister's Relief Fund by Chief Parliamentary Secretary (Education) Neeraj Bharti on behalf of teachers and staff of the Higher Education Department here today.
Governor confers awards on 19 teachers
Shimla, September 5
Governor Urmila Singh presented the National and State Awards to 19 teachers at a state-level function organised to mark Teacher's Day at the Raj Bhawan today.
BJP protests import of apple
Shimla, September 5
The BJP staged a demonstration against the indifferent attitude of the state government towards the problems of apple growers in Rohru today.
Cong brushing martyrs off, says Dhumal
Hamirpur, September 5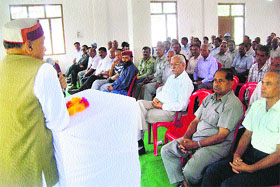 Former Chief Minister PK Dhumal said today the UPA government was not paying due regards to martyrs of the country, and ministers were belittling their martyrdom by making illogical statements. Addressing a state-level meeting of the ex-servicemen cell of the BJP here today, Dhumal said, "The present government is taking divergent stand on the incursions and killing of our soldiers on the borders by external forces. It is disrespect to our martyrs."
Former Chief Minister PK Dhumal addresses a meeting of ex-servicemen in Hamirpur on Thursday.

Woman gets life term for murdering husband
Shimla, September 5
Baldev Singh, Session Judge (Forest), today sentenced Luxmi Devi of Shimla to life imprisonment for murdering her husband.
Rape accused gets 5-day police remand
Nurpur, September 5
Shravan Kumar (31) of Riyali village, who was arrested for attempting to rape a 12-year-old girl yesterday, was produced in the court here yesterday. He was remanded in police custody for five days by the court.