DU, JNU student unions on the same page this time
Ananya Panda
Tribune News Service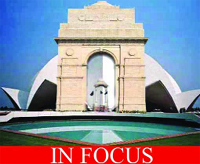 New Delhi, September 8
Though characterised by different milieu and tenor, the students' union elections of Delhi University and Jawaharlal Nehru University this time look to be sharing a degree of commonality.
Issues largely local in character yet with a bearing on national concerns appear in the manifestos of all the leading contending groups which are in the race for occupying berths on the top panel in either of the varsities' student body unlike previous years.
But this not to forget that the campus dynamics in the former, which is
dominated by Centralist National Students Federation of India (NSUI) and
the RSS' students wing Akhil Bharatiya Vidyarhi Parishad (ABVP), remain guided by the show of money and muscle power whereas at JNU which has a long tradition of Left politics polls, it is determined usually by active participation of students and face-to-face interaction all year around.
This Left bastion, stereotyped as one that delves more into national and international issues has promoted an alternative "progressive" political model to that of the right and the centre.
"JNU has been a seat of struggle for the education rights of people unlike DU and we want to defeat politics of money and muscle power," said former president of JNUSU of AISA Sucheta De who won the polls with a historic margin.
Coming back to the issues, at DU the clamour on its new four year undergrdauate pragramme (FYUP) has become a question of campus democracy. Even the RSS' students wing ABVP has pitched this in its poll agenda in an attempt to have an edge over its rival NSUI which has from day one maintained a studied silence over the matter.
Importantly, demanding a rollback of the FYUP, the ultra-left All India Students' Association (AISA) had been holding protests since early this year on DU campuses while the AVBP held a protest on August 13.
"Our candidates have been leaders of campaigns and they are not just here to fight elections but are those rooted in campus issues. Our main issues this time are scrapping of the FYUP, women safety and responsible gender sensitisation committees," said Sunny Kumar of AISA.
According to ABVP media convenor, Saket Bahuguna of DU, the mandate of this poll would have a bearing on the next year's general elections. "The policies of the Congress-led UPA government and the state government have hampered the progress of students. In the National Knowledge Report by Planning Commission, by 2020 India is projected to have an enrolment of 20 per cent in higher education but till 2013 it hasn't reached beyond eight per cent. The FYUP is not in congruity with any other university in the country and it has to be lifted," he said.
On the other side, the concerns that top the priority list of student groups at JNU are campus security, in particular women safety clearly in the wake of the July 31 campus incident, hostel crisis, the merit-cum-scholarship and extending the research scholarship from five to seven years, strengthening the Gender Sensitisation Committee Against Sexual Harassment (GSCASH), placement cell. The arrest of Hem Mishra by Maharashtra Police with naxal charges is another issue being raised by AVBP's Mamta Tripathi. Democratic Students' Federation (SFI-JNU), breakaway faction of SFI, sees the shrinking democratic space also a point of concern.
"Issues are related to campus and here groups have a consistent focus. They don't campaign before polls but the whole year round," said Arjun Sengupta of Students Federation of India.
Also, there is no shift in the methodology as far as the groups themselves are considered, be it the Left leaning the All India Students' Association (AISA) and the Students' Federation of India (SFI) which adopt a rights-based approach for making their demands heard through protests while the NSUI and ABVP have their functioning on cadre-defined lines.