SAD delegates meet in amritsar
All is well with state's economy: Sukhbir
Amritsar, September 3

Deputy Chief Minister Sukhbir Badal refuted reports regarding the poor state of Punjab's economy in his address to the delegates prior to his re-election as party president here today.
Akali delegates raise their hands to approve Deputy CM Sukhbir Badal's re-election as party president in Amritsar on Tuesday. Photo: Vishal Kumar

SAD seeks more powers for states
Amritsar, September 3
The SAD today called for a genuine federal structure with greater autonomy to the states.
As employees wait, Punjab says not blocking salaries
Chandigarh, September 3
The Punjab Government today claimed that there was no move to hold back employees' salaries which were being released. A majority of government employees, however, claimed that they had still not received their salaries for August.
Farmers oppose change in direct payment norms, to move SC
Patiala, September 3
Farmer unions have decided to move the Supreme Court against the state government's decision that forces farmers to apply 45 days before the procurement season in order to avail the benefit of direct payment.
For flood-hit, it's endless wait for home
Muktsar, September 3

It's proving to be an endless wait for the flood-affected people living in relief camps to return home. A large number of people staying at the Indoor Stadium here have no idea when they would see their flood-affected houses. "The administration has hardly provided any assistance. We ourselves had to make way to enter this waterlogged stadium," claimed the displaced residents of Model Town area.
The displaced people in a relief camp at the Indoor Stadium in Muktsar on Tuesday. Tribune photo

Hike flood relief: Badal to Centre
New Delhi, September 3
Chief Minister Parkash Singh Badal today urged Union Home Minister Sushil Kumar Shinde to modify the norms for enhancement of compensation in case of 100 per cent crop loss in the recent floods in Punjab.
Playing with fire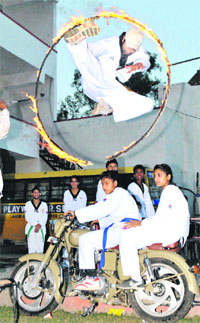 A taekwondo coach jumps through a fire ring on the eve of World Taekwondo Day in Patiala on Tuesday. Tribune photo: Rajesh Sachar
Bajwa wife's letter opens can of worms for Cong
Gurdaspur, September 3
An innocuous letter by Qadian MLA Charanjit Kaur Bajwa to the Chief Minister during his tour of the Gurdaspur Vidhan Sabha constituency has opened a can of worms for the Punjab Congress.
Satguru back, probe into sect leader's murder resumes
Ludhiana, September 3
Controversy surrounding the attack on Namdhari chief Satguru Uday Singh refuses to die down. Soon after the sect chief returned to Bhaini Sahib after undergoing an operation in Bangalore, the police has resumed investigation into the murder case of Namdhari leader Avtar Singh Tari.
Sidhu set to return to Amritsar today
Amritsar, September 3
After staying away from Amritsar for over six months over "some strong issues", MP Navjot Singh Sidhu is all set to return to his constituency tomorrow.
Good monsoon fills Bhakra, Pong Dams to the brim
Ropar, September 3
The good monsoon has almost filled the Bhakra Dam and the Pong Dam to the brim. The Bhakra Beas Management Board (BBMB) authorities said the water level in the Bhakra Dam reached 1676.18 feet and 1387.72 feet in Pong Dam even as the filling season of the two dams is to end on September 20. The Bhakra Dam and Pong dam can store water up to a maximum of 1,680 and 1,390 feet, respectively.
Despite SC order, officers continue to use red beacons
Patiala, September 3
Certain VIPs are openly flouting Supreme Court directions and using red and blue beacons atop their vehicles in Patiala. Small time politicians, senior police officers and government servants blow sirens indiscriminately to cut through the traffic, inconveniencing commuters in the city. Even the kin of these officers drive in vehicles with these beacons fitted atop.
Fiscal crunch no reason to deny payment to staff: HC
Chandigarh, September 3
Commonplace law that financial crunch faced by the state government cannot be a ground to deny payment to employees has found an echo in one of the latest judgments of the Punjab and Haryana High Court.
Court begins process to declare Jain's son proclaimed offender
Moga, September 3
Troubles seem unending for Moga legislator Joginder Pal Jain ever though he shifted his loyalty from the opposition Congress to the ruling SAD and got re-elected to the state assembly in a by-election earlier this year.
Head Constable held for graft
Sangrur, September 3
A team of the local Vigilance Bureau (VB) today arrested head constable (HC) Tejinder Singh for allegedly taking a bribe of Rs 5,000 from Satgur Singh of Ballian village. Tejinder was posted at city police station, Sangrur.
Drug racket unearthed, 2 held
Nabha, September 3
The Patiala police has unearthed a racket wherein drugs were being sold to Nabha residents from a de-addiction centre. Thousands of nearby residents and villagers regularly visited the centre to procure drugs.