Cong cautions govt against acquisition
Chandigarh: Sukhpal Singh Khaira, PPCC spokesperson, addressing a press conference here on Friday, said the Punjab Government's attempt to "forcibly acquire" prime agricultural land would mean denying farmers the legitimate land price under the newly adopted Right to Fair Compensation and Transparency in Land Acquisition, Rehabilitation and Resettlement Bill, 2013.
Farmer protest fizzles out amid police crackdown
Moga, September 20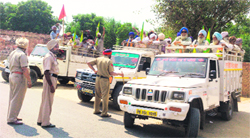 The police today arrested hundreds of Bharatiya Kisan Union (BKU-Ugrahan) activists from various parts of Punjab to thwart farmers from blocking the national and state highways in the wake of their call for a blockade.



The police stops vehicles carrying farmers in Moga on Thursday. A Tribune photograph
Month on, village under water, epidemic threat looms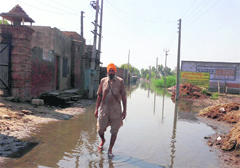 Muktsar, September 20
It's been more than a month since it last rained in the district, but several villages are still awaiting respite from waterlogging. And this, despite instructions by Chief Minister Parkash Singh Badal to the district administration to clear the area of water on a war-footing.



A resident wades through a flooded street in Haraj village in Muktsar on Friday. A Tribune photograph


SAD remarks a ploy to avert real issues, claims Sidhu
Amritsar, September 20
Amritsar MP Navjot Singh Sidhu today described statements by SAD leaders on his plans to switch loyalty to the Congress as a ploy to divert people's attention from issues raised by him. "I refuse to react to such rubbish talk," he remarked


Composition schemes for industry on anvil
Chandigarh, September 20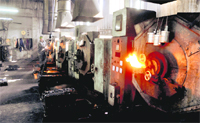 Faced with a growth in VAT collections slower than targeted, Punjab is now not only broadening its tax net but also coming up with composition schemes for various segments of industry. With composition schemes (wherein lumpsum tax is charged) being brought in for several segments of industry, the government hopes that the VAT collections will show a significant rise.
Register or face action: Govt tells travel agents
Chandigarh, September 20
Aiming to curb human trafficking, the Punjab Home Department has passed on instructions to all deputy commissioners to initiate action against travel agents who fail to register themselves with the state government till October 31.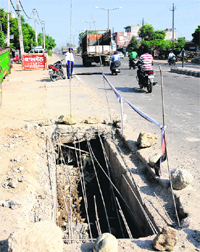 A broken sewerage line on Landran-Kharar road on Friday. Tribune photo: Vicky Gharu
Unpaid for months, teachers to gherao treasury offices
Chandigarh, September 20
Disappointed over the alleged non-payment of salaries for the last six months, teachers of government-aided schools of Punjab will gherao the treasury offices across the state on September 27.
Include Dhobi-Kanaujias in SC list: Bajwa to PM
Chandigarh, September 20
Punjab Pradesh Congress Committee (PPCC) chief Partap Singh Bajwa today requested Prime Minister Manmohan Singh to include Dhobi-Kanaujia community of the state in the Scheduled Castes list to fulfill their long-standing demand.
Two men die while cleaning manhole
Patiala, September 20
Two men died and one got injured when they were cleaning the sewerage line at Mathura Colony here today. The deceased have been identified as Rahul (19) and Narayan Singh (35). The injured Vaidh Kumar was admitted to Government Rajindra Hospital.
Many projects face financial roadblocks in Patiala
Patiala, September 20
Several projects worth crores of rupees under the Punjab Government's Optimum Utilisation of Vacant Government Land Scheme in Patiala are in limbo following delay in release of funds by the Public Works Department (PWD).
Farmers diversify in Sangrur as area under vegetable rises
Sangrur, September 20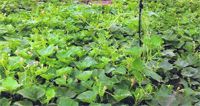 Farmers in Sangrur district this season have sown vegetables on additional 109 hectares compared to last year. Horticulture experts said this was a good trend as farmers had started opting for vegetables instead of paddy. They said this was likely to give government's diversification plan a boost.

A bottle gourd farm in Punnawal village in Sangrur district on Friday. A Tribune photograph
Farm labourers protest in Sangrur
Sangrur, September 20
Members and activists of the district unit of All India Khet Mazdoor Union staged a dharna in support of their demands in the district administrative complex here today.
Disability rehabilitation centre starved of funds
Sangrur, September 20
Even though the District Disability Rehabilitation Centre (DDRC), Sangrur, has helped over 6,600 persons with disability, the Union Ministry of Social Justice and Empowerment has not provided the centre with adequate funds.
State to link ration, Aadhar cards to check pilferage
Patiala, September 20
To check pilferage, the state government plans to delete over two lakh bogus accounts from its records and attach accounts of more than 61 lakh ration card holders with their Aadhar cards. These will also be attached with bank accounts.
Maize board members appointed
Chandigarh, September 20
The Punjab Government has nominated the non official members of the Maize Development Board and Bee Keeping Development and Promotion Board.


DSP gets 35-year jail for abducting seven of family
New Delhi, September 20
The Supreme Court today acquitted Deputy Superintendent of Police Baldev Singh and constable Balwinder Singh of the charge of murdering seven members of a family after abducting them from their house in Fatehgarh Churian in 1991 when Punjab was facing terrorism.
HC upholds death for man who killed six of his relatives
Chandigarh, September 20
It is gallows for the man who killed his six relatives by pushing them into the Bhakra canal.
Double murder: Two sent to police remand
Fatehgarh Sahib, September 20
The district police has arrested two persons for brutally murdering a woman named Kulwinder Kaur and her paramour Varinder Singh in a sugarcane field in Kalewal village. The accused were today presented in court that sent them to police custody till September 21.


MLA's relative booked in another case
Chandigarh, September 20
In yet another twist to the Rs 60 crore forgery case involving Congress MLA from Talwandi Sabo Jeet Mohinder Singh, the Ludhiana police today booked the MLA's relative, Sukhbir Singh Shergill, in yet another cheating case on the complaint of a co-accused in the forgery case
Markfed official held for graft
Ludhiana, September 20
The District Manager (DM) of Markfed was held in a graft case here today. The accused identified KPS Dhaliwal was arrested red-handed by a flying squad of the Vigilance Bureau at Circuit House while he was receiving the first installment of Rs 1 lakh.