CM: Riders imposed by Centre impeding relief
Muktsar, September 11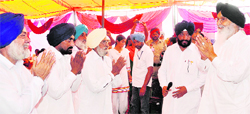 Claiming that the Congress-led UPA Government at the Centre was indifferent to the problems of flood victims, Chief Minister Parkash Singh Badal today reiterated that certain riders imposed by Central Government were coming in the way of the state government giving adequate compensation to the victims.
Chief Minister PS Badal meets residents of flood-hit areas in Muktsar on Wednesday. A Tribune photograph
State's CST collections held back
Chandigarh, September 11
The Government of India has failed to release Rs 681 crore to Punjab from the central sales tax on the pretext that the money will be released only with the rollout of the goods and services tax (GST). This grant has not been released to Punjab for almost two years now.

All employess yet to be paid, admits govt
Bajwa lashes out at CM for calling Modi 'sardar'
Baghapurana (Moga), September 11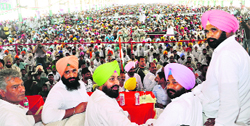 PPCC president Partap Singh Bajwa today slammed Chief Minister Parkash Singh Badal for conferring the title of "Sardar" on his Gujarat counterpart Narendra Modi at a time when hundreds of Sikh families in Gujarat were facing eviction.

PPCC president Partap Singh Bajwa (centre) and CLP leader Sunil Jakhar (left) at a rally at Baghapurana in Moga on Wednesday. A Tribune photograph
Badal not doing much for farmers: Bhattal
Chandigarh, September 11
Senior Congress leader and former Chief Minister Rajinder Kaur Bhattal today said Chief Minister Parkash Singh Badal had rubbed salt on the wounds of Gujarat Sikh farmers by giving the title of "sardar" to Chief Minister Narendra Modi.
Wrong to drag Sonia in riots case: Capt
Chandigarh, September 11
Former Chief Minister Capt Amarinder Singh today said a complaint against Congress president Sonia Gandhi in a US court by some "self-styled" rights activists was an act of cowardice.
SAD-BJP leaders counter Sidhu on development
Chandigarh, September 11
Senior SAD-BJP leaders from Amritsar today said they were thankful to Deputy Chief Minister Sukhbir Singh Badal for overseeing the process of "holistic development" in the holy city.
Tewari hits back at Modi
Ludhiana, September 11
The Union Minister for State for Information and Broadcasting, Manish Tewari, today launched a counter-attack against Gujarat Chief Minister Narendra Modi, who had ridiculed the Congress yesterday by associating its leaders with various scams.


Weak rupee, poor supply raise cotton prices
Fazilka, September 11
Cotton growers in the state are delighted as prices offered at the Fazilka grain market, one of the largest cotton markets in North India, are higher than last year.
State govt should give land for NIFT: Minister
Ludhiana, September 11
In response to the demand of the industry for a world-class fashion and textile institute in the state, Union Textile Minister K Sambasive Rao said in order to set up National Institute of Fashion Technology (NIFT) in Ludhiana, the state government must provide land and building while the technical infrastructure and facility would be from the Centre and the NIFT. SK Rao was in the city and held an interactive session with the local knitwear and textile industry.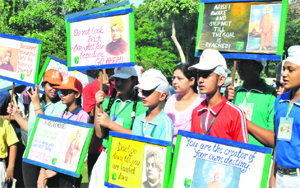 College and school students hold an awareness rally to mark the 150 years of Swami Vivekananda's birth anniversary at the Rajiv Gandhi National University of Law in Patiala on Wednesday. Tribune photo: Rajesh Sachar
Patiala medical college to retain user charges
Patiala, September 11
In a boost to the finances of Government Medical College and Rajindra Hospital, Patiala, the institute has been allowed to retain its user charges that were earlier deposited in the government treasury. The hospital will now be able to save Rs 10 crore annually.
Excise dept staff irked over delay in promotions
Fatehgarh Sahib, Sept 11
The ministerial staff in the excise and taxation department threatened to intensify its stir if the state government failed to promote junior assistants to the rank of inspectors as per the directions of the Punjab and High Court.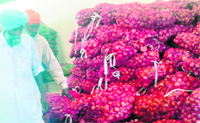 Afghan onions may offer respite
Amritsar, September 11
About 72 tonnes of onion in three trucks today arrived here from Afghanistan via the Attari-Wagah joint check post (JCP) under the Afghanistan Pakistan Transit Trade Agreement (APTTA).


The consignment at the check post. A Tribune photo
Nihang's 'strained' marriage with UK socialite upsets Jassian villagers
Ludhiana, September 11
Residents of Jassian village are concerned over reports that British socialite Alexandra Aitken and Inderjot Singh's marriage is on the verge of a breakdown.
SGPC flays attack on Shopian Sikh families
Ludhiana, September 11
Avtar Singh Makkar, Shiromani Gurdwara Parbandhak Committee (SGPC) president, presided over the SGPC executive meeting at Gurdwara Katana Sahib here today. He rubbished talks of his being replaced.
Centre bent on reducing Punjabis to beggars: Badal
Chandigarh, September 11
Chief Minister Parkash Singh Badal today blasted the Congress-led UPA Government's decision to grant industrial tax concessions to Himachal Pradesh, Uttarakhand and Jammu and Kashmir while denying the same to Punjab, despite repeated pleas of his government.
Raped, child critical at PGI
Chandigarh, September 11
The two-year-old girl from Ludhiana who was gangraped and left bleeding on the roadside on Tuesday is battling for her life at the PGIMER as doctors confirmed she had sustained grievous injuries.
Farmers return from Gujarat summit impressed
Patiala, September 11
Having been served packed food and lodged at three-star hotels, Punjab farmers have returned mesmerised from the agricultural summit held recently by the Narendra Modi Government in Gujarat.
Assault on pilgrims angers Akal Takht chief
Amritsar, September 11
Taking cognisance of instances of assault and molestation of pilgrims in the past couple of days, the Akal Takht Jathedar, Giani Gurbachan Singh, today asked the district authorities to take stern action against such anti-social elements.


HC sets aside downgrade of judge's annual report
Chandigarh, September 11
The Punjab and Haryana High Court has set aside its own full court's decision of downgrading the annual confidential report of District and Sessions Judge Tejwinder Singh from "B-Plus Good" to "B -Satisfactory". Acting on a petition filed by Tejwinder Singh, Justice Hemant Gupta and Justice Fateh Deep Singh also remitted the matter to the High Court for finalisation of his annual confidential report for 1995-96 "on such material as it may have".
HC fines state govt for delay in filing appeal
Chandigarh, September 11
The Punjab Government continues to be "lethargic" in the matter of filing appeals.


Senior SAD leader, Ghanaur legislator trade charges
Patiala, September 11
The role of the Patiala police is under the scanner for registration of a criminal case against senior SAD leader and Land Mortage Bank Rajpura chairman Nirpal Singh Barring, who has claimed the police booked him after he refused to pay a bribe of Rs 50 lakh to Ghanaur MLA and her husband.
65-year-old dies in road accident
Sangrur, September 11
A 65-year-old man was killed near old truck union here today when his scooter was hit by a truck.
4 cops, pharmacist held for allowing jail inmates visit home
Sangrur, September 11
The local police has arrested a Sangrur jail pharmacist and four head constables for arranging home visits for three undertrials on the pretext of taking them to a hospital outside the jail premises.
Terrorist module chief nabbed
Fatehgarh Sahib, September 11
The district police achieved yet another success by arresting six more persons, including leader of a terrorist module, Satnam Singh, from Sangli in Maharashtra.