Food Bill: Promises and challenges
The recent passage of the historic Food Security Bill by Parliament assumes importance in India's fight against hunger. No other country has such a law that entitles 82 crore poor people to food at an affordable cost
Manjit S. Kang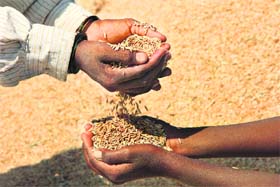 Modern storage facilities must be constructed on priority, in the absence of which food security will face a serious threat.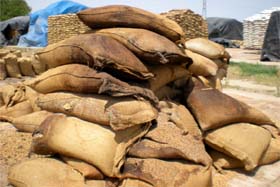 Foodgrains continue to rot even as millions go hungry.
THE institution of the food security law by India should be a matter of great pride for all Indians, regardless of their political affiliations. It signals India has come a long way out of an era of famines and starvation. More than two-thirds of India's population would be beneficiary of the right-to-food Act. This achievement is in sharp contrast to the pessimism of writers like Paddock and Erlich, who never thought that India would achieve self-sufficiency in food production.
The food security law comes at a time when India shamefully boasts the largest population of undernourished children in the world and when the Food and Agriculture Organisation of the United Nations says that India's malnutrition rate has hovered around 20 per cent during the past decade and that it is projected to remain stable through 2022.
If we look at this proposed right-to-food law in the context of the 1960s, the passage of this Bill can be considered a monumental achievement for India. Before the onset of India's Green Revolution around 1968, wheat flour and other items such as sugar were rationed. Foodgrains used to come from the US under P.L. 480 (changed to 'Food for Peace' in 1966), and pejoratively, India was said to have a 'ship-to-mouth' existence.
Pre-Green Revolution agony
When, after completing a Bachelor of Science degree from the PAU, Ludhiana, I went to the US for higher studies in 1969, I learned that an ecologist by the name of Paul Erlich had written a bestseller book entitled "Population Bomb" in 1968, which was being discussed on television and in newspapers and which had caused much resentment and anguish in the Indian community. In the book, Erlich had supported the "triage" strategy advocated by Paul and William Paddock in their 1967 book entitled "Famine 1975!" In the last section of their book 'Potential Role of the United States during the Time of Famine', Paddocks essentially portray Malthusian pessimism and propose to apply the 'triage' system, which is normally applied in military medicine, to the hungry nations around 1975.
India, Egypt, and Haiti would be declared 'cannot be saved' and left to starve because the amount of aid needed to bail out their malnourished millions would be so great as to leave little for everyone else; Gambia and Libya would be 'walking wounded' who would be able to survive without immediate aid; and Pakistan and Tunisia would be the beneficiaries of US food aid, only because they had made some effort to implement population control campaigns and had a sufficiently robust political structure to make them worthy of aid. The Paddocks were aware of the wheat-variety development work of Dr Norman Borlaug in Mexico, but they believed that the Green Revolution would not be able to save India, Egypt, Haiti and the Philippines from the impending catastrophe.
The revolution
Actually, most Indians are aware of what has transpired since 1968. The Green Revolution essentially began in Punjab, Haryana and western Uttar Pradesh. In 1966, with the help of Dr Borlaug, India imported 18,000 tonnes of seed of 'LermaRojo 64A' and a few other varieties of dwarf wheat. As a result, India's wheat production increased from 12 million tonnes in 1965 to 17 million tonnes in 1968. Lerma Rojo 64A and Sonora 64 produced 5 tonnes per hectare in comparison to local wheat varieties that produced only about 1 to 2 tonnes per hectare. In 2012, India was able to produce 94 million tonnes of wheat. Similarly, with the use of genes obtained from the dwarf rice variety 'Dee-Gee-Woo-Gen', scientists were able to develop new varieties, which increased rice production tremendously.
India became self-sufficient in cereal grain production by 1974, for which credit goes to agricultural scientists, enabling government policies, and farmers of Punjab, Haryana and western UP. Dr MS Swaminathan thus wrote in an essay about the role of Punjab farmers in the Green Revolution: "Brimming with enthusiasm, hardworking, skilled and determined the Punjab farmer has been the backbone of the revolution. Revolutions are usually associated with the young, but in this revolution, age has been no obstacle to participation. Farmers, young and old, educated and uneducated, have easily taken to the new agronomy. It has been heart-warming to see young college graduates, retired officials, ex-army men, illiterate peasants and small farmers, queuing up to get the new seeds. At least in the Punjab, the divorce between intellect and labour, which has been the bane of our agriculture, is vanishing".
Mira Kamdar, a former senior fellow of the World Policy Institute, New York, wrote in a 2008 article entitled 'On the Front Lines of Global Food Crisis' (Slate Magazine) about the role of the PAU in the Green Revolution, "If a single institution can take credit for bringing the Green Revolution to Punjab, it is Punjab Agricultural University."
Food security law
Food is every human being's most fundamental right. Nobel laureate Borlaug wrote, "Food is the moral right of all born into this world. Without food, all other components of social justice are meaningless." Therefore, I think the institution of the food security law by India should be a matter of great pride for all Indians, regardless of their political affiliations. It signals India has come a long way out of an era of famines and starvation. More than two-thirds of India's population would be beneficiary of the right-to-food Act. This achievement is in sharp contrast to the pessimism of writers like Paddock and Erlich, who never thought that India would achieve self-sufficiency in food production. This law has adopted a life cycle approach, providing a nutritious diet from pre-birth to death. It helps expand the 'food basket' by including, in addition to rice and wheat, 'health' or 'nutri' foods, such as bajra, jowar, ragi and maize.
The way forward
For the success of any new programme, it is important to ensure its stability and to know what factors can derail it. The biggest threat to food security is the rate of population growth. India's population grows at about 15 million people per year, which means in two years, a population equivalent to that of Malaysia is added to India. By 2050 India will have 40 per cent more people than it now has. Can India continue to produce adequate food and feed its people in 2050? The Government of India will need to take serious steps to control its population.
Another big challenge facing India is its lack of scientific grain storage facilities. Now there will be no room for wasting foodgrains out in open storage. Modern storage facilities such as silos need to be constructed on a priority basis throughout the high food-production areas. While at present, India has in reserve 65 million tonnes of foodgrains, if the foodgrain storage situation is not improved quickly, food security will face a serious threat. Post-harvest losses must be minimised.
Indian agriculture also faces the challenge of climate change. Climate change is expected to reduce yields of many crops, including wheat and rice. In 2009, an FAO team reached the conclusion that with 1°C increase in average temperature, India's wheat production would be expected to decrease by 6 million tonnes per year, a loss of $1.5 million. If the yield reduction of other crops is included, a loss of $20 billion per year would occur. A study conducted in 2004 at the International Rice Research Institute concluded that a 1°C increase in minimum (that is night) temperature would reduce rice productivity by 10 per cent. The latest data show that recently India produced 253 million tonnes of foodgrains, which is the highest level of production so far. Projections are that India will need to produce more than 450 million tonnes of foodgrains in 2050 to be able to feed its population. Producing this much foodgrains in the face of climate change will be a grand challenge. The Government of India will need to set up centres of excellence for climate change, staffed by scientists doing cutting-edge research on climate change to solve such problems.
For sustainable agriculture
Multi-disciplinary research and training centres for sustainable agriculture should be set up in agriculturally advanced states like Punjab, where the adoption of the rice-wheat cropping pattern has proved to be unsustainable. As suggested by Prof Swaminathan, such a centre can be organised under the National Action Plan for the Management of Climate Change, which includes the Mission for Sustainable Agriculture.
To fulfil the mandate of the food security Act, crops other than rice and wheat would need to be promoted. Area under rice could be curtailed and replaced by maize, quality protein maize, arhar, and other pulses. The inclusion of pulses in the mix should also enhance soil fertility and soil physical properties.
To make agriculture an engine for development and poverty reduction, we must ensure that agriculture expands. Agricultural development cannot occur until an appropriate/required amount of capital is invested into it. According to the UNDP records for 2008, India spent 0.8 per cent of its GDP on total (not just agriculture) research and development, whereas China spent 1.2 per cent, US 2.7 per cent and Japan 3 per cent. Of the 0.8 per cent, the share for agricultural research and development was quite small in India. India will need to invest more in agricultural research and development to stay competitive globally. No new technology can be developed without novel, cutting-edge research.
The writer is a former Vice-Chancellor, PAU, Ludhiana


Borlaug, the saviour

Dr Norman Ernest Borlaug, better known as the father of the Green Revolution, was a US agronomist who developed semi-dwarf, high-yield, disease-resistant wheat varieties. With the help of modern agricultural production techniques, wheat yields nearly doubled in India, boosting food security. Borlaug is often credited with saving over a billion people worldwide from starvation. He was awarded the Nobel Peace Prize in 1970. Later, India awarded him the Padma Vibhushan.
(Today is Dr Borlaug's death anniversary)