Drainage Dept to take ISRO help to check waterlogging
Muktsar, September 10
To find out a permanent solution of waterlogging in southwestern Punjab, comprising Muktsar, Fazilka and Faridkot districts, the Drainage Department will take help from the Indian Space Research Organisation (ISRO).
Fearing cancer, Mukerian residents up in arms against thermal plant

Hoshiarpur, September 10
Fearing displacement and the spread of diseases like cancer because of ecological degradation, residents of more than 30 villages are up in arms against the state government's move to set up a thermal plant in Hajipur in Mukerian, near here.

Mukerian residents protest against the proposed thermal plant in their area. A Tribune photo

CAG picks holes in state's forest fund management
Chandigarh, September 10
While there has been an increase of about seven per cent in the forest cover in Punjab, a number of irregularities in the utilisation of funds and land management have come to the fore.
PIMS allowed to appoint new directors
Patiala, September 10
The Punjab Government has provided another breather to Cabinet Minister Surjit Singh Rakhra-led charitable society that has failed to raise the "mandatory" infrastructure to run the Punjab Institute of Medical Sciences (PIMS).
Punjabi singer Preet Brar remanded to police custody
Mohali, September 10
Noted Punjabi singer, Preet Brar, who was brought back by a Mohali police team from Mumbai today, has been sent to a three-day police remand.
Minorities panel seeks report on Amloh attack
Fatehgarh Sahib, September 10
The Punjab State Minorities Commission (PSMC) has directed the district administration to submit its report on the alleged attack on a family of a minority community in Amloh.
Spray insecticide sparingly to tackle bug attack: PAU
Ludhiana, September 10
The Department of Entomology of the Punjab Agricultural University (PAU) today advised farmers to spray insecticide only on those rice/basmati fields which have been damaged by up to 10 per cent. The department just received reports of the 'leaf folder' bug attack on crops from farmers and field staff of the university
To keep safe, rape victim's sister turns 'boy'
Bhagta Bhai Ke (Bathinda), September 10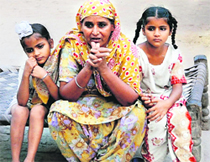 Seven-year-old Chamanpreet Kaur (not her real name) has been dressing up as a boy ever since her 14-year-old sister was raped on October 15 last year. She perceives it to be the only way for girls to stay safe.




The Bhagta Bhai Ke village (Bathinda) rape victim's mother and sister (dressed up as a boy). Tribune photo: Pawan Sharma
Song CDs sent for forensic test in Honey Singh case
Chandigarh, September 10
It may not sound music to Yo Yo Honey Singh's ears, but the Punjab Police has refused to dance to his tunes. Muting his claims of innocence, the police has sent CDs of the song "Main han balatkari" to the Central Forensic Laboratory to find out whether it was sung by him.
Regulatory body for state varsities soon: CM
Bathinda, September 10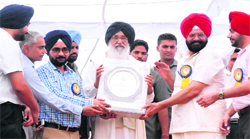 Chief Minister Parkash Singh Badal today presided over the foundation day function of Guru Kashi University, Talwandi Sabo.





CM Parkash Singh Badal at Guru Kashi University in Talwandi Sabo on Tuesday. Tribune photo
Virk may be made acting SGPC chief
Amritsar, September 10
A day before the SGPC executive meeting in Ludhiana tomorrow, there is talk in Sikh circles that the SGPC may get an acting president.


HC stays release of Bollywood film 'Grand Masti'
Chandigarh, September 10
The Punjab and Haryana High Court today stayed the release of Bollywood movie "Grand Masti".
Drug mafia funding elections, former DGP tells HC
Chandigarh, September 10
Punjab's former Director-General of Police (Prisons) Shashi Kant today claimed that drug smuggling worth over Rs 60,000 crore took place annually in the state and the money went into funding the elections. He also filed a petition today alleging that drugs were not just being smuggled from Pakistan but also manufactured in the state itself. As the matter came up for resumed hearing this morning, the state claimed before a Division bench that Kant had never submitted the report to the state authorities.
HC pulls up Chief Secy, DGP for delay in compiling info
Chandigarh, September 10
The Punjab Chief Secretary and Director-General of Police today found themselves at the receiving end. A Division Bench of the Punjab and Haryana High Court virtually pulled them up for non-compilation of "complete" information on the Gurdaspur police firing case in which one person was killed.


Gang busted, 8 held
Sangrur, September 10
The district police today claimed to have arrested eight members of a 10-member inter-district gang and solved eight cases.
4-year-old raped in Ludhiana
Ludhiana, September 10
The day when four persons were pronounced guilty in the gang-rape of a 23-year-old physiotherapist in Delhi last year, the humanity was yet again put to shame as a four-year-old girl living in a shanty at Jassian Road near here was picked up, raped and dumped in the bushes, assuming her to be dead.
1 dead, 15 hurt in road mishap
Patiala, September 10
Over 15 passengers got injured and one died after a Punjab Roadways bus hit a tractor trailor on the busy Patiala-Rajpura road near village Kauli, late today evening. Rescue operations were on till filing of the report.