Exports up 13% in August; trade gap dips to $11 bn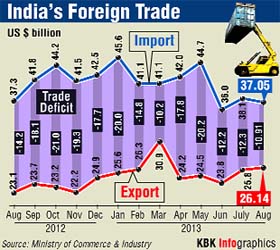 New Delhi, September 10
India's exports rose to a two-year high of 13 per cent in August on account of improved global situation, enabling trade deficit to fall to a four-month low of $11 billion, aided by subdued gold imports.
Gold imports, which has been pushing up current account deficit and putting pressure on rupee, dipped to $0.65 billion in August from $2.2 billion in the previous month. Exports, for the second month in a row, increased by 12.97 per cent to $26.14 billion, while imports declined by 0.68 per cent to $37 billion.
"Things are improving in Europe and in the US also economic condition is better. So signs of stability in the major economies, including the UK, and the positive growth in the US will lead to increase in demand," Commerce and Industry Minister Anand Sharma told reporters here.
He also said new markets like Asia-Pacific, Africa and South America have helped in pushing India's exports.
The minister expressed hope shipments would continue to be in the positive zone for rest of the financial year. All the exporting sectors barring jewellery have shown positive growth in August.
Sharma said the government will further extend incentives to those exporting sectors which are lagging behind.
"...we will take a considered view and make intervention to support those sectors which are lagging behind, and that we shall do it after the review in October," he said.
During April-August, exports were up by 3.89 per cent at $124.42 billion. Imports too grew by 1.72 per cent to $197.79 billion, leaving a trade deficit of $73.36 billion. Oil imports in August grew by 17.88 per cent to $15.1 billion.
The last time trade deficit had narrowed substantially was in March when it touched $10.3 billion.
Trade deficits have been fuelled by high imports of gold and crude oil, contributing to the widening CAD, which touched an all-time high of 4.8 per cent of GDP, or $88.2 billion, in 2012-13.
However, non-oil imports declined by 10.4 per cent to $21.9 billion, the minister said.
Sharma expressed hope that trade deficit will decrease this fiscal from the previous fiscal's $191 billion.
Besides putting curbs on gold imports, the government is also taking steps to boost electronics manufacturing to reduce its imports. Last year, India imported electronic goods worth $32 billion.
"We are looking at all possible means to take up manufacturing of all electronic products. IT investment regions have been developed. Japanese industry is very keen to establish dedicated electronic parks. Until we start manufacturing, this is (increasing electronic imports) also a drain when it comes to imports," he added.
To a question, he said government cannot curtail these imports till chip manufacturing units start operations.
He also said the Commerce Ministry is working on ways to restrict imports of non-essential goods.
According to the minister, high coal imports have also pushed trade deficit and CAD.
He also said the commerce ministry is currently engaged in preparing an internal projection figure.
"By November, we will have the projection on the trends, exports, destinations and commodities for the last quarter of this fiscal. That exercise is already underway," he said. — PTI