Gurta Gaddi Diwas
Sidhu's outburst won't hurt our poll prospects: CM
Khadoor Sahib, September 18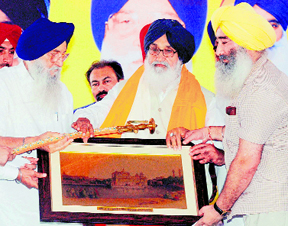 Terming the path chosen by MP Navjot Singh Sidhu as wrong, Chief Minister Parkash Singh Badal today said that Sidhu's outburst against the state government would have no impact on the poll prospects of the SAD-BJP alliance in the coming Lok Sabha poll. Talking to mediapersons after addressing a rally here to mark Gurta Gaddi Diwas of Guru Angad Dev, the CM said he was peeved at Sidhu's approach. "Pehla ta saada naa japda see, hun pata nahi ki ho gaya hai" (He used to sing paeans on his being elected MP.)

Chief Minister PS Badal being felicitated at a rally in Khadoor Sahib on Wednesday. Photo: Vishal Kumar

Amritsar MP has exposed true face of the Badals: Bajwa
Khadoor Sahib, September 18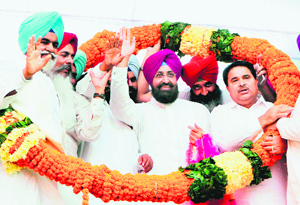 Praising Amritsar MP Navjot Singh Sidhu for "exposing the true face of the Badals," PPCC chief Partap Singh Bajwa today said there was no place for honest persons like him in the ruling alliance. Talking to mediapersons on the sidelines of a Congress rally here, Bajwa said: "Leaders who pose thorny queries to the state government are never appreciated by the ruling alliance, whether it be Manpreet Badal or Navjot Sidhu."
Pradesh Congress chief PS Bajwa at a party rally at Khadoor Sahib on Wednesday. Photo: Vishal Kumar


PPCC chief says Manpreet Badal is an honest leader


Akali councillors 'boycott' CPS Sidhu
Another toddler raped, undergoes surgery at PGI
Chandigarh, September 18
In another shocking incident, a three-year-old girl from Hoshiarpur allegedly raped by her maternal uncle has been rushed to the PGIMER after sustaining internal injuries. The girl underwent a surgery after she was brought to the PGIMER from a hospital in Hoshiarpur last week.
SAD keen to contest 6 Delhi assembly seats
Chandigarh, September 18
The SAD will contest the assembly elections in Delhi on its own symbol. The party is keen to contest six seats, most of these in West Delhi. There are some constituencies such as Tilak Nagar and Rajori Garden where Punjabis comprise more than 60 per cent of the population. Besides, the percentage of Punjabi population is also high in Hari Nagar. The SAD has asked the BJP leadership to allot to it at least two of these three constituencies.
Time to oust scam-ridden UPA govt, says Sukhbir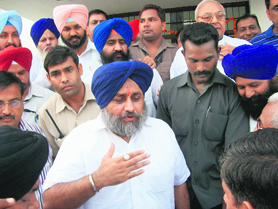 Ferozepur, September 18
If the National Democratic Alliance (NDA) is voted to power at the Centre, the black money allegedly stashed in Swiss banks would be brought back on a priority, stated Deputy Chief Minister Sukhbir Singh Badal while laying the foundation stone for various development works in the Guruharsahai assembly constituency.



Deputy Chief Minister Sukhbir Singh Badal interacts with mediapersons in Fazilka on Wednesday. A Tribune photograph

Councillors told to ensure large turnout at Sukhbir's rally
Patiala, September 18
Councillors and local SAD leaders have been asked to ensure an impressive turnout at Deputy Chief Minister Sukhbir Singh Badal's public rally here on Friday. Several aspirants for the prestigious Patiala parliamentary seat view the visit as an opportunity to impress the Deputy CM and stake claim to the party ticket.


Govt recommends 5 officers for IAS post
Chandigarh, September 18
The Punjab Government today forwarded the names of five state officers to the UPSC for their nomination to the IAS. The officers are Shiv Karan Singh Kahlon, son of former Punjab Vidhan Sabha speaker Nirmaljit Singh Kahlon, ML Sharma, Chief Minister's economic adviser, Dr Puneet Girdhar from the Medical Education Department, Mohanbir Singh from the Technical Education Department) and Kamaljit Singh Sangha from the Cooperative Department.
Despite HC orders, Improvement Trust fails to acquire prime land
Patiala, September 18
Despite the directions of the Punjab and Haryana High Court, the Patiala Improvement Trust has failed to acquire a piece of land worth crores of rupees in SST Nagar here. Under an extension scheme, private players were running their commercial establishments on the land.
Panel assures fair probe into custodial death
Patiala, September 18
National Commission for Scheduled Castes Vice-Chairman Raj Kumar Verka has assured stern action against policemen who allegedly tortured to death a 45-year-old Dalit man in illegal confinement.
Book on history of Punjab released
Chandigarh, September 18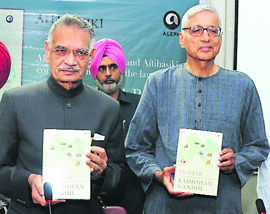 Punjab Governor Shivraj Patil on Wednesday released a book, "Punjab: A History from Aurangzeb to Mountbatten", written by history scholar and Mahatma Gandhi's grandson Rajmohan Gandhi. Patil said the undivided Punjab had played a significant role in the history of India. Referring to Indo-Pak relations, Dr Gandhi said the neighbouring countries should sort out their problems bilaterally instead of seeking others' help for resolutions.
Punjab Governor Shivraj Patil releases 'Punjab: A History From Aurangzeb to Mountbatten', written by Rajmohan Gandhi (right), grandson of Mahatma Gandhi, at a function in Chandigarh on Wednesday. Tribune photo: Parvesh Chauhan
Stray dogs maul patient in Amritsar hospital
Amritsar, September 18
In a case of sheer negligence, a patient, who had gone missing from Guru Nanak Dev Hospital last evening, was found dead on the hospital premises today. Though his face was mauled by stray dogs, the exact cause of his death is yet to be ascertained.
Hemkunt Sahib pilgrimage to resume from Sept 22


Amritsar, September 18
Discontinued after the devastating flashfloods in Uttarakhand, the pilgrimage to Hemkunt Sahib is to resume from September 22. Talking to The Tribune, Darshan Singh, manager, Gurdwara Rishikesh, said the pilgrimage would resume following 'ardas' at Sri Hemkunt Sahib on Sunday. He said all preparations had been made for the pilgrimage which would last for around 20 days.
Fourth extension for BBMB chief
Chandigarh, September 18
The Union Power Ministry has granted a fourth extension to Bhakra Beas Management Board (BBMB) Chairman AB Agrawal, till November 1. He was earlier given extension in service for three months, two months and a month, respectively. With the third extension ending today, the Chairman was learnt to be camping in New Delhi.
9 Pakistani prisoners repatriated
Amritsar, September 18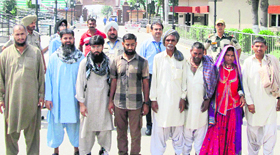 Nine Pakistani prisoners, including a woman, lodged in various jails across the country were repatriated through the Attari-Wagah land route here today. Two of them were released from Tihar Jail (Delhi), two from Jodhpur Jail, four from Gujarat Jail and one from Jammu. Mohammad Sohail, who was released from Tihar Jail, was arrested for allegedly spreading terror.
The released prisoners at the Attari-Wagah border on Wednesday. Photo: Vishal Kumar

Govt to construct marriage palaces, says Rakhra
Mohali, September 18
To save people from high expenses of private marriage palaces, the state government would construct its own banquet halls, said Rural and Panchayat Minister Surjit Singh Rakhra here today.


Need to curb drug menace with a heavy hand: HC
Chandigarh, September 18
The Punjab and Haryana High Court has called for curbing the drug menace in Punjab with a "heavy hand." The clarion call comes at a time when the Punjab Government is facing allegations of doing precious little to check the problem. Already, state's former Director-General of Police Shashi Kant has claimed that drug smuggling worth over Rs 60,000 crore takes place annually in the state and the money goes into funding elections.
Former Akali MLA gets jail for defamation
Amritsar, September 18
Former Akali MLA Veer Singh Lopoke has been sentenced to one year's imprisonment by a local court in a defamation case. The suit was filed by Congress MLA from Rajasansi Sukhbinder Singh 'Sukh Sarkaria'. The latter had objected to an advertisement published in a vernacular paper on February 13, 2007 (the day assembly poll was held).


Sand mafia attacks cops
Ferozepur, September 18
In yet another attack on police officials by the sand mafia, an Assistant Sub Inspector and four constables were assaulted during a raid to check illegal sand mining at Saddu Shah Wala village today. When the police team stopped a tractor-trailor suspected of carrying illegally extracted sand, three armed persons in a car and thrashed the ASI. They even shot in the air before taking the tractor-trailor along with them. Sub Inspector Baldev Singh said the accused had been identified as Jarnail Singh alias Ghuddi, Gurjant Singh and Sandeep Singh. — OC