Samra panel for efficient use of canal water
Chandigarh, September 17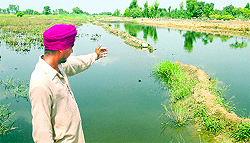 The Samra committee, sent to the state's water-logged areas by the Planning Commission to suggest remedial measures, today submitted its report to the state government. Chief Executive Officer of the National Rainfed Area Authority Rajesh Kumar in the report has suggested an efficient use of the canal irrigation system from about 35 per cent to 70-80 per cent.
A farmer in Moga points towards his waterlogged fields

Residents of water-logged villages want to be relocated
Muktsar, September 17
The problem of water-logging in Muktsar district since 1997 has rendered a large number of people poor. Some have turned to labour with their land becoming non-productive.
Swollen dams
Expect better cropping season
Chandigarh, September 17
The agricultural sector in the region is likely to get a boost in the forthcoming season as Bhakra Dam and Pong Dam are filled to the brim.

Sidhu won't be silenced, says has done no wrong
Amritsar, September 17
Navjot Singh Sidhu, Amritsar Member of Parliament, today said that he saw no wrong in speaking up for the rights of 15 lakh residents of Amritsar who had reposed their trust in him. He was responding to media reports on his party (BJP) issuing him a gag order.


Navjot Singh Sidhu, Amritsar MP

Sidhu on Badals' hit list: Bajwa
Chandigarh, September 17
Punjab Pradesh Congress Committee (PPCC) chief Partap Singh Bajwa today said Navjot Sidhu, BJP MP from Amritsar, was likely to be sidelined. He drew similarities with former Finance Minister Manpreet Badal, who also had met with similar treatment for daring to speak against the "bad" economic policies of the SAD-BJP government.



Basmati farmers set to reap rich harvest
Fazilka, September 17
The farmers who have cultivated basmati variety of paddy are in for a good time as there is more than 30 per cent increase in its prices as compared to previous year.

Village common land to be freed from encroachers
Chandigarh, September 17
One-third of the village common land in Punjab is allegedly under illegal occupation of the rich and mighty owing to the unholy nexus between land sharks and unscrupulous officials, say sources in the Rural Development and Panchayats Department.

Tribune Impact
Mahilpur Khalsa College Principal suspended
Chandigarh, September 17
The managing committee of the Sikh Educational Council that runs Sri Guru Gobind Singh (SGGS) Khalsa College, Mahilpur, today suspended its Principal, Dr SS Randhawa, with immediate effect.

Tech degrees through distance education under scanner
Chandigarh, September 17
To add weight to their resume, job and promotion-seekers in the state are opting for part-time technical courses from universities of other states wherein they are not required to attend any classes.

Bathinda schools commit faux pas
Bathinda, September 17
After courting controversy over the leak of question papers, the Punjab Education Department is in for another embarrassment with a number of schools distributing sample question papers available on the internet as official question papers for examination of Classes IV and V that began today.

Short-staffed aided schools witness dip in enrolment
Patiala, September 17

The number of students in government aided schools has declined sharply following a fall in the number of teachers by up to 50 per cent. As many as 20 schools have shut down due to shortage of staff and 28 are on the verge of closure as several teachers are due to retire. Sources said permitting these schools to shut down was a waste of resources worth several crore rupees.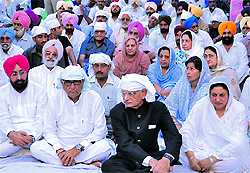 Tributes paid to former CM's wife


Chandigarh, September 17
Cutting across party lines, politicians today paid rich tributes to Gurbrinder Kaur Brar, wife of former Punjab Chief Minister, Late Harcharan Singh Brar, at her bhog ceremony held here.


(From left) Senior leaders, including PPCC chief Partap Singh Bajwa, Haryana CM Bhupinder Hooda, Punjab Governor Shivraj Patil and former Punjab CM late Harcharan Brar's daughter Babli Brar at the bhog ceremony of the late CM's wife Gurvinder Brar in Chandigarh on Tuesday. Tribune photo: Parvesh Chauhan


EC nod awaited for DCs' posting
Chandigarh, September 17
The Election Commission of India will approve the names of 11 IAS officers, before they can take charge of their new assignments. With this, the posting of five IAS officers as deputy commissioners now hangs fire.

Employees up in arms against state govt
Sangrur, September 17
Resentment has been prevailing among the government employees against the state government as regards the financial crisis in the state. They have not been given instalment of Dearness Allowance (DA) from January this year.

Mohali police books protesters who blocked traffic
Mohali, September 17
In a bid to send a strong message to those who block traffic on main roads and highways to lodge protests, the Mohali police is contemplating arresting several members of Sikhiya Providers Union who had blocked the Chandigarh-Ropar highway for about 23 hours on September 14.

Uncovered Sangrur nullah a health hazard
Sangrur, September 17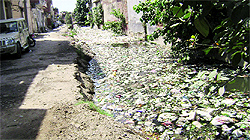 The foul stench emanating from the 200-yard-long uncovered stretch of the ganda nullah from Gurdwara Sahib to Shaheed Bhagat Singh Chowk has made it difficult for area residents to go about their daily chores.



An uncovered stretch of the 14-feet-wide nullah in Sangrur. A Tribune photograph

Rape of two-yr-old: Neighbour arrested
Ludhiana, September 17
It was a 23-year-old neighbour who had kidnapped, raped and dumped the two-year-old girl and thrown her in bushes near Jassian Road on September 10.
Nawanshahr woman found dead in UK
Nawanshahr, September 17
The body of Varkha Rani (25), who belonged to Shaheed Udham Singh Nagar here, was found in the house of her in-laws in Walsal, UK, recently. The UK police has rounded up 10 persons, including her husband Jasvir Ram Ginde, in the case.
HC notice to state for defaulting on salaries
Chandigarh, September 17
Less than a week ago Punjab Deputy Chief Minister Sukhbir Badal had claimed that the government had never defaulted in paying salaries and arrears to its employees. But a petition filed in the Punjab and Haryana High Court by more than 24 Hindi teachers belies this claim.

Fatehgarh Sahib cops bust arms racket
Fatehgarh Sahib, September 17
After busting a terrorist module in this district, the local police in a joint operation with the Maharashtra police has unearthed a weapons racket.