The mangled remains of a Punjab Roadways bus that collided with a truck on the Kharar-Ropar highway near the Doaba Group of Colleges near Kharar on Tuesday. Tribune photos: Vicky Gharu see also P3
Three policemen sent to lines in Panchkula
Panchkula, September 17
Three police officers were sent to lines after one of them was found sleeping while two others were in the police station instead of patrolling.

Bus ride that cut short his life journey
Mohali, September 17
When Anil Kumar Jindal left home for Kharar this morning, little did he know that death would part him from his loved ones. After purchasing some medicines, he boarded the ill-fated Punjab Roadways bus. A speeding truck hit the bus on the Chandigarh-Ropar highway near the Doaba Group of Colleges. Jindal, who was an executive officer in the Anandpur Sahib Municipal Council, had gone to Kharar to buy medicines for his grandson.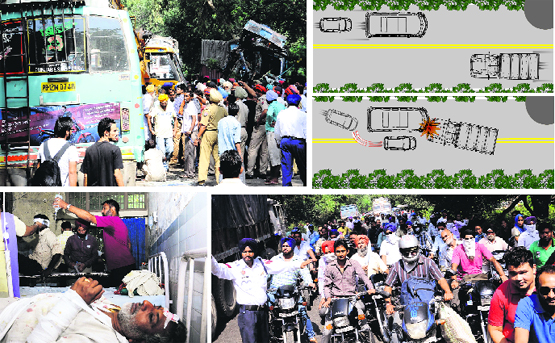 Clockwise: (1) A Punjab Roadways bus that was hit by a truck on the Chandigarh-Ropar highway on Tuesday. (2) STAGE 1: The bus with 38 passengers on board heads towards Amritsar. STAGE 2: In an attempt to save a car that tries to overtake the bus, the truck driver rams into the bus, leaving three dead and 36 injured. (3) Commuters stuck in a traffic jam following the accident. Tribune photos: Vicky Gharu (4) The injured recuperate at the Civil Hospital in Kharar.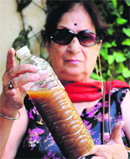 Chandigarh residents get muddy water supply
Chandigarh, September 17
Though the Municipal Corporation has restored the water supply after leakage in the Kajauli water supply line was repaired, city residents are now complaining of receiving muddy water. Residents in Sector 34 complained that for the past few days they were receiving muddy water supply. Sheela Ganjoo, a resident of Sector 34 D, here, said: "We are getting muddy water supply for the past many days."
A resident of Sector 34 shows a bottle filled with muddy water on Tuesday. Tribune photo: Manoj Mahajan



Chemists told to abstain from selling poor quality gloves
Chandigarh, September 17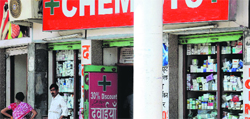 The PGI Director has instructed all chemists not to sell inferior quality gloves. As the gloves turn out to be much cheaper and readily available in bulk, chemists purchase and sell these to poor patients. The practice has been there for quite sometime. It was learnt that after a number of complaints poured in from doctors, the Director issued a circular.
A medical store on the PGI premises, Chandigarh. Tribune photo: Manoj Mahajan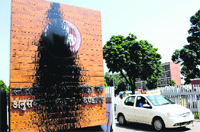 Man spills black paint on PGI's logo
Chandigarh, September 17
Blotting the PGI, a person today defaced the logo of the institute at the main gate. The man, identified as Balbir Khalsa, spilt black paint over the logo at Gate No. 1. The police has booked him under the West Bengal Defacement of Property Act, 1976. The incident took place at 12 pm today. Security guards caught hold of Balbir and called the police.
The defaced logo of the PGI. Tribune photo: Manoj Mahajan
Fault in cables snaps 500 BSNL connections
Chandigarh, September 17
A snag in the underground cables snapped 500 BSNL connections in Mauli Jagran.
Consumers to submit papers by Oct 15
Mohali, September 17
To avail themselves of the facility of transfer of cash subsidy into their bank accounts, LPG consumers in Mohali district will have to submit the requisite documents before October 15.
Diabetes mellitus a silent killer: Expert
Chandigarh, September 17
The public awareness forum on diabetes mellitus organised by the Department of Ophthalmology in collaboration with the Departments of Medicine and Surgery in Government Medical College Hospital, Sector 32, Chandigarh, was attended by over 300 diabetic patients and their attendants, yesterday.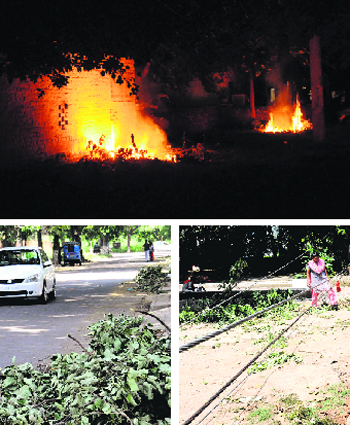 (Top) The broken branches that fell after the storm on Sunday being burnt in Sector 30, Chandigarh.
(Bottom 1 & 2) The broken branches that fell after the storm on Sunday being burnt in Sector 30, Chandigarh. The MC is yet to clear the mess.
Scholars resent delay in award of fellowships
Chandigarh, September 17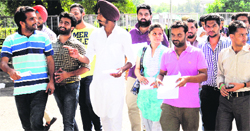 Delay in release of fellowships for the research scholars at Panjab University (PU), by the University Grants Commission (UGC) is giving a hard time to researchers. The students are waiting for the stipend, which is to be received on monthly basis from last several months.
PUCSC leaders on their way to submit a memorandum to the VC regarding the irregularities in awarding fellowships to research scholars in Chandigarh on Tuesday. Tribune Photo: Manoj Mahajan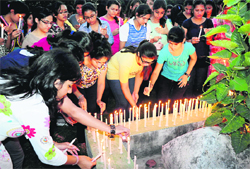 Remembering college mate: Students light candles in memory of Himanshu, who died when a squall hit the city, at GGDSD College, Sector 32, in Chandigarh on Tuesday. Tribune photo: Parvesh Chauhan
PU's English, law auditorium to get makeover
Chandigarh, September 17
Panjab University's (PU) English auditorium and law auditorium are soon going to get a makeover.
Documentary on life, achievements of Visvesvaraya screened
Mohali, September 17
Engineer's Day, commemorating the birthday of Sir Mokshagundam Visvesvaraya, recipient of the Bharat Ratna, was celebrated here yesterday.