Education Dept lends ear to school staff, students
Chandigarh, September 17
The Education Department will finally lend an ear to students and the staff of government schools to bring about a qualitative change in the standards of education.
Karnal MC halts work on shamlat land at Uchana
Karnal, September 17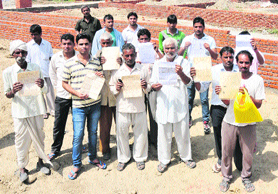 Tension gripped Uchana village, 8 km from here, as Municipal Corporation and revenue officials reached the village to stop illegal construction being carried out by villagers on shamlat land. Villagers were taken aback when the Mayor of the Karnal Municipal Corporation Renu Bala Gupta reached the village along with other councillors and tehsildar Hari Om Atri and asked the villagers to stop all construction on the disputed land measuring 2721 kanals.
Villagers show registration papers of their land at Uchana village in Karnal on Tuesday. Tribune photo: Ravi Kumar
Hospital staff drop paralytic patient by roadside, CMO orders probe
Yamunanagar, September 17
The Chief Medical Officer, Dr MR Passi, has ordered an inquiry after a 50-year-old paralytic man was discharged from the Jagadhari Civil Hospital and dropped by the roadside in the Bilaspur area of the district. Sources said the patient was forcibly discharged as there was no one to pay for his medical expenses.
Student killed in bus-canter collision
Rewari, September 17
Kanish, a six-year-old boy and Class 1 student of the local Holy Child Public School, died on the spot and two other students sustained injuries when their school bus overturned after hitting a Canter. Raju Sharma, driver of the Canter, was seriously injured as the vehicle overturned after hitting the bus on the Jhajjar-Rewari road at Bikaner village, 6 km from here, this morning.
5 booked for killing pregnant woman for dowry
Karnal, September 17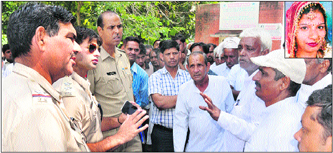 An eight months pregnant woman was killed allegedly by her in-laws at Rajivpuram here last night for not meeting their dowry demand. Initially, the police suspected it to be a case of suicide.
Police officers try to pacify Puja's (inset) father (in cap) outside Kalpana Chawla Government Medical College in Karnal on Tuesday. Tribune photo: Ravi Kumar
Irregularities in Development Works
Govt team reaches Sirsa for probe
Sirsa, September 17
A six-member team from the Department of Urban Local Bodies headed by Rajiv Mehta, an Assistant Director, today arriv ed here to probe the alleged irregularities in development works completed by the Sirsa Municipal Council.
HBSE to hold Class X exam from Sep 27
Sirsa, September 17
The first semester examinations of secondary classes (Class X) in schools affiliated with the Board of School Education, Haryana (HBSE), will be held throughout the state this time from September 27 to October 4. Question papers as-well-as answersheets, will be supplied by the board, but the examination will be held and answersheets evaluated at the school level.
Husband, mother-in-law get judicial custody for dowry death
Kaithal, September 17
The husband and mother-in-law of a woman, who were arrested allegedly for dowry death on September 13,
DC visits localities in Sonepat
Sonepat, September 17
Deputy Commissioner Chandra Shekhar visited a number of residential localities in Ward-5 of the town today and expressed concern over open manholes, accumulation of garbage and lack of cleanliness.
Man arrested for fratricide
Kaithal, September 17
A man, who allegedly killed his brother, was arrested by the police when he was making preparations to secretly cremate the body at his residential premises.
Notorious criminal arrested
Jhajjar, September 17
The district police has arrested a notorious criminal for demanding extortion money from a local trader here today. Superintendent of Police (SP) Vikas Dhankhar said Ravi alias Jaila, a resident of Kasni village, was carrying a reward of Rs 10,000 on his head. More than five cases had been registered against Jaila at various police stations, he added. The SP said Jaila had been arrested by a CIA team from his hideout following a tip-off. Jaila had demanded Rs 10 lakh from Sanjay Goyal over a week ago. The police lodged a case against him on the complaint of Goyal in this regard. — OC
Dera chief to appear in court on Oct 5
Panchkula, September 17
A CBI court today directed Dera Sacha Sauda chief Gurmeet Ram Rahim Singh to appear in the court on October 5. The dera chief was to appear in the court today, but the Panchkula police moved an application before the court to allow videoconferencing in the case as lakhs of dera followers were getting ready to see him here. The followers were seen cleaning the Sector 5 ground where they thought the dera chief would address them after the hearing. — TNS
Rs 1.17 lakh looted from petrol station
Rewari, September 17
Two motorcycle-borne armed miscreants looted Rs 1.17 lakh from a petrol station, Baleshwar Filing Station, near the bus stand of Nangal Mundi village, about 12 km from Rewari, late last night. The miscreants snatched the keys of the office from employees at gunpoint, opened its lock and looted the amount and fled. The employees informed the petrol station owner as well as the police which has registered a case of robbery. — OC