HC notice to state on drug menace
Chandigarh, September 16
Less than a week after Shashi Kant, former Director-General of Police (DGP), Prisons, Punjab, claimed that drug smuggling worth Rs 60,000 crore took place in the state annually, the Punjab and Haryana High Court has taken suo motu cognisance of his letter to the Chief Justice on "drug crisis in Punjab, need for judicial scrutiny".
CM's pictures on ambulances to cost state exchequer Rs 36 cr
Chandigarh, September 16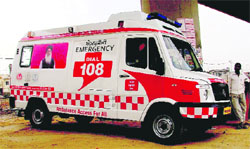 The state's funding from National Rural Health Mission will not be impacted with the decision of the Union Ministry of Health and Family Welfare to stop funds for the free referral transport system, after the state refused to remove the pictures of Chief Minister Parkash Singh Badal, from the 240 ambulances being run under the scheme. Sources in the Chief Minister's Office told The Tribune that the only outcome of the decision, which had political overtones considering that the state had an opposition party in power (SAD-BJP), was that the state will have to change the component cost of each scheme run under the NRHM.
Dengue scare: Dependence on Mac-Elisa test raises hackles
Patiala, September 16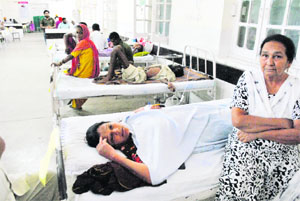 While the health department and Government Rajindra Hospital, Patiala, are depending only on the Government of India approved Mac-Elisa test to confirm whether a person has dengue or not despite admitting about 10 to 12 suspected cases of dengue every day in Rajindra Hospital alone, city hospitals are flooded with patients who have been declared positive for dengue by various private laboratories and hospitals on the basis of NS1 Elisa test or card test.
Patients at the Government Rajindra Hospital in Patiala. Tribune photo: Rajesh Sachar

8 dengue cases in Mandi Gobindgarh
Fatehgarh Sahib, Sept 16
With eight cases of dengue reported from various parts of this district, it is a wake-up call for the health department officials here who claim to have initiated steps for checking the spread of the disease at the initial stage.
Sidhu adamant, says Deputy CM can't pass the buck
Amritsar, September 16
A day after Deputy Chief Minister Sukhbir Singh Badal tried to deflect the issue of Amritsar by terming it an internal matter of the BJP, MP Navjot Singh Sidhu hit back at him, saying, "Our respected leaders who aspire for credits must also learn to gracefully own up discredits".
forest land grab
9 govt functionaries under scanner
Mohali, September 16
In the case pertaining to forest land grab at Pir Muchalla, the Derabassi Sub Divisional Magistrate has recommended inclusion of names of nine government functionaries in the FIR already registered at Zirakpur police station.
Industrialists not paid Rs 300 cr VAT refunds
Patiala, September 16
Even though the Punjab Government claims it is not facing a financial crunch, it has not refunded tax to the tune of Rs 300 crore to industrialists. The State Excise and Taxation Department said the refunds had been delayed by several months since it was scrutinising the records of traders.
Dera chief's kin Jassi eyeing Cong LS ticket from Bathinda
Bathinda, September 16
With the state Congress changing its plan to field People's Party of Punjab president Manpreet Badal as a joint candidate for the Bathinda Lok Sabha seat, senior Congress leaders are gearing up to stake claim for the same.
Storm damages paddy in border belt
Amritsar, September 16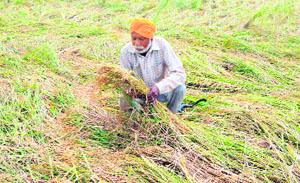 The storm that lashed the region last evening has taken a toll on the paddy crop in Amritsar and neighbouring districts with reports of lodging of crop received from several places. Gurnam Singh, a farmer from Umarpura village, is shattered. Talking to The Tribune, he said his entire paddy cropm spread over nine acresm had been destroyed. "I had put in so much money on paddy," he lamented, wondering how he would repay his bank loan.
A farmer takes stock of his damaged paddy crop on the outskirts of Amritsar on Monday. Photo: Vishal Kumar

PSPCL loss Rs 3.76 crore
Jalandhar, September 16
Punjab State Power Corporation Limited (PSPCL) has suffered a loss of about Rs 3.76 crore in the storm that lashed the state last evening, uprooting poles and damaging wires.
Central team member Samra questions cost of laying drains
Chandigarh/Muktsar, September 16
A faulty subsoil drainage system having been identified as one of the three reasons for the problem of waterlogging in Punjab, questions are now being raised on the comparatively high cost of laying drains in the affected areas.
Books scam
Jindal probe panel makes no headway
Chandigarh, September 16
The Justice (retd) AN Jindal Commission, that was formed to probe a series of scams in school education earlier this year, has made no headway so far. "We have not had any witnesses yet to give us substantive leads into any of the scams under probe," Justice Jindal told The Tribune here today.
Compensation, jobs sought for kin of farmers driven to suicide
Sangrur, September 16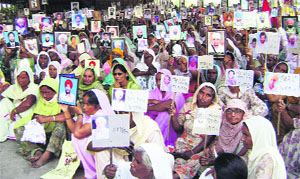 Under the banner of Bharatiya Kisan Union (Ugrahan), a large number of farmers and labourers along with families of debt-ridden farmers and farm labourers who committed suicide in the past many years today held a protest dharna for about three hours outside the District Administrative Complex (DAC) here.
Women with photographs of debt-ridden farmers, who committed suicide, participate in a rally at New Grain Market in Sangrur on Monday. A Tribune photograph

Farmers' Income Commission sought
Sangrur, September 16 On pattern of Pay Commission for its employees, the Centre should constitute a Farmers' Income Commission to determine income slabs for the farmers in light of minimum requirements for living a smooth life by farmers.
Prisoner attacks Sangrur Jail Superintendent
Sangrur, September 16
The Jail Superintendent of Sangrur district jail was today attacked by a prisoner, who has been undergoing life imprisonment in a murder case, in the jail complex here.
25,000 tonnes wheat left to rot in the open
Fatehgarh Sahib, Sept 16
It's criminal waste in a country where food security concerns are supposed to run high. Five lakh bags of wheat weighing 50 kg each (25,000 tonnes) have become unfit for consumption as the agency which procured the same during the past four years had failed to preserve these owing to lack of godowns.

Youth found dead; SHO suspended
Moga, September 16
The mutilated body of 18-year old Sukhjinder Singh was found from a canal this morning. He had gone missing from Kot-ise-Khan town in the district on Friday. Local residents had been protesting against alleged police inaction in the case since Friday. After the recovery of the body today, the victim's family members, relatives and locals intensified their protest.

Now, HC told Moga MLA Jain has not quit as corp chairman
Chandigarh, September 16
Punjab Advocate-General Ashok Aggarwal has been walking around with Punjab State Warehouse Corporation Chairman Joginder Pal Jain's resignation in his pocket.
14 yrs on, High Court grants relief to judge
Chandigarh, September 16
The Punjab and Haryana High Court has given justice to its judicial officer 14 years after he knocked at its doors.
Suicide pact: Boy, girl found dead in Ludhiana
Ludhiana, September 16
A boy and a girl were found dead under mysterious circumstances at their respective houses in Kaneja village near Meharban here today. Gurkaran Kaur was 18 years old while Ramandeep Singh 17.
45-yr-old dies in police custody
Patiala, September 16
A 45-year old today died in alleged police custody, with the family of the victim alleging police brutality and torture while the police claimed that the man died of heart attack and "he was not tortured".