nth ban on rafting in Beas lifted
Kullu, September 16
The Kullu Deputy Commissioner (DC) today lifted a two-month-long ban on rafting in the Beas, which has hit rafting operators badly. The Beas has receded drastically after the easing out of the rainy season last month. The district collector has directed the District Tourism Officer (DTO) to register raft operators, who ensure safety standards as notified in the Rafting Rules, 2005.
Around 50% posts vacant in HP technical varsity
Hamirpur, September 16
Himachal Pradesh Technical University's (HPTU) functioning has been adversely affected as almost 50 per cent posts in various capacities have been lying vacant for long. Out of the total 53 sanctioned posts, 26 are lying vacant. The appointment on many posts has not been made since the beginning of the university.
Recover power arrears from Punjab, Haryana, says Dhumal
Shimla, September 16
Former Chief Minister and Leader of Opposition PK Dhumal today said the Congress regime had failed to protect the interest of the state as it had not taken any concrete step to recover Rs 4,250 crore power arrears due on Punjab and Haryana.
Farm varsity holds workshop on vegetable crops
Palampur, September 16
A state-level agricultural officials' workshop on vegetable crops was organised at CSK HP Agriculture University here yesterday. While addressing farmers,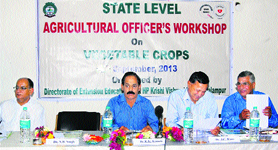 officials from the State Department of Agriculture, scientists of the host university and the Dr YS Parmar University of Horticulture and Forestry (UHF), Dr KK Katoch, Vice-Chancellor of the university, underlined the need to produce hybrid seeds of vegetable crops in public-private mode.
Vice-Chancellors and other scientists during a workshop on vegetable crops at CSK HP Agriculture University in Palampur on Sunday. Photo: Ravinder Sood

Website to create awareness on dental healthcare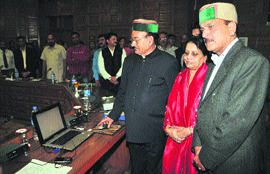 Shimla, September 16
Health Minister Kaul Singh Thakur launched the website of the State Dental Council which will facilitate online registration of dentists and also released information, education and communication (IEC) material for creating awareness about dental healthcare.
Health Minister Kaul Singh Thakur launches the HP State Dental Council website and online registration system in Shimla on Monday. Photo: Amit Kanwar

Storm, rain damage maize crop in Solan
Solan, September 16
High-intensity storm and rain, which lashed the district last evening, led to large-scale losses for farmers whose standing maize crop was damaged due to inundation of water in the fields. The local maize crop, which is the one of the main cash crops, suffered damage as the plants fell flat in the fields due to the storm. Since harvesting had just begun, the growers suffered losses as they claimed the entire crop had been damaged.



| | |
| --- | --- |
| A tree that fell on a house in Hamirpur on Saturday night. A Tribune photo | Lightning in the sky as seen on a stormy night in Mandi on Sunday. Photo: Jai Kumar |
Movie on Pong Dam oustees to be screened in Mumbai
Shimla, September 16
"The Lost Roots", a documentary film on the plight of Pong Dam oustees, has been selected by the Indian Documentary Producers Association (IDPA) for a special screening on the eve of its Annual Award Presentation Ceremony being held in Mumbai on October 6.
AI resumes Delhi-Kullu flight after 3 months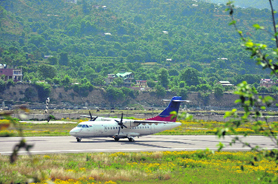 Kullu, September 16
Air India resumed its flight between Delhi and Kullu today, three months after the service was suspended due to bad weather. An aircraft with 31 passengers on board from Delhi reached here today. With the resumption of air service, hopes of hoteliers, travel agents and other stakeholders of the tourism industry in the Kullu and Manali tourist circuit have revived.
Air India's small aircraft lands at the Kullu airport on Monday.
Cong Central observer meets party leaders
Bilaspur, September 16
Central observer of the Congress Vinod Chaturvedi met 36 leaders of the party from various parts of the district to know their views and personal assessment of a probable candidate from the district at the Circuit House here yesterday.
HPSEB staff demand promotions, filling of vacant posts
Nurpur, September 16
The technical employees' union of Himachal Pradesh State Electricity Board (HPSEB) Ltd has demanded the implementation of their demands accepted by the Chairman-cum-Managing Director about 10 months ago. Their demands included promotions of technical employees working in projects, generation and field, filling of vacant posts and curtailment of bureaucrats' burgeoning strength.
State will support Himachalis across country, says Kaul
Shimla, September 16
Revenue and Health Minister Kaul Singh Thakur has said the state government will provide full support to people of Himachal settled in various parts of the country to preserve the rich cultural heritage and tradition of the hill state. He was addressing a gathering of Himachalis on the occasion of the annual Sayar Utsav held in New Delhi on Saturday.
Ex-HAS officer to give free legal services to needy
Mandi, September 16
A local retired Himachal Pradesh Administrative Services (HAS) Officer BR Kaundal has decided to render legal services free of cost to the poor and needy in the town. Kaundal had entered in the Limca Book of Records for getting his law degree along with his two twin sons from Delhi University a few years ago.
Governor visits Kee monastery in Spiti
Shimla, September 16
Governor Urmila Singh visited the Kee monastery in the cold desert of Spiti today. She went around the gompa complex and appreciated the paintings, murals and architecture of the heritage structure. She also saw the traditional Chhamb dance of monks. A colourful cultural programme was organised at Kaza in the Governor's honour.
Increase in minimum wages sought
Bilaspur, September 16
The state unit of the Bhartiya Mazdoor Sangh (BMS) has demanded an increase in the minimum wages in the state by at least 50 per cent due an increase in prices of essentials commodities. It has also demanded attaching of minimum and daily wage with price index like in the neighbouring states of Punjab and Haryana. Talking to mediapersons here yesterday, BMS state general secretary Shiv Ram Sankhyan said the government should ensure that all daily or other categories of employees were paid minimum wages invariably. — OC
2 killed as car rolls into gorge
Sundernagar, September
Two persons died on the spot and two others were injured seriously when a car they were travelling in rolled into a100-m-deep gorge at Badu, 40 km from here, today. The police said they were on their way to Chail Chowk from Rohanda. Two deceased were identified as Mohinder (17) of Saigli village and Ramesh (29) of Ropri. The injured were Nek Ram (20) of Jhungi and Khem Chand. They were taken to the Civil Hospital here and afterwards referred to the PGI, Chandigarh. — OC
One burnt to death in fire
Palampur, September 16
One person was burnt to death and two others received serious burn injuries when a fire broke out at remote Lohardi village in the Chhota Bhangal area of the Palampur region last night. Reports reaching here said Kissu Ram was alone in the house when a fire broke out. The fire was so devastating that he could not come out and died on the spot. Later, villagers rushed there and brought the fire under control and recovered his charred body from the smoldering debris. Total loss in the fire has been estimated at Rs 20 lakh. — OC