BJP questions job to former cop's son in dept
Shimla, September 15
The BJP has questioned the move of the government to give appointment to the son of a retired police officer as an inspector in the department in blatant violation of rules and regulations.
Mining ban hits BRO projects
Mandi, September 15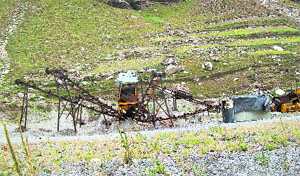 The tarring and carpeting work on the 473-km Manali-Leh National Highway in the snowbound Lahaul and Spiti and other parts of the state have come to a standstill due to the blanket ban on mining by the National Green Tribunal (NGT) in the country since August 5. The ban on mining has impacted various road projects of the Border Roads Organisation (BRO), the Public Works Department and private companies as there is not enough construction material available.
Nagrota Bagwan bus stand to be modernised
Kangra, September 15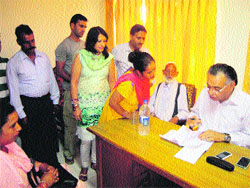 The Nagrota Bagwan bus stand will be equipped with modern facilities at a cost of Rs 1 crore. Besides, a shopping mall and a shopping complex will be constructed there. This was stated by Food and Civil Supplies, Technical Education and Transport Minister GS Bali at Nagrota Bagwan yesterday. He said on the pattern of the Nagrota Bagwan bus stand, shopping complexes would be constructed in other bus stands of the state too.

Transport Minister GS Bali listens to grievances of people at Nagrota Bagwan in Kangra on Saturday. Photo: Ashok Raina

Govt to reimburse Rs 5.38 lakh for girl's cochlear implant
Kangra, September 15
The state government has finally decided to reimburse Rs 5.38 lakh to the family of a seven-year-old girl, on whom a cochlear implant surgery was performed on July 8.
Cong takes on BJP over development issue
Bilaspur, September 15
Congress state senior vice-president Chander Kumar Chaudhary has challenged top leaders of the BJP, including MP Anurag Thakur, to come out with a single achievement which they might have brought to the Hamirpur constituency.
Cong misleading on VAT issue: BJP
Shimla, September 15
Former Chief Minister PK Dhumal has accused the Congress of misleading the people on the issue of imposition of additional 4 per cent VAT on goods sold through CSD canteens to serving personnel and ex-servicemen.
Notice issued for 4% VAT on CSD canteen
Shimla, September 15
A spokesperson of the Excise and Taxation Department said here yesterday that the state government had issued a notification for imposing 4 per cent VAT on CSD canteen on the request of the Army authorities.
JP Cements' Rs 1.5-cr cheque bounces, penalised
Solan, September 15
Jaypee Cements in the state appears to be going through a financial crisis with its royalty cheque bouncing for insufficient funds. The mining wing of the Industries Department recently imposed a penalty of Rs 9.86 lakh for the bounced cheque.
NSS volunteers clean college campus
Sundernagar, September 15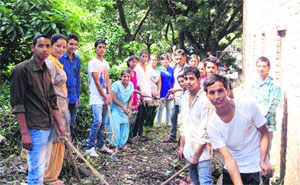 A one-day National Service Scheme (NSS) camp was organised at MLSM Degree College here today. A large number of volunteers attended the camp, which was organised under the supervison of four of their teachers Sanjay Kumar, Kabita Sharma, Ralmal and Balwant.
NSS volunteers of MLSM College clean the campus in Sundernagar on Sunday. Photo: Mahesh Chander Sharma

UNESCO seeks more info on Kullu national park
Shimla, September 15
The government will approach the Wildlife Institute of India to help identify the outstanding universal value of the Great Himalayan National Park (GHNP) in Kullu to pave the way for the bestowing of the world heritage status on it.
No action against encroachments by Tibetans on forest land
Dharamsala, September 15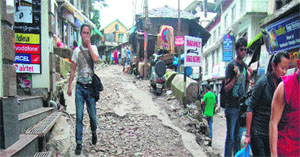 The state government is in the dock over the encroachments by Tibetans on the reserve forest land in Kangra district. There are about 210 cases of encroachments by Tibetans on the forest land in Dharamsala and McLeodganj.
Illegal structures have come up on either side of the Dharamkot and Bhagsunag road in McLeodganj. Photo: Kamaljeet

Skill development programme to help provide jobs
Shimla, September 15
The Skill Development Scheme launched by the government to enhance employability will benefit 83,000 youth during the current year.
Ghumarwin Bar Association against temporary courts
Bilaspur, September 15
The Ghumarwin Bar Association has opposed the move of the government to appoint 75 courts of Special Magistrates on a contract or temporary basis for a year with finances provided under the 13th Finance Commission.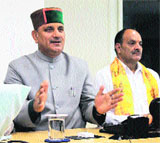 KCCB to have ATM facilities in all branches
Kangra, September 15
Financial benefits to the tune of Rs 27 crore have been provided to employees of the Kangra Central Cooperative Bank (KCCB) during the last five months and all the KCCB branches will have ATM services. This was stated by Jagdish Sipaiya, Chairman, KCCB Board of Directors, while talking to mediapersons here yesterday. He said the demands regarding employees's wages had already been accepted.
KCCB Chairman Jagdish Sipaiya addresses a press conference in Kangra on Saturday. Photo: Ashok Raina

BJP meeting in Mandi from September 17
Mandi, September 15
BJP leaders on Thursday said a conference would be held from September 17 to October 2 for party workers in the Mandi parliamentary constituency to gear up for the upcoming Lok Sabha elections.
Cong slams Ramdev
Shimla, September 15
Lambasting Swami Ramdev for using "derogatory language" against Prime Minister Manmohan Singh and other leaders of the state, the Congress on Friday asked the yoga guru to join the BJP to openly support the party instead of "misusing the saffron robes to carry out his political agenda".
Paralytic priest seeks mercy killing
Bilaspur, September 15
Chotte Lal, a pujari at the Naina Devi shrine in the district and a bed-ridden paralytic for the past eight years, has urged Chief Minister Virbhadra Singh "to allow him to kill himself" so that he should be saved from the unending agony of dying inch by inch and seeing his family on the verge of starvation.
Couple robbed, husband shot at
Kangra, September 15
A couple was robbed of golden ornaments and the husband shot at by two masked motorcycle-borne youths on the National Highway-70 at Upper Kulwaha falling under the Jawalamukhi police station on Friday.
In-laws held
Kangra, September 15
Five members of a family, including three women, were arrested by the Kangra police from Nanderh village, near here, today for allegedly torturing their daughter-in-law.
4 Sewa Dal leaders booked for molestation
Hamirpur, September 15
The Hamirpur police has booked four local leaders on various charges, including molestation. A woman, led by BJP activists, on Friday, filed a complaint against Sewa Dal leaders Naresh Lakhanpal, Surender Agnihotri, Rajeev Chopra and Kuldeep Sharma at the Hamirpur police station.
Depot holder booked
Nurpur, September 15
The local police has registered a case against Amarjeet Dogra, a depot holder of Thangar, near Jassur, for allegedly selling subsidised foodgrains to migrant labourers who were non-ration card holders last evening.
Woman dies of snakebite
Bilaspur, September 15
Reeta Devi of Randoh village near Barthin, 44 km from here, died of snakebite at her village last night. Reports said Reeta had gone to attend the mourning of her relative at her sister's house at Salwaad village and stayed there for the night.
Two killed as JCB falls into gorge
Chamba, September 15
The driver of a JCB excavator and its helper were killed on the spot when a huge boulder from the hillside pushed down the machine into an 800-m-deep gorge at Kerth Nullah in remote Churah sub-division of the district on Saturday, a report came in here today said.
Man sets himself on fire, dies
Kangra, September 15
A 52-year-old man, who set himself on fire at Rajot village falling under Baijnath police station on September 10 last, succumbed to his burn injuries at the DRPGMC, Tanda, late last night.