Tourism industry seeks relief from Luxury Tax Act
Shimla, September 21
The state may reconsider the issue of levying the amended luxury tax on hotels with hoteliers from all over the state urging the government to have a rethink, especially in view of the fact that tourist arrivals this season have dropped by almost 40 per cent, owing to catastrophes in Uttarakhand and Kinnaur.
Kullu factory row: Chief Secy calls meeting with workers, management
Kullu, September 21
Chief Secretary Sudripto Roy will convene a "conciliatory meeting" in Kullu on Monday to end the dispute between workers and the management of the mineral water factory. The workers are against the transfer of locals to the factory's Gurgaon unit.
Withdrawal of 4 per cent VAT hike sought
Bilaspur, September 21
Led by Sub Prakash Chand, scores of ex-servicemen and officers demonstrated outside the CSD canteen at Barthin, 42 km from here, on Thursday. They were protesting against the state government's increasing 4 per cent VAT on all items of the canteen. They comdemned state Excise Minister Prakash Chaudhary's claim that this had been done on the advice of officers of armed forces.
Solar energy best way to bring down expenses, hoteliers told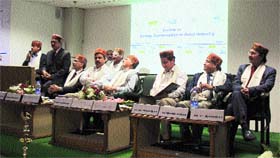 Manali, September 21
A national-level seminar on energy conservation was organised under the collective efforts of the PHD Chamber of Commerce and Industry, Konrad Adenauer Stiftung, Germany, and Manali Tourism Stakeholder's Association here today.


Seminar on 'Energy Conservation in Hotel Industry' in progress at Manali on Saturday. Photo: MC Thakur

Focus on schools in remote areas: CM
Shimla, September 21
Chief Minister Virbhadra Singh today said the government was opening schools and colleges in remote and far-flung areas to provide access to education to every child.
10 pilgrims die as vehicle rolls down into gorge
Manali/Udaipur, September 21
Ten pilgrims, including two children of 2 years each and four women, believed to be of members of two families of the Kishtwar region of Jammu and Kashmir, were killed on the spot, while one sustained serious injuries when the Tata Sumo they were travelling in, rolled down into a 50-m-deep gorge near Tindi, 40 km from Udaipur town on the Udaipur-Killar road, yesterday.
Golf carts to be started in Shimla
Shimla, September 21
Transport Minister GS Bali today said the government would start eco-friendly golf carts in the sealed and restricted areas of the town for senior citizens.
Judges too can make mistakes: Ex-SC judge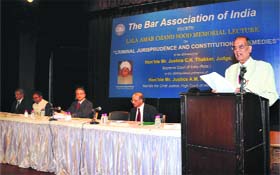 Shimla, September 21
Retired Supreme Court Judge Justice CK Thakker today said in a majority of the cases the contribution of courts in the administration of criminal justice was remarkable, though there could have been some mistakes and errors, which could be attributed to the fact that judges, too, were human beings.

The Fourth Amar Chand Sood Memorial Lecture on "Criminal Jurisprudence and Constitutional Remedies," in progress at the Gaiety Theatre in Shimla on Saturday. Photo: Amit Kanwar

Overuse of vaccine for monkey bite dangerous: Experts
Solan, September 21
With cases of monkey bite on the rise in Kasauli and its surrounding areas, the repeated use of anti-serum and vaccination to treat such cases is becoming a cause of concern.
Tourism Day celebrations start at CUHP
Kangra, September 21
The Tourism Day celebrations were kicked off with the inaugural function held at the Temporary Academic Block (TAB) of the Central University of Himachal Pradesh (CUHP) at Shahpur yesterday. These are aimed at bringing a change of attitude among key actors in local, national and global tourism for peace, security and sustainable development.
Farmers advised to use best seeds for better produce
Hamirpur, September 21
Dr KK Katoch, Vice-Chancellor, Agriculture University, Palampur, has advised farmers to make the use of best inputs, seeds and agriculture implements for better produce.
Father booked for rape
Una, September 21
The district police has booked a father of a 14-year-old girl on the charge of raping her. SP Una, Anupam Sharma, while talking to The Tribune, said the girl had filed a complaint against her father alleging that he had raped her.