Had replied to Amritsar MP's queries: CM
Mohali, September 27

Chief Minister Parkash Singh Badal has dubbed cricketer-turned-politician Navjot Singh Sidhu's announcement of sitting on a fast-unto-death as "unwarranted" and "unfortunate". Sidhu, a BJP MP from Amritsar, has been on protest since long over the alleged stalling of his pet projects in the holy city by the state government. Badal, who was here today to inaugurate a state-of-the-art sports complex-cum-hockey stadium and the Common Facility Centre for the Sanitary and Bath Fittings Manufacturers, said such issues should be resolved through talks.
Chief Minister Parkash Singh Badal inaugurates the hockey stadium in Mohali on Friday. Tribune photo: Vicky Gharu

SAD-BJP govt in damage-control mode
Sukhbir fixes cutoff dates for projects
Chandigarh September 27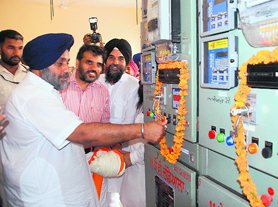 Immediately after MP Navjot Singh Sidhu announced his decision to go on a fast from tomorrow, the top brass in the state government went into a huddle. Deputy Chief Minister Sukhbir Singh fixed cutoff dates for the completion of all ongoing as well as new development projects in Amritsar city. An official spokesman said the CM had already replied to a letter by Sidhu, giving details of the status of various projects.
Deputy CM Sukhbir Badal inaugurates a sub-station in Dera Bassi on Friday. Tribune photo: Nitin Mittal

HC quashes plea by visually impaired for benefits
Chandigarh, September 27
The Punjab and Haryana High Court has bowled out a petition seeking benefits under the disabilities Act for persons with vision in one eye after quoting the example of cricketer-cum-former captain of Team India Mansoor Ali Khan Pataudi.
MLAs meddling in working of gram sabhas: Ramesh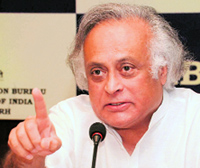 Chandigarh, September 27
Union Minister for Rural Development Jairam Ramesh today warned Punjab of strict action if gram sabhas were not allowed to function normally. Addressing a press conference on the Right to Fair Compensation and Transparency in Acquisition, Rehabilitation and Resettlement Act 2013, he said he was aware that gram sabhas in Punjab were being run by powerful MLAs.
Union Minister Jairam Ramesh at a press meet in Chandigarh on Friday. Tribune photo: Manoj Mahajan

Gurdaspur cops arrest another KLF operative
Gurdaspur, September 27
After rounding up three Khalistan Liberation Force (KLF) terrorists in a high-end operation on September 14, the police tasted more success when it rounded up another operative from Tibri village here today.
Seventh pay panel
SAD-BJP Govt may have to follow suit
Chandigarh, September 27
With the Central Government announcing the Seventh Pay Commission, the Punjab Government will be under much pressure from its employees to follow suit. However, the state government is yet to clear arrears of salaries revised by the Fifth Pay Commission. The recommendations of the commission were implemented with effect from January 1, 2006, in case of state government employees/pensioners.
Environment clearance
PPCB makes one-time fee must for small enterprises
Patiala, September 27
The Punjab Pollution Control Board (PPCB) has decided to give small-scale industries in the state a golden chance to get environment consent for running their businesses by depositing a minimum fee. The move is aimed at helping hundreds of industrialists who have been running their green category industries in Punjab for the past two decades without paying the consent fee to the PPCB. After a nod from the board, the government is expected to give it a formal approval.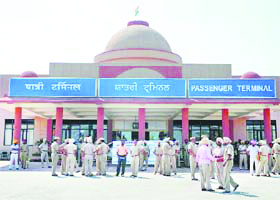 Traders want hike in storage tariff at ICP withdrawn
Amritsar, September 27
The Confederation of International Chambers of Commerce and Industry (CICCI) today flayed the "steep hike" in storage tariff and weighment charges enforced by the Land Port Authority of India (LPAI) through their custodian Central Warehouse Corporation at the Integrated Check Post (ICP) in Attari from next month.
Cement importers decide to stop consignments from Pak.
Rape victim escapes from captivity
Mandi Gobindgarh, September 27
A minor girl from Mandi Gobindgarh has alleged that her neighbour kidnapped and raped her for about a year. The police has arrested the accused. The 15-year-old complainant, a resident of Dashmesh Colony, said she was kidnapped by Sanjeev Mandal, who took her to a rented accommodation in Nasrali village and indulged in sexual activities with her. He also assured her that he would marry her and later threatened that if she reported the matter to anyone, he would eliminate her and her parents.
Jassi Honour Killing
Hear me too, deceased's husband to Canadian court
Bathinda, September 27
The absence of key conspirators at the crime site in the Jassi honour killing case should not help them escape punishment, Jassi's husband Sukhwinder Singh Mithu has said. He was responding to proceedings in a Canadian court which is reportedly verifying from Indian police officials if Jassi's mother Malkiat Kaur and Uncle Surjit Singh Badesha were present at the murder site near Malerkotla on June 8, 2000.
Give priority to clients, RBI official tells banks
Badwa (Ropar), September 27
Reserve Bank of India (RBI) Executive Director P Vijaya Bhaskar has advised public sector bank officials to be cordial with clients and give them priority. Bhaskar was here to inaugurate an outreach programme of the RBI at Badwa village today. Before the inauguration, a women's self-help group complained to Bhaskar that they were ill-treated by bank officials. Terming the bank officials' behaviour inappropriate, he said no scheme could be implemented by banks until clients were not given priority.
Seminar on spiritualism held at Desh Bhagat University
Amloh, September 27
A two-day international seminar on 'Spiritualism in education' was organised at Desh Bhagat University here today. Various learned persons from different states of India and countries like Iran, Iraq, Kenya, Nepal, Yemen, Nigeria, Bhutan, Pakistan, Afghanistan, Thailand, Japan, USA and Canada expressed their views.
Harsimrat Badal slams Singla
Chandigarh, September 27
Bathinda MP Harsimrat Kaur Badal today said former Finance Minister Surinder Singla stalled the establishment of the Rs 20,000-crore Bathinda refinery for five years. She rubbished Singla's claims of having worked for the betterment of the city and blamed him of delaying the project during the regime of former Chief Minister Captain Amarinder Singh. Harsimrat said, "Singla visits Bathinda only during polls to make tall claims." — TNS
Heritage walk inaugurated
Patiala, September 27
The Patiala Heritage Walk was inaugurated by the Punjab Heritage and Tourism Promotion Board on the occasion of World Tourism Day here today. The initiative aims at creating awareness on the royal heritage of Patiala. They walk started from Shahi Samadha and culminated at Quila Mubarak in the city. — TNS


9 kg opium seized in Sangrur, four arrested
Sangrur, September 27
In three separate cases, the district police seized more than 9 kg opium from three women and a man here today. The retail market price of the seized opium is said to be Rs 9 lakh. Sangrur SSP Mandeep Singh Sidhu said the police had seized 9 kg and 300 gm opium from Sangrur, Ranike (Dhuri) and Mangwal (Sangrur).
Detained farmers clash with prison officials in Nabha
Nabha, September 27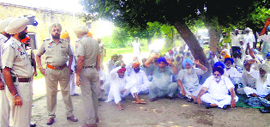 More than 10 farmers were hurt in a clash with the jail staff here today. Three prison employees too sustained injuries in the fight, learnt to have broken out after the death of a farmer inside the jail. Hailing from Mansa, the deceased, Bhoora Singh (75), was arrested during a protest in Mansa on September 20.
Farmers protest the death of a Mansa farmer outside Civil Hospital in Nabha on Friday. Tribune photo: Rajesh Sachar

SAD leader booked for assault
Fatehgarh Sahib, September 27
District president of the migrants wing of the SAD (B) Kaushal Mishra, along with six others, has been booked for allegedly attacking and seriously injuring Jatinder Singh, a resident of Ram Nagar, Mandi Gobindgarh. A case in this regard has been registered under Sections 341, 323, 324, 506, 148, 149 of the IPC.