Security up in Pathankot, Amritsar

Pathankot, September 26
An alert has been sounded in Pathankot following the twin terrorist strikes in Jammu this morning. Gurdaspur Senior Superintendent of Police (SSP) Sukhwant Singh Gill, who has been given the additional charge of SSP, Pathankot, supervised checking operations at Madhopur, 16 km from here.





High Alert: Policemen inspect a car boot at a naka in Amritsar on Thursday. Photo: Vishal Kumar

Bumper Afghan opium crop spurs cross-border smuggling
Amritsar, September 26
The state has witnessed an increase in the cross-border smuggling of narcotics along the Punjab stretch of the India-Pakistan border in the recent past.
Cops plan night raids to nab drug peddlers
Muktsar, September 26
The Punjab Police is planning to adopt a new strategy to tackle the menace of drugs akin to the one it did to wipe out militancy from the state.
Sibal's visit to Bathinda boosts Singla's chances for party ticket
Bathinda, September 26
With former MP Surinder Singla hosting Union Minister Kapil Sibal in the city yesterday, the contest between Surinder Singla and Harminder Jassi for the party ticket for the Bathinda parliamentary seat is in the open. Manpreet Badal, People's Party of Punjab president, has already expressed his eagerness to contest the seat, either alone or in alliance with the Congress.



Central pollution board's industry ban a bid to stall growth: Sukhbir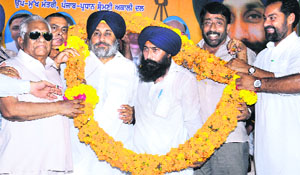 Kapurthala, September 26
Deputy Chief Minister Sukhbir Singh Badal has criticised the Congress-led UPA government for imposing a ban on new industrial units in Ludhiana.




Deputy Chief Minister Sukhbir Badal being honoured by Cabinet Minister Bhagat Chunni Lal and other leaders at a rally in Jalandhar on Thursday. Tribune photo: Malkiat Singh

Illegal mining in Moga unabated
Moga, September 26
The police crackdown on the sand mafia operating in Moga and Ferozepur has failed to achieve its goal as the illegal activity continues unabated in these districts.
Specialist docs spared of VIP, emergency duty
Chandigarh, September 26
Specialist doctors in Punjab civil hospitals will now onwards not be given the charge of emergency medical officers or even be told to perform post-mortems. This category of doctors will also not be put on VIP duty.
Mahilpur principal 'reinstated'
Hoshiarpur, September 26
A faction led by Major Bakhtawar Singh and Manjit Singh Lali today revolted against the Sant Sadhu Singh-led managing committee of SGSS Khalsa College, Mahilpur, and 'reinstated' principal SS Randhawa with immediate effect.
40 child labourers rescued from embroidery units
Jalandhar, September 26
Over 40 children were rescued from embroidery units at Gandhi Camp and Ram Nagar areas in a late night raid carried out by the police today.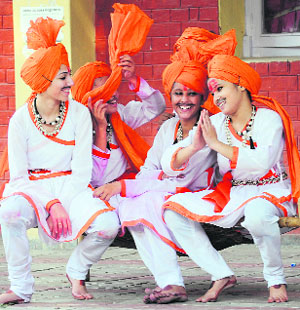 Colour of VALOUR:

Girls with saffron turbans (the colour that signifies bravery) at the concluding occasion of the Panjab University Zonal Youth and Heritage Festival (zone B) in Ludhiana on Thursday. Tribune photo: Himanshu Mahajan
Tree Felling
Departmental probe on, says Forest Corpn
Ludhiana, September 26
A day after The Tribune highlighted the axing of 800 trees along the National Highway-1 (NH-1) without depositing the requisite money, Managing Director of the Forest Corporation MP Rai said action would be taken in the matter. When told that the Vigilance Bureau had initiated a probe, Rai said the corporation was also conducting a parallel departmental probe.
Major projects in Patiala in limbo
Patiala, September 26
The cash-strapped Patiala Municipal Corporation (MC) has failed to complete even a single major project in the city. Barring the laying of sewer lines, projects worth several crore rupees have been in limbo due to paucity of funds for the past five years.
Poor to get free treatment for hepatitis C
Ludhiana, September 26
Poor people suffering from hepatitis C will now get free treatment of up to Rs 1.50 lakh. Now hepatitis C has been included in chronic diseases under the "Punjab Nirogi Yojna".
Smart classrooms in Patiala school a hit

Patiala, September 26
The first two smart classrooms set up in the district are drawing an excellent response from students. The classrooms were established at a cost of Rs 5.8 lakh at Government Multipurpose School, Patiala, around 10 months ago.


Students attend a lecture in a smart classroom at Government Multipurpose School in Patiala on Thursday. Tribune photo: Rajesh Sachar

Ropar village gets free legal aid to fight land grab case
Ropar, September 26
In a rare gesture, the District Legal Services Authority (DSLA) provided free legal aid counsel to a gram panchayat that had no source of income to rid its shamlat land of encroachment.



Hyderabad forensic lab to check Honey Singh's CDs
Chandigarh, September 26
The Central Forensic Science Laboratory at Hyderabad will now examine Yo Yo Honey Singh's CDs to find out whether controversial song "Main Hoon Balatkari" or "I am a rapist" was crooned by him.
HC raps police for inaction in castration case
Chandigarh, September 26
A sordid tale where ruthless eunuchs allegedly didn't think twice before abducting and castrating a man and policemen passing the buck has surfaced in the Punjab and Haryana High Court.