Congress shielding its tainted leaders: Sukhbir
Amritsar, September 25

Deputy Chief Minister Sukhbir Singh Badal today alleged that the Congress-led UPA Government was trying to bail out its leaders by making amendments to the Representation of People's Act, despite clear directions of the Supreme Court that elected representatives facing conviction could not contest elections.



Deputy CM Sukhbir Badal lays the stone of a jail in Amritsar on Wednesday. Photo: Vishal Kumar

Sidhus keep away from Deputy CM's functions
Amritsar, September 25
Even after BJP president Rajnath Singh's meeting with Chief Minister Parkash Singh Badal in Chandigarh, ties between the ruling SAD and Amritsar MP Navjot Singh Sidhu continue to be strained.
Cong, Akali workers in credit war
Ferozepur, September 25
Congress and SAD-BJP workers clashed over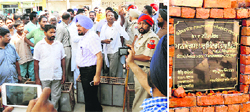 the lying of a foundation stone here this evening. Congress MLA Parminder Singh Pinki laid the foundation stone of a sewerage project last evening. He said since the project was being financed by the Union Government and as he was the elected representative of the area, it was only right that he laid the stone for various developmental works in the constituency.

Officials pacify agitated SAD and BJP workers in Ferozepur on Wednesday; and (right) the damaged foundation stone of a sewerage project. Tribune photos
Sarna plans protest during Modi rally
New Delhi, September 25
To demand withdrawal of cases filed against Sikh farmers by the Gujarat Government in the Supreme Court, the Shiromani Akali Dal (Delhi) today announced to hold a protest against BJP prime ministerial candidate Narendra Modi in West Delhi where he is to address a rally on September 29.
Release DA instalments, demand employees
Chandigarh/Mohali, September 25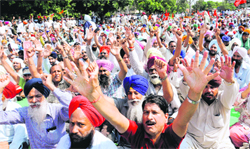 Several hundred members of various trade unions and employee associations staged a protest against inflation, contract system, privatisation and the anti-people policies of the State and Central Governments at Circus Ground, Sector 17, here today.

Members of Punjab and UT employees' trade unions stage a protest in Chandigarh on Wednesday. A Tribune photograph

Safai sewaks protest unfair practices of contractor
Patiala, September 25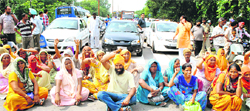 The safai sewaks of Non-Cantonment Military Station here staged a dharna in protest against the unfair practices of a contractor on the Patiala-Sangrur highway on Wednesday.

Protesters blocking the highway in Sangrur on Wednesday. Tribune photo
ED probe hints at Rs 1,000 cr hawala racket
Jalandhar, September 25
Raids on the premises of foreign exchange firms by the Enforcement Directorate in February and June have led to the exposure of a larger nexus of over 50 operators in the region indulging in hawala trade.
3-month extension for Jindal panel
Chandigarh, September 25
The Punjab Government has extended the tenure of the Jindal Commission by three months. The commission was instituted to probe allegations regarding the purchase and supply of library books for primary and upper primary classes, science kits and map masters.
Upper primary schools to have 'English Corners'
Ludhiana, September 25
"English Corners" would be established in 6,253 upper primary schools in the state, stated the Director General School Education here today.
Rs 440 crore in hand, govt to launch labour welfare schemes
Chandigarh, September 25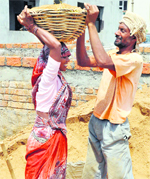 Having accumulated Rs 440 crore as labour cess, Punjab is finally set to launch a number of labour welfare schemes. From a pension scheme for labourers to constructing low cost housing units, the state is all set to woo the labour class. With an average of Rs 40 crore being added in the department's kitty as labour cess each year, the department will only be using the interest earned from the cess fund to pay for all the welfare measures. The money is being invested as term deposits in various banks so that the fund grows with the frequent hike in interest rates.
Attack on Sikhs in US
Takht chief wants PM to take up issue with Obama
Amritsar, September 25
Akal Takht Jathedar Giani Gurbachan Singh has asked Prime Minister Manmohan Singh to raise the issue of hate crime against Sikhs with US President Barack Obama during his ongoing US visit.
NRI panel asks govt to act
Chandigarh, September 25
Chairman of the Punjab State Commission for NRIs Justice Arvind Kumar has asked the Chief Secretary to take up the matter of hate crime against Sikhs in the US at the highest level in the Union Government.
2 children drown in bore well
Moga, September 25
Two children drowned after they allegedly fell into a bore well partially filled with water at a sports stadium at Daroli Bhai village in the district today. Sources said the victims, Jagmohan (4), son of Kuldip Singh, and Maninder (5), son of Baldev Singh, both of Daroli Bhai village, were playing when they accidentally fell into the newly dug-up bore well. The bore well was being constructed by Hargobind Stadium Welfare Committee, constituted by the village panchayat, to provide potable water to sportspersons.


Information on High Court functioning a click away
Chandigarh, September 25
Information on the functioning of the Punjab and Haryana High Court, including ways of filing appeals and inspecting records, is now just a click away. Chief Justice Sanjay Kishan Kaul today released the "Citizen's Charter" of the High Court.


Three held with Rs 2.52 lakh fake currency
Sangrur, September 25
The district police today arrested three persons and claimed to have busted a gang allegedly involved in circulating fake currency in the market. They also seized fake currency worth Rs 2.52 lakh.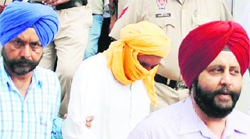 Pak spy held in Amritsar
Amritsar, September 25
State Special Operation Cell (SSOC), a counter intelligence wing of the Punjab Police, today claimed to have arrested a spy working for a Pakistan-based intelligence agency.


Accused Tarwinder Singh in police custody in Amritsar on Wednesday. Photo: Vishal Kumar
Pak intruder shot dead
Fazilka, September 25
BSF jawans gunned down a Pakistani intruder in the Fazilka sector last night.
Barnala couple killed in the Philippines
Barnala, September 25
A Punjabi couple from Jodhpur village near Barnala was killed in the Philippines yesterday.