SSP had left station without permission
Jalandhar, September 22
Pathankot Senior Superintendent of Police (SSP) SK Kalia, who was seriously injured in an accident today, had reportedly left his place of posting against rules. Government rules clearly state that an officer needs to inform his immediate superior if he has to leave his station.
Bajwa suspects foul play, wants CBI probe
Chandigarh, September 22
Hinting at foul play, Partap Singh Bajwa, Punjab Pradesh Congress Committee (PPCC) president, today appealed to the Punjab and High Court to take suo moto notice and order a CBI probe into scribe Jasdeep Singh Malhotra's death in a road mishap.
Liquor sales may touch all-time high in state
Patiala, September 22
This is a trade that attracts politicians across party lines and the one that is booming despite the volatile market trends — all thanks to Punjab's Bacchus lovers. The sale of liquor in Punjab is at an all-time high with almost all the districts recording an increase in sales as compared to the corresponding period last year.
Badal lashes out at Cong MP for raking up Ambulance 108 row
Bassi Pathana, September 22
Chief Minister Parkash Singh Badal said Member of Parliament from Hoshiarpur Santosh Chaudhary was unnecessarily raking up a controversy over the 108 ambulance service. Badal said this while addressing mediapersons on the sidelines of the inauguration ceremony of a 220-KV grid station here yesterday.
Open to pact with anti-Badal parties, says Bajwa
Ferozepur, September 22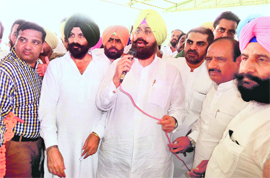 Punjab Pradesh Congress Committee (PPCC) chief Partap Singh Bajwa has said the party was open to an alliance with like-minded units that wanted to defeat the SAD-BJP coalition in the next parliamentary elections.





PPCC chief Partap Singh Bajwa addresses a gathering at Dera Bhajangarh near Guruharsahai in Ferozepur on Sunday. A Tribune photograph

Cong panchayats being denied direct funds
Gurdaspur, September 22
With Sangat Darshan becoming an integral part of running the state government, Akali leaders are using the exercise to marginalise Congress-controlled panchayats by denying them direct funds. Instead, money is being given to government departments to execute developmental works in these villages.
Rajindra Hospital ill-equipped to handle suspected dengue cases
Patiala, September 22
The Rajindra Hospital authorities have not bothered to create an isolation ward with sufficient number of beds to control the spread of dengue. This despite the fact that more than 100 persons suspected to have dengue, who have tested positive in the NSI Elisa test, have been been admitted at the hospital in the past few days.
To check fraud, state govt opts for e-stamps
Chandigarh, September 22
In order to check fraudulent practices, Punjab is all set to introduce e-stamping in a phased manner. Stamp vendors will continue to sell lower denomination stamp papers.


BHANGRA BEATS: GCG students perform Punjabi folk dance in Patiala on Sunday.Tribune photo: Rajesh Sachar
De-addiction centres lack crucial support
Gurdaspur, September 22
The intense anti-drug drive launched by the police districts of Gurdaspur, Batala and Pathankot may well turn out to be counter-productive in the next few days because the de-addiction centres — both government and private owned — are finding it difficult to find enough space and medicines to treat the rising number of addicts.
Capt wants Army ex-Chief investigated
Chandigarh, September 22
Former Punjab Chief Minister and permanent invitee to the Congress Working Committee Capt Amarinder Singh today demanded a high level probe into the allegations against former Chief of Army Staff General (retd) VK Singh.
Freedom fighter cremated with state honours
Moga, September 22
Capt Ranjit Singh, a freedom fighter, was cremated with state honours at his native Daroli Bhai village in the district on Sunday. He died of prolonged illness in a private hospital at Ludhiana on Thursday. He was 87. Capt Ranjit Singh was the president of the All-India Freedom Fighters' Association.
PPCB issues warning to industries violating pollution norms
Patiala, September 22
Many lapses on the part of the industry have come to the fore during inspections by the Punjab Pollution Control Board (PPCB) in the last few days. The PPCB inspected 33 electroplating industries of Ludhiana and Jalandhar which send their effluents to Common Effluent Treatment Plant (CETP).
EcoSikh's green drive draws support
Amritsar, September 22
Around 300 people gathered for the EcoSikh Gala Event at Washington to support the environmental efforts by this four-year-old organisation. Sikh representatives from various gurdwaras and youth from all across Washington and as far as Virginia and Baltimore participated in the event. The organisers claimed it was the largest gathering of the community supporting global environmental agenda.
Farmers given tips on production of rabi crops
Sangrur, September 22
Punjab Finance Minister Parminder Singh Dhindsa today said the Central government was responsible for the poor economic condition of the state's farmers. He said due to "anti-farmer" policies of the Centre, farmers were under debt and were committing suicides.
PSSF holds protest rally
Sangrur, September 22
Hundreds of employees under the banner of Punjab Subordinate Services Federation (PSSF) held a rally at the new grain market here to put forth their demands. The employees, led by PSSF president Satish Rana, however, cancelled their plan to gherao state Finance Minister Parminder Singh Dhindsa's house here as his officer on special duty Amanveer Singh Cheri visited the rally site and assured a meeting of the federation's leaders with the minister.
25,975 anganwari centres being run from gurdwaras, temples
Ludhiana, September 22
Over five lakh children up to three years of age are being taken care of by workers in anganwari schools in Punjab. However, except 680 buildings, about 25,975 anganwari centres in the state are being operated from gurdwaras, temples, houses, vacant plots and buildings.
Canada-based NRI introduces cabs driven by women
Bathinda, September 22
To put women at ease while travelling in the city, cabs driven by women have been introduced in the city yesterday. The private service was launched today with the help of a Canada-based NRI. It was flagged off by the chairman of Zila Parishad, Gurpreet Maluka.
Kenyan delegation visits SGGS varsity
Fatehgarh Sahib, September 22
With plans to set up an off-shore campus of Sri Guru Granth Sahib World University, Fatehgarh Sahib, in Kenya, a delegation of Supreme Council of Sikhs, led by Jinder Singh Rehri, general secretary, and Dhammi, former president, visited the university today.
Bathinda admn gears up to impose property tax
Bathinda, September 22
With the Punjab governor promulgating the Property Tax ordinance, residents of the Bathinda city will have to shell out more in the form of property tax. Simplifying the property tax collection system, the city has been divided into eight zones and the work to digitise the data of all eight zones on the Geographical Information System (GIS) is underway.